07/18/2019
VIDEO TOUR: Cosentino's Price Chopper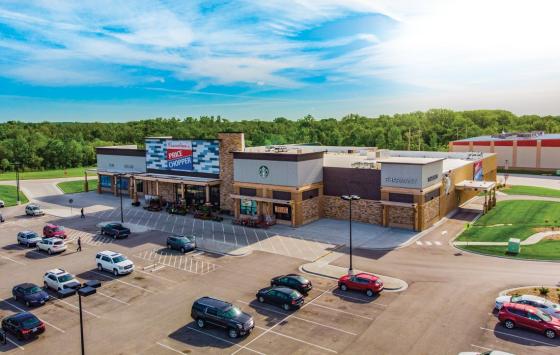 The newest Cosentino's Price Chopper in Grain Valley, Mo., is the latest example of the Cosentino family's dedication to the Kansas City area grocery market. This year, the family is celebrating 71 years in the grocery business, 38 of them with the Price Chopper banner, which the Cosentinos co-own with three other families in the KC market.
Grain Valley is one of Cosentino's newest locations, a store of some 60,000 square feet offering all of the basics, with a special emphasis on fresh — prepared foods, local meats, a scratch bakery — and a commitment to quality, service and community that has made the family's Price Chopper banner a beloved hometown grocer. There's also local produce, a full-service floral department, a Starbucks coffee stand and a drive-up pharmacy.
"We try to get as involved in the community as possible, because they support us so well," says Store Director Kevin Brown, who spent the morning of PG's visit at a leadership day at a local elementary school.
It's a valuable partnership: "We do store tours, one class at a time," Brown says, explaining that many area teachers include the visits in their yearly curricula. "All the teachers shop here, the principals shop here."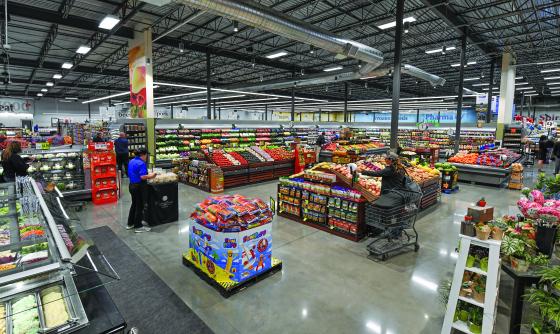 Beyond the outreach, it's the associates that help endear Cosentino's to the community. "We have amazing people here," Brown says of his team. "The vibe is always positive."
Taking Pride
Being on the far outskirts of Kansas City's metro area, Cosentino's Price Chopper in Grain Valley offers cuisine otherwise not available locally. 
"We're kind of in a rural community, so there are no other opportunities for people to get sushi," Cosentino notes, pointing out the Hissho Sushi station where items are made fresh daily.

But even basics like the salad bar are a huge draw, especially with the store's offer of all you can eat for $8.99, versus a per-pound price of $5.99. "People flock to this," Cosentino says, warning, "You're here around noon, get outta the way."

Of course, Kansas City is world-famous for its barbecue. Not to be outdone, the store offers ribs, pulled pork and brisket smoked on the premises. In fact, barbecue is another form of community outreach for Cosentino's.
"We have a traveling smoker that we put out on the sidewalk," Cosentino says. "We'll sell 500 slabs of ribs on a weekend."
In addition, there's plenty of hot food to grab and go: meatloaf, sausage and peppers, pizza, side dishes, and what Cosentino says is the "best fried chicken in town." (Sampling it for lunch, PG is hard-pressed to argue.)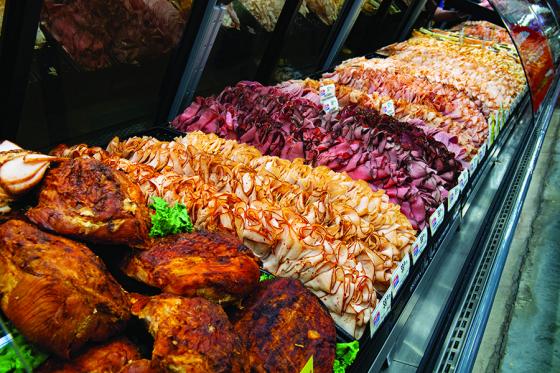 Convenient food to go extends to an island display stocked with chicken, entreés, sandwiches and salads. "People don't want to wait," Cosentino remarks. Also keeping the crowds moving: luncheon meats pre-sliced in the deli case for speedy ordering; the display is fully stocked and stunning.
"It looks like this every day," Cosentino says of the abundant deli case, heaping praise on store associates. "They take pride in what they do. We can still slice to order, but with the volume we do, we need to serve people quicker. It's labor-saving, and I think it looks better. Kretschmer has been a great partner."
Also a time-saver: the produce chop shop that puts out a daily supply of pre-cut fruits and vegetables.
Of course, while the store helps folks get out the door more quickly, visitors can linger over meals as well. The cafe adjoining the deli in the front corner of the market offers seating for 60 and wi-fi service. "It gets used," Cosentino says. "Our events at night, breakfast and lunch have been good."
There's a dinner special every night of the week, including the popular "Chopper Chicken Tuesdays," featuring fried or rotisserie chicken, sides, and rolls.
In the bakery, bread and rolls are baked on site under the family's own label, part of a broader line of Cosentino's-branded products. Cosentino anticipates further expansion of crusty breads.
 
"This department keeps changing all the time," he says. "People were off bread; now it's about ancient grains."
Additionally, the single-serve dessert category is getting "bigger all the time," with growing sales of pie and cake slices. "People might not want to pay $8.99 for a pie, but they will pay $2 for a slice." Custom-decorated cakes are also a key offering of the bake shop and its expertly trained team.
Family Recipe
Staffed by in-store butchers, the meat department offers KC Pride meats, locally raised Valley Oaks beef cuts and Certified Angus Beef. There's also house-made Italian sausage:
"Our family recipe, been doing it for years," Cosentino says, noting that the daily made cased meats once won first place at a local barbecue contest.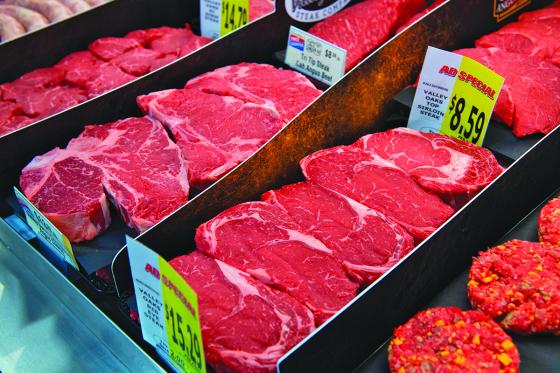 The well-stocked meat case showcases 14-ounce twice-baked potatoes alongside seasoned meats, bacon-wrapped chicken, stuffed and skewered proteins, and ribs. There are special $5 grilling packs, with Cosentino's house sausage and meatballs, grinds, steaks, and poultry sharing case-ready space with branded items.
"We do our own chicken, all hand-cut," Cosentino says, pointing out a window, above an extensive display of local barbecue sauces, allowing shoppers to watch butchers in action. "We want our customers to see production as it happens."
Beyond meat, there's wild and farm-raised seafood, including trout, yellowfin tuna, shrimp and little-neck clams. A large spice display island dominates the aisle facing the meat and seafood department. Why here instead of in center store like most markets? "It's a great tie-in," Cosentino says of the positioning designed to inspire. "Often, people can't find spices; here, they can find whatever they need."
Also prominently displayed is Cosentino's-branded pasta sauce, "Grandma's recipe," Cosentino boasts. "We've got our own pasta sauces. We've got beef snack sticks that we sell at the checkstands. We're adding more to that [house-brand product line] all the time."
Cosentino noted that his brother Jimmy Cosentino oversees all of the liquor departments for the family business, where they're seeing growth in sales of spiked sodas and waters.
The store partners with Instacart for home delivery, although Cosentino says the company is looking into bringing the service in house. Delivery has been embraced by the community, Brown notes: "Instacart people are here multiple times a day. Some people in this rural area, they can't get out, so they just love the service."
'The Local Guys'
The goal with this store was to "provide a first-class grocery operation for the area," Cosentino says. "Our family has been looking at the Grain Valley market for many years, so when the opportunity presented itself, we were ready to move forward.
The store is a smaller footprint than the company's previous stores, Cosentino says, "but has as much, if not more, perishables. Just like the whole industry, as center store shrinks, our perishable departments expand."
The Grain Valley store is creating new best practices for the company. "We really like the size and flow of this store, so we will probably use this as a starting point for future locations, along with the customary tweaks of new stores," Cosentino says.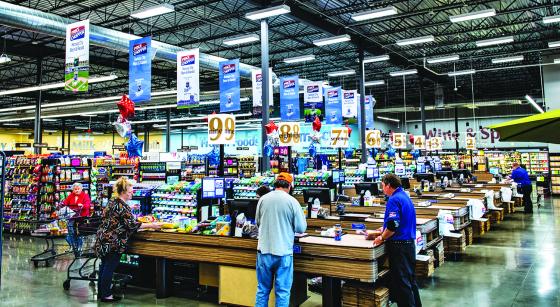 But most rewarding has been the ability to serve the hometown market whose support has helped make the Cosentino family the successful grocers they've become.
"The community has embraced us tremendously," Cosentino says. "Our family is born and raised in Kansas City, so I think that makes us the local guys. We have always focused on taking care of our customers. We know them, and they know us." 
About Price Chopper and Cosentino's Food Stores
Price Chopper has more than 55 stores across the greater Kansas City metro area and Des Moines, Iowa. The banner's 51 Kansas City stores are locally owned by the Ball, Cosentino, McKeever and Queen families, all of whom live in Kansas City and oversee daily store operations. The stores are serviced by Associated Wholesale Grocers, also based in Kansas City.
Cosentino's Food Stores began in 1948, when Dante Cosentino Sr., an artist who made his living painting frescoes on the ceilings of Catholic churches, purchased a small fruit stand for his children to operate in downtown Kansas City. With the help of Dante's brothers, Jim and Jerry, the enterprise would eventually grow into one of the country's best regional community grocers.
Today, the company is led by the family's second generation: Donnie, David, Victor, Jamie, Jimmy and John Cosentino. Cosentino's Food Stores currently operates 30 stores in the Kansas City area under the Price Chopper, Cosentino's Market, Sun Fresh Market and Apple Market banners.
The owners and more than 10,000 employees of Price Chopper are "passionate about providing the best selection of products at the lowest prices with the friendliest customer service. Feeding the communities we serve is at the heart and soul of what we do."
Offerings include produce, much of it procured locally from more than 150 family farms; in-house butchers; on-site scratch bakeries; deli departments with catering services; and professional floral designers.
To fight hunger in Kansas City, Price Chopper partners year-round with Harvesters, the Community Food Network through the CHOP Hunger initiative. Stores collect canned goods, gather perishable food donations with the Fill the Fridge drive, and host an annual fundraiser to fight summer childhood hunger through the No School = No Lunch program.
Sources: www.mypricechopper.com,
corporate facts sheet; www.cosentinos.com