05/16/2018
Target Expands 1-Day Delivery Nationwide, Lowers Fee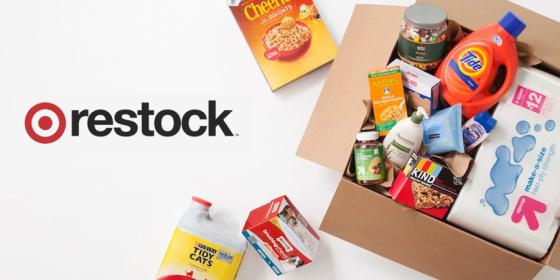 Target has completed expanding its next-day delivery service, Target Restock, nationwide and reduced its fees.
Now available coast to coast, the ecommerce service is also less expensive to use: $2.99 per order, no membership fee required, with all orders free for Target REDcard purchases. It previously cost $4.99 per order.
Guests choose from an assortment of 35,000 popular essentials, from cleaning supplies to baby products, adding up to 45 pounds of merchandise to a box and finalizing the order online as late as 7 p.m. The box will be delivered the following day.
Orders are fulfilled through nearby stores, which are used to "speed up delivery and pick-up options for guests."
"Target Restock is another way we're making life easier for our busy, budget-conscious guests," said Dawn Block, Target's SVP of digital. "Our guests love the speed and convenience of the service. And now that Target Restock is an even better value, we think the service will become increasingly popular."
In addition to ordering with a click, guests can use their voice to order through Google Assistant via Google Home smart speaker or a smartphone with a Google Assistant app.
Target began testing Restock last May in its hometown of Minneapolis, with the aim of expanding after the summer trial. Last month, it announced its plan to expand the program to more than two dozen markets, with the intent on covering nearly three-quarters of the U.S. population by the year's end.
The expansion furthers Target's commitment to building out its omnichannel program as competition heats up. Last month, the retailer expanded same-day grocery delivery to Colorado and also grew its click-and-collect reach to 270 stores throughout the South and southeastern United States, part of an effort to offer the service at nearly 1,000 stores nationwide by the year's end.
Target's omnichannel ramp-up comes at a time when most food retailers are putting their own in place – and many already have one fully developed. According to Progressive Grocer's 2018 Annual Report, which released last month, 59 percent of food retailers are either getting started with an omnichannel program or in the process of executing a strategy, while 28 percent have a fully operating one in place. Only 12 percent currently have no plans for omnichannel.