Schnucks and the Future of In-Store Robots: Q&A with VP Dave Steck
Get great content like this right in your inbox.
Subscribe
Much talk has occurred in recent years of adopting various forms of grocery technology not only to drive down operations costs and improve efficiency, but also to empower floor-level associates to take on more customer-facing tasks and develop new skills. Among the latest in these technologies are automated robots.
To help free up associates' time, Ahold Delhaize USA has been piloting robots at several Food Lion, Giant and Martin's stores to help detect out-of-stocks, floor hazards and more; Minneapolis-based Target Corp. performed a similar pilot in 2016; and last year, Bentonville, Ark.-based Walmart filed a patent for drone technology to be used in its stores for similar purposes. Walmart also unveiled the Auto-C autonomous cleaner, which uses assisted-autonomy technology to clean and polish floors, saving the two hours a day it takes an associate to do the same work.
But the latest story comes from Midwestern grocer Schnuck Markets, which has just expanded its in-store autonomous robot pilot to at least 15 of its stores. Progressive Grocer interviewed the St. Louis-based grocer's VP of IT, Dave Steck – who spoke earlier this week at the Groceryshop event in Las Vegas – on what he learned from the pilot, how the robots have helped empower employees, and what the future of robots looks like in the supermarket industry.
---
Progressive Grocer: In grocery, the way to stay relevant has always been to find new ways to do things better – in a way that ultimately supports associates and "wows" the shopper. Understanding this, what helped Schnucks realize that changes needed to be made on the store floor – and that Tally was a potential solution?
Dave Steck: One of Schnuck Markets' core values is "try new things." For the IT team, this is something we take to heart – we'd rather try something and learn than not try at all. When I joined the company over four years ago, we laid foundational IT infrastructure by installing fiber-optic cable for a high-speed private network. This gave us the bandwidth to update other systems, such as handheld devices, and slowly make progress towards modernizing the store. Without doing that foundational work, we never would have been able to have robots in our stores. It's all about building a strong, foundational infrastructure, then layering best-in-class technology that provides a solution to store team workflow or enhancing customer experience.
PG: Tell us a little about Tally's pilot program with Schnucks and the insights gleaned from the test.
Steck: The pilot was really a test to see if the insights gathered were viable before we went full-production. In the pilot, we ran the robots and gathered data to see how it performed. Once we took a look at the initial data, we knew that we needed to operationalize the robots and do a full-scale program in four stores, which was when we officially launched the program. Since then, we've been so pleased with the results that we're scaling to 15 stores, with hopes for possibly more.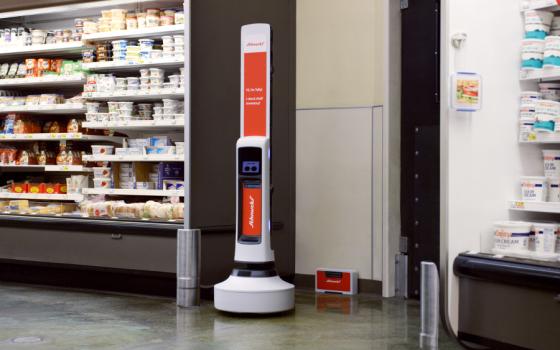 PG: What were some unexpected (and interesting!) occurrences – positive or negative – you and the Schnucks team experienced during the pilot period?
Steck: One very interesting occurence is something we've dubbed "The Tally Effect." The shelves have never looked as good as when Tally was brought into these stores. The store team has a greater sense of pride and accountability, and the work Tally is doing by sending notifications directly to teammates' handhelds allows them to keep the shelves not just fully stocked, but organized and looking great.
PG: How has Tally empowered its human coworkers to better do their jobs and serve Schnucks' patrons?
Steck: By picking up tasks such as inventory tracking, Tally has freed up Schnucks teammates to focus on more important parts of their jobs, such as face-to-face customer service. This ultimately provides a better shopping experience for shoppers, where there is always a friendly Schnucks teammate nearby, ready to answer questions.
PG: How about Schnucks' customers? What has their reaction been to seeing Tally on the store floors, and how does Schnucks feel about their reactions?
Steck: Overall, it's been a positive reaction, and kids are especially excited when they see Tally. When shoppers see the robot for the first time, they are inquisitive and curious. Once customers learn that the robot is simply scanning the shelves, they realize that Tally is helping the store keep products stocked, which they appreciate.
PG: We're seeing a small number of grocers adopting similar robots to manage stock scans, price checks, hazard detection and more. When do you think this technology will go from niche to norm in U.S. grocery?
Steck: It's going to be a gradual process, but I think it's already becoming more normal. Simbe's Tally robot is effective and efficient, and more and more retailers are seeing the opportunity to glean insights into their in-store operations with this type of technology. Simbe's business model is providing the robots and the analytics platform as a service, which makes it a viable option for small grocers who want to use advanced technology. We know it's a worthwhile investment at Schnucks – it has paid for itself via reduction of out-of-stocks alone.