Schnucks Tests Robots to Handle Out-of-Stocks
Get great content like this right in your inbox.
Subscribe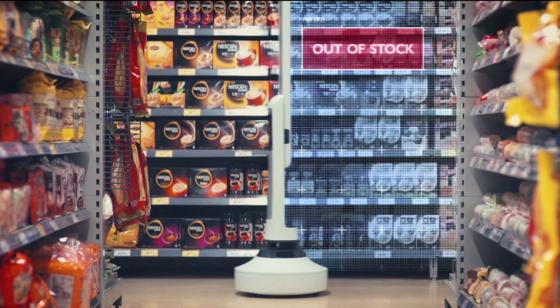 Schnuck Markets has launched a test pilot at three St. Louis metro-area stores involving robots that scan store aisles three times a day to ensure products are stocked and placed properly.
Beginning July 31, the locations will incorporate Tally, an aisle-roving robot created by San Francisco-based automation solutions provider Simbe Robotics, which provides real-time information to help Schnucks teammates do their jobs more easily and better keep customers satisfied. The robots will perform daily storewide scans in the morning, midday and evening at the stores, located in Richmond Center, Woods Mill and Kirkwood, Mo.
I, along with a number of other retailers, first witnessed Tally and what it can do during a keynote presentation at the National Retail Federation's 2017 Retail's Big Show, which took place Jan. 15-17 in New York. There, Intel CEO Brian Krzanich demonstrated the robotic solution and how it works in concert with retail associates.
To date, grocers have relied on IT systems and manual labor for product availability, which can be costly and inaccurate. Some 70 percent of retailers are said to have rated themselves "average" or "below average" in regard to inventory management, research from the Boston-based Aberdeen Group reveals.
"The data that Tally collects will be sent to Simbe, which will do on-the-spot analysis and provide us with the information we can share with our vendor partners and teammates throughout our organization to help us have the right products at the right time for our customers," noted Dave Steck, Schnucks VP of IT – infrastructure. "We're starting Tally's pilot with a focus on in-stock position, but we're hopeful that Tally may open up a world of other possibilities with the shelf data it collects."
Standing 38 inches tall and sporting an adjustable and modular mast of sensors for capturing shelf data, Tally is said to be the world's first robotic autonomous shelf-auditing and analytics solution. It consists of one or more mobile robots that can autonomously traverse large brick-and-mortar retail environments to capture, report on and analyze the state and availability of merchandise, and help ensure compliance with the store's planogram.
The robotic solution has the ability to audit shelves for out-of-stocks, low-stocks, misplaced items and pricing errors more cheaply, more frequently and significantly faster than existing processes, and with near-perfect accuracy. It also requires no infrastructure changes to stores – combined with its cloud-powered software platform and API, Tally provides large amounts of information and insights into the state of stores, enabling operators to streamline store performance, maximize customer satisfaction and reduce operational costs.
In addition to bringing Tally to three stores, Schnucks and Simbe have engaged officials at Washington University so students and faculty can benefit from the pilot's learnings. Some of the potential partnerships include startups/entrepreneurship, engineering/robotics and a data "hackathon" that would allow students to study the enormous amount of data collected by Tally and look for new ways of driving retail analytics.
Schnucks isn't the first food retailer to test Tally: Minneapolis-based Target Corp., for instance, performed a test pilot with the robotic solution last year, Fortune reported.
St. Louis-based Schnuck Markets Inc. operates 100 stores in Missouri, Illinois, Indiana, Wisconsin and Iowa, and employs 14,000 teammates.