04/19/2018
Food Lion Pilots Robots to Spot Out-of-Stocks, Hazards, Pricing Issues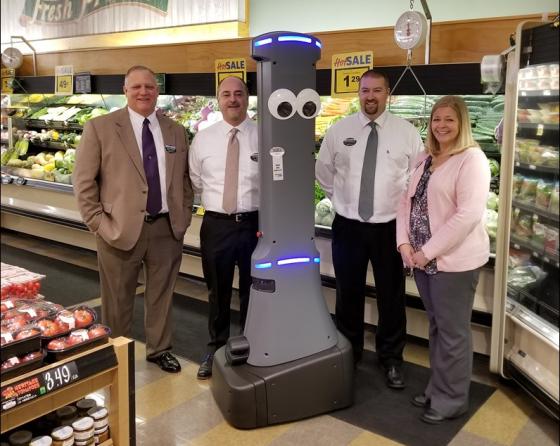 Food Lion is now testing a robot to alert employees about floor hazards, out-of-stocks and inaccurate or inconsistent pricing, following tests at several sister Ahold Delhaize USA banners.
Marty the Robot, which has debuted in a La Follette, Tenn., Food Lion store, clean-sweeps the store a dozen times daily to identify slip-and-fall hazards on the floor, to which he alerts associates, and he also warns nearby shoppers to avoid the mess. The slender gray robot – developed by Lexington, Ky.-based Badger Technologies – additionally scans shelves for out-of-stocks and ensures that shelf pricing is aligned with the front-end registers.
Robots currently are also being used in four Giant and Martin's stores in Pennsylvania, with plans to roll out the solutions to all 171 Giant and Martin's stores by the end of the year. In the future, developers hope to improve the technology to also check and report temperatures, allowing store managers to focus on other activities.
Sporting big googly eyes, a name tag, and a Shop & Earn ribbon, the robot has become popular with customers, some of whom come by the store with friends and family just to meet it. Numerous postings and selfie photographs with Marty have also appeared on social media.
Ahold Delhaize USA isn't the first food retailer to test such robots in stores: Last July, St. Louis-based grocer Schnuck Markets began piloting similar robots at three stores, where the devices scanned store shelves three times a day to ensure proper stocking and product placement. Moreover, Minneapolis-based Target Corp. performed a similar pilot in 2016, and last year, Bentonville, Ark.-based Walmart filed a patent for drone technology to be used in its stores for similar purposes.