09/14/2018
Oklahoma City Independent Grocer to Pilot Autonomous Delivery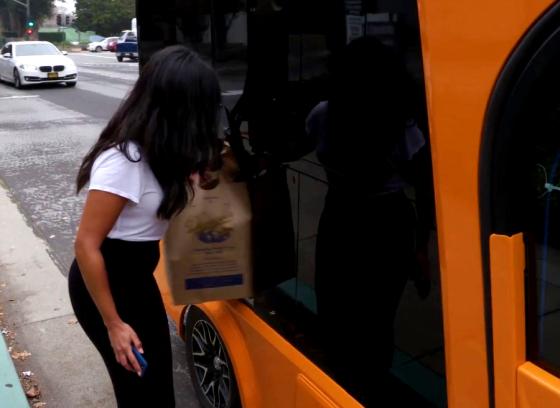 An independent grocer in the Oklahoma City area is bringing delivery via self-driving vehicles to residents, with the service launching early next year, News9.com has reported.
Oklahoma City-based Buy For Less, which operates independent grocery stores under four banners: its namesake banner, Supermercado, Uptown Grocery and Smart Saver, is working with Udelv on what is claimed to be the "world's largest contract" for autonomous grocery delivery vehicles. The first of its kind in Oklahoma and one of the first among independent grocers, the new grocery technology will have a backup driver to start, with a local command center monitoring each vehicle's route, making necessary corrections upon completion of the research phase.
The service, which will eventually operate 10 vehicles, is intended to help those living in food deserts have access to healthful products. Currently, some of the grocer's stores offer delivery and pickup, but not to areas in need of wholesome options.
"It's another way that we want to reach out and go, 'How do we serve people better? How do we love the city that we were called to love?'" Buy For Less Co-Owner Susan Binkowski told the news outlet.
Udelv Co-Founder Daniel Laury warned, however, that if the customer experience related to the autonomous vehicles is not "impeccable," the service will not continue. Additionally, Oklahoma has no laws to govern self-driving vehicles, but the state is working with local municipalities to change this.
Currently, Kroger is the most noteworthy grocer piloting grocery delivery via autonomous vehicles. The Cincinnati-based grocery giant, No. 2 on Progressive Grocer's list of the top grocers in the United States, announced in June a pilot with Mountain View, Calif.-based autonomous vehicle developer Nuro, in which it will make the convenience of grocery delivery both accessible and affordable for customers everywhere. The vehicles will launch this fall in Scottsdale, Ariz.
However, Kroger isn't the only grocer currently testing autonomous delivery vehicles. Santa Clara, Calif.-based Robomart, said to be the world's first self-driving store, made its debut Jan. 9 at the Consumer Technology Association's CES show, and addresses the fact that nearly nine in 10 consumers age 26 to 44 don't purchase fresh produce online because they feel home delivery is too expensive and they want to select their own produce, according to Robomart research. The electric vehicle, which will launch this fall in its hometown, is refrigerated with sports stadium-style shelves, keeping perishables cool and giving consumers a good look at them.