12/05/2018
New App Empowers Walmart Associates to Get Out-of-Stock Items for Shoppers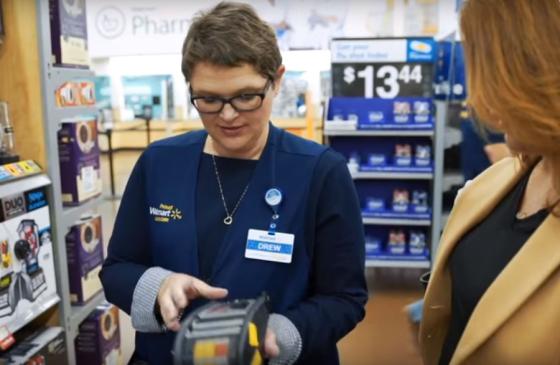 A new mobile app from Walmart allows associates to order out-of-stock products for shoppers by connecting those workers with the mega-retailer's ecommerce site via their in-store devices.
The new option allows shoppers who can't find what they're looking for to alert a nearby associate, who will help find the correct product on his or her in-store device. After selecting whether the product gets shipped for in-store pickup later or home delivery, the shopper receives a receipt or email that can be used to pay at any store register, with shipping beginning when checkout completes.
A major feature of the app, according to the Bentonville, Ark.-based company, is that shoppers can pay for products ordered through it however they want – with a new cash or check option, credit card, or Walmart Pay. This helps ensure better accessibility and an easier shopping experience.
"This new app connects our stores and Walmart.com to enable a new, convenient service, and it's also the latest in a series of apps associates now have to help them serve customers even better," the retailer said on its website.
The new app continues Walmart's plan to make mobile central to the in-store experience, as well as empower associates through the power of mobile. Some ways it has done this so far this year include:
Introducing Check Out With Me in its Lawn & Garden Centers, which gives associates in the departments cellular devices and Bluetooth printers to check out customers and provide receipts on the spot. Previously, customers had to exit the Lawn & Garden Center and enter the store itself to pay for lawn- and garden-related products.
Creating a suite of custom-built mobile apps to help store associates manage a variety of routine activities directly from a mobile store device, freeing up time to handle other important duties. The suite assists with tasks ranging from the moment a product arrives in the back room to the second a customer finds it on the shelf.
Encouraging store associates to accomplish everyday tasks on the job with their smartphones instead of store-supplied devices, with the intent of improving efficiency via familiarity. The Bring Your Own Device program lets participating associates download Walmart's app suite directly to their own devices and, in return, receive a discount on their phone bills. Walmart claims that it's being "very specific" about what it can and can't see on associates' phones to help curb privacy concerns.
Additionally, Walmart's club store division, Sam's Club, recently opened a smaller-format, grocery-focused Sam's Club Now store in Dallas, which places shoppers' mobile phones at the center of the grocery shopping experience while also serving as an incubator to adopt and test other technologies. Among the features of the Sam's Club Now app used in store are scan-as-you-shop, augmented reality, wayfinding and navigation, and one-hour click-and-collect.
Walmart operates more than 11,200 stores under 55 banners in 27 countries. The Bentonville, Ark.-based company is No. 1 on Progressive Grocer's list of the top grocers in the United States.