Kroger, Walmart Offer Pickup for eMeals Service
Get great content like this right in your inbox.
Subscribe
Kroger and Walmart are the first food retailers offering curbside pickup for a meal-planning service with buildable options that claims to be the first offering choose-your-food-style kits and working with local grocery pickup and delivery partners.
Available for purchase online and pickup in-store at the Cincinnati- and Bentonville, Ark.-based retailers' stores – as well as for delivery via San Francisco-based service Instacart – eMeals says it offers solutions similar to meal kits at up to half the cost of those from meal kit services today. It allows subscribers to choose from 15 eating styles ranging from Quick & Healthy to Paleo, Clean Eating, Low Calorie, Classic Meals and even Diabetic, Gluten Free and Vegetarian, and can personalize each week's menus by selecting meals from any of the food styles or substituting favorites from previous weeks. More than 100 weekly recipes are available in the 15 styles.
In addition to accommodating dietary needs and preferences, as well as offering a more economical solution, Birmingham, Ala.-based eMeals offers everything-you-need grocery lists that automatically populate once a week's meals are chosen, also allowing subscribers to delete unneeded ingredients or add unrelated items that could save extra shopping trips. Moreover, packaging waste is reduced, as ingredients come in standard packaging rather than recipe portions, so unused ingredients from previous orders that can be used in a current order can simply be removed from the shopping list.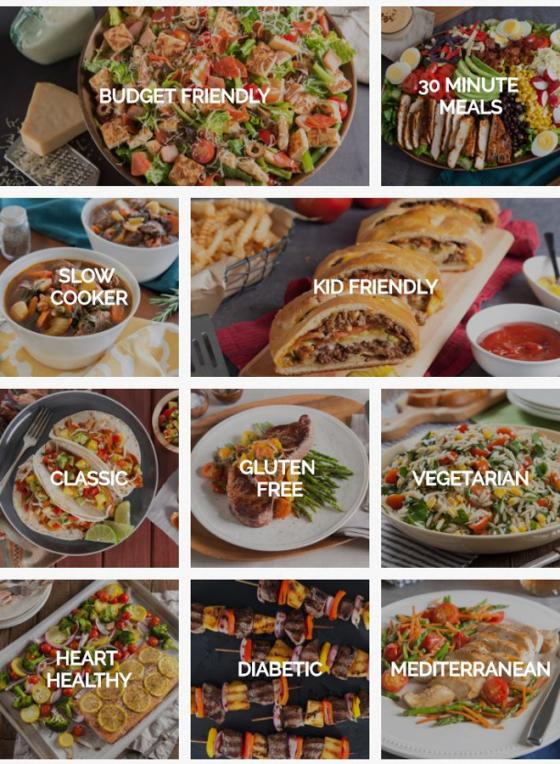 The service claims to be extra-convenient due to users' ability to choose among several local places for pickup or different windows for delivery – or even to purchase the ingredients from a list in-store on their own. And all meals are fast and easy to prepare, with instructions available on the eMeals app or website. The Quick & Healthy plan, for instance, offers dinner entrees with no more than eight ingredients, as well as side dishes that go from stove to table in 30 minutes or less.
"Over the past decade, we've provided millions of weekly meal plans to consumers across the country, which naturally led to our expansion into the meal-kit space," said eMeals CEO Forrest Collier. "Because of our experience and our use of grocery delivery and pickup partners, no other meal kit provider has the same food-style variety, depth of recipes and shopping affordability. We are the perfect solution for people who want the convenience of meal kits, but with lower cost and more personalized choices."
eMeals plans to add more retailers and delivery services to its list of partners, and is willing to partner with new ones to also provide pickup or delivery for the service.
Increased Exposure Needed
Meal kits are a big business today, exploding into a $1.5 billion market over the past five years, according to Rockville, Md.-based Packaged Facts. That number is projected to double in the same timespan to come.
However, with an arguably oversaturated market for delivery services and grocers rolling out their own kits – along with Amazon introducing its own kits and likely to sell them in Whole Foods stores, which it now owns – it's becoming vital for delivery services to seek added exposure and captive audiences inside brick-and-mortar stores, especially as shoppers seek to purchase products wherever, whenever and however they desire. Services that have already partnered with brick-and-mortar retailers include Purple Carrot with Whole Foods, a partnership that complements Whole Foods' natural and organic model with Purple Carrot's commitment to plant-based eating, and Gelson's Markets with Chef'd, a partnership that complements Gelson's upscale model with Chef'd's gourmet, chef-developed products.