Kroger Begins In-Store Rollout of Home Chef Kits, Tests Quick-Prep Extension
Get great content like this right in your inbox.
Subscribe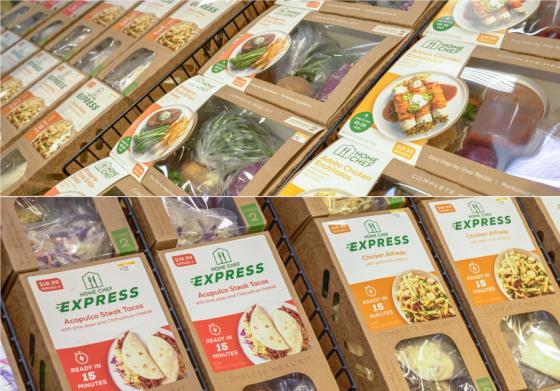 The Kroger Co. has begun rolling out Home Chef meal kits in select markets, and is debuting Home Chef Express, a line extension of quick-cook meal kits in a limited market test. Both options are intended to provide an easy-prep, on-demand solution for busy shoppers' dinner tables, with each meal serving two and starting at $8.50 per serving.
The Home Chef kits will be available first at select Mariano's stores in Illinois and select Metro Market and Pick 'n Save stores in Wisconsin. The Home Chef Express kits will be tested at select Kroger stores in Kentucky and Michigan. Both lines will be available in Cincinnati Kroger stores, and then expand to new markets in 2019.
"We're taking a test-and-learn approach to our in-store offerings," a Home Chef representative told Progressive Grocer. "Our goal is to test different meal solutions to make sure we have the right mix of products to meet our customers' needs."
Containing the same fresh portioned ingredients and easy-prep recipes as their online-order counterparts, the Home Chef meals will retail in sets of four varieties that will rotate every week. For instance, the week of Oct. 8 will feature Brasserie-Style Sirloin Steak, Breaded Italian Chicken, Blue Cheese and Smoked Almond Pork Chop, and Adobo Chicken Enchiladas, while the following week will feature Steak Strip Marsala Risotto, Chicken Chimichangas, Chimichurri Pork Tenderloin, and Prosciutto and Sage Linguine. The same recipes will also be available through HomeChef.com, among an even wider variety from which online shoppers may choose.
The Home Chef Express kits will retail in a similar manner. Able to go from fridge to table in 15 minutes or less, the kit lineup will consist of Acapulco Steak Tacos, Mongolian Meatballs, Chicken Alfredo and Honey Butter Pork Chop during the week of Oct. 8, while the following week will be Steak Stroganoff, Chicken Fajitas, Pork Spring Roll Bowl and Beef Chili.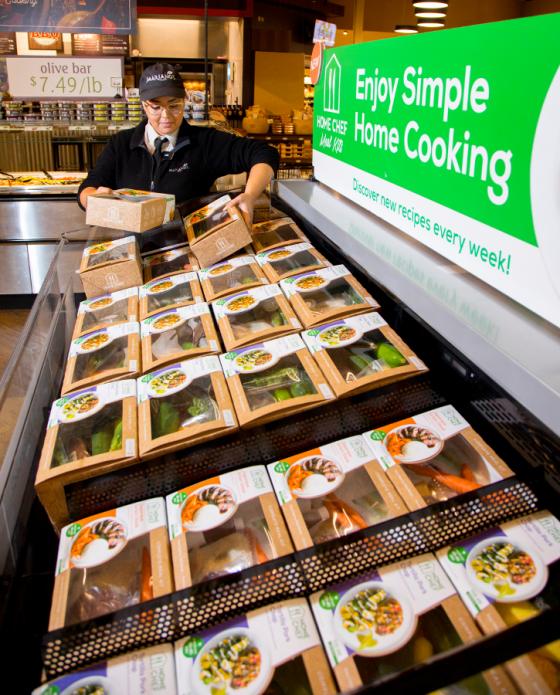 "We are excited to introduce Home Chef's new retail meal kits to our store customers," said Robert Clark, Kroger's SVP of merchandising. "Offering a rotating menu of recipes is one more way we are providing our customers with innovative culinary experiences and choices. The Home Chef meal kits will redefine the way customers shop for, prep and cook their meals."
There's good reason to believe that the kits will perform well in stores: Sales of in-store meal kits grew 26.5 percent over the past year, reaching $154.6 million, according to the Nielsen report "The Meal Kit Opportunity." At the same time, total brick-and-mortar sales for center store edibles – including shelf-stable, dairy and frozen foods – dipped 0.1 percent to $374 billion. Among the reasons for meal kits' strong in-store performance are they require less commitment than those purchased via subscription-based services, and offer more flexibility for retailers and suppliers to experiment with components and "levels" of convenience to keep customers returning.
Kroger announced its plan to purchase the Chicago-based meal-kit service in May, with the idea of complementing its own Prep+Pared line of meal kits. The $200 million acquisition wrapped up in late June, further making good on the grocer's Restock Kroger initiative to transform retail and lead the way in "revolutionizing how companies shop for, prep and cook their meals." The acquisition is just one example of the many initiatives launched by the retailer over the past year that led Progressive Grocer to name Kroger 2018 Retailer of the Year.
The Kroger Co. operates a seamless digital shopping experience and 2,800 retail food stores under a variety of banner names nationwide. The company is No. 2 on Progressive Grocer's 2018 Super 50 list of the top grocers in the United States.