How Direct-to-Consumer Will Redefine Grocery
Get great content like this right in your inbox.
Subscribe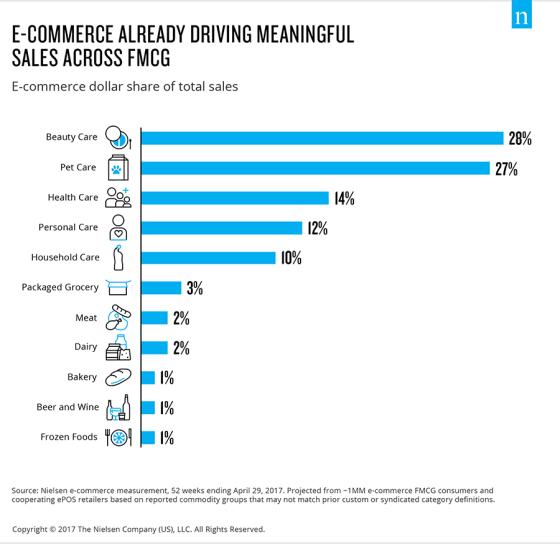 The winners of the next generation of grocery will have a relentless focus on customers, reach shoppers wherever they are and leverage vast amounts of data to create authentic, personal experiences. Winter is coming for those that don't respond to what consumers actually want.
Commerce is rapidly changing all around us, and there's a rush to adopt omnichannel marketing, engage in one-to-one personalization and incorporate direct-to-consumer (DTC) practices. This strategy is apparent in market leader Walmart's purchase of Jet.com to build out its digital platform, and its subsequent acquisitions of premium DTC brands like Bonobos, Moosejaw and Modcloth that allow Walmart to authentically reach a more premium customer.
The company's recent earnings report validates the strategy: Fiscal 2018 online sales rose 40 percent, with an additional 35 percent growth targeted for fiscal 2019.  Kroger, the second-largest U.S. retailer, has a similar but distinct track to address the changing nature of retail, with its Restock Kroger initiative and investments or partnerships with supportive businesses such as Ocado and Home Chef.  Both leading retailers are marshalling the respective might of their resources and showing a deep commitment to reaching consumers wherever they are.
Changing How Americans Shop
Driven by consumer demands for convenience, increased choice and, most importantly, lower prices, online DTC will imminently alter the fundamentals of how consumers transact. While retailers recognize the business opportunity, no single company has yet figured out the optimal way to capitalize on it, even as they explore ways to integrate DTC into their core business offering.
Grocery in particular will continue to go through seismic changes, as online sales are poised to quadruple in the next four years, according to a report by Packaged Facts, with FMI and Nielsen predicting that 70 percent of consumers will be grocery shopping online, spending $100 billion annually.
Not All Verticals Are Created Equally
Big Retail is starting to get serious about DTC, but many categories, including beverage alcohol, still lag behind others. Nielsen research indicates that consumers are more than 25 times more likely to buy beauty and pet products from their smartphones, than bottles of wine. If the disparity between in-store and online alcohol purchasing continues, Rabobank estimates that grocers could miss out on $3.9 billion in annual alcohol sales by 2022 – presenting a massive opportunity for online wine sales.
Early-adopting grocers that take advantage of this market opportunity with a robust DTC wine program will reap sizable rewards by monetizing their existing customer bases and expand their reach beyond their physical store footprint. The average consumer already spends 24 hours every week online, according to new data from USC Annenberg, so it stands to reason that massive market opportunity exists to move beyond the aisle to market to them in their homes.
The Juice is Worth the Squeeze
Marketing adult beverage items is a unique challenge for grocers, particularly as they look at DTC/ship-to-home programs, because in addition to the usual ecommerce challenges of managing a different fulfillment operation than is the norm for a retail store, the product category is highly regulated and retail success is reliant on longstanding relationships and business processes rife with middlemen.
Additionally, last-mile delivery – when permitted under existing laws – remains a costly barrier to selling everyday-priced wine, particularly in lower quantities per box.
Benefits of Big Data
Leveraging data from DTC transactions to surface a better product selection to a consumer and optimize their digital shipping experience is just one benefit of selling online. The real opportunity for many retailers would be to leverage data insights gleaned from DTC in a holistic fashion across their businesses. Business intelligence reporting can enable partners to understand key data points such as:
States with less consumer choice average 47 percent higher online DTC wine sales, per capita

New England customers are 45 percent more likely to purchase wine online versus the national average

Males are 11.7 percent more likely to become repeat online wine buyers

Italian wine is trending with Millennial males: Montepulciano is 63 percent more popular with Millennial males than females

Female Baby Boomers drink 254 percent more Chardonnay than male Millennials
DTC is a principal component of redefining retail that brings the store into the home and allows consumers to shop the way they want. With retailer benefits ranging from expanded reach and a demonstrated commitment to creating great customer experiences, to the leverage from DTC data analysis impacting buying, logistics, merchandising and more, it should be obvious that massive opportunity exists for forward-thinking retailers to tap into the beverage alcohol vertical in a unique way.