Grocery's Directive: Omnichannel or Bust
Get great content like this right in your inbox.
Subscribe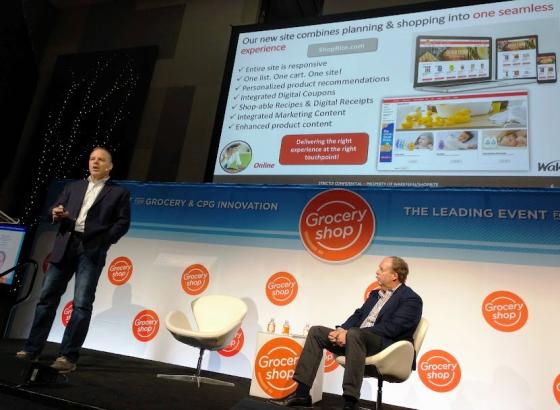 Even with the growth of online grocery shopping, physical stores will still be an integral part of the equation.
On the other hand, do we even need grocery stores anymore?
Such was the range of opinions offered during a wide-ranging and diverse content offering over three days at the first Groceryshop conference, held this past week at the Aria in Las Vegas. Following a dynamic Sunday opening, here's a broad view of the event's subsequent days.
To the relief of traditional grocery retailers, the former opinion dominated the discussion – assuming that grocers aggressively pursue a seamless shopping experience and leverage consumer insights to ensure their offerings keep pace with changing shopping behaviors.
"For the long term, brick & mortar retailers are here to stay, but customer preferences are also changing and grocery retailers need to adapt," Instacart founder Apoorva Mehta said during his keynote presentation. "Grocers are the backbone of what the future of grocery shopping looks like."
Ecommerce is "a tool that helps bring your brand to life," said Steve Henig, VP of digital commerce and analytics at Wakefern Food Corp., a traditional grocery operator that has excelled at delivery and click & collect services.
Jamie Dooley, VP of ecommerce sales for Keurig Dr Pepper, warned against three common omnichannel mistakes: underutilizing data, combining ecommerce and brick & mortar without training or resources, and killing profitability with shipping and marketing costs.
Dooley also cautioned against shadowing the elephant in the room: "Respect Amazon, don't ignore it, but understand your consumers and come up with your own playbook."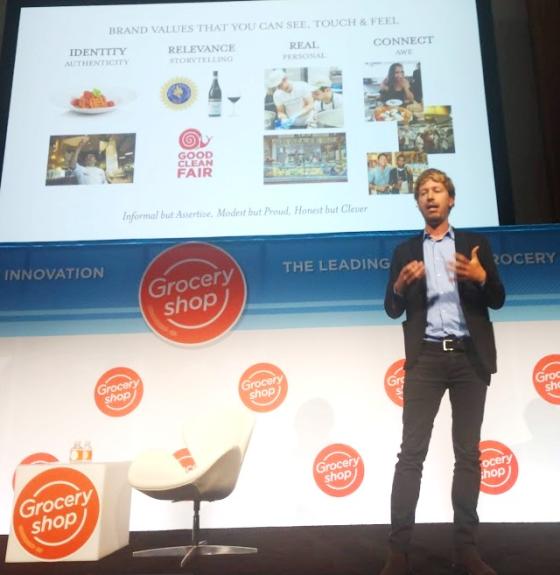 KNOWING YOUR MARKET
Understanding your market is key to creating an experience that draws people to your stores. "Grocery has a built-in opportunity to be multi-sensory," said Vicki Eikelberger, SVP and managing director of multidimensional brand experience firm Big Red Rooster.
To create a rich shopper experience, Chicago-area grocery chain Mariano's Fresh Market, part of The Kroger Co.'s Roundy's subsidiary, hires its associated from foodservice, hospitality, healthcare and academia, explained Don Fitzgerald, the retailer's group VP of merchandising and marketing.
Eataly, the retail-dining-education hybrid with locations in Italy, New York, Chicago and other major cities, aims to be "easy, informal and approachable," said Ennio Perone, Eataly's VP of business strategy and marketing, stressing the need for retailers to be storytellers to convey authenticity, values and passion.
Storytelling's important for all brands, as Enjoy Life Foods' CMO Joel Warady noted: "Good products are not enough - you have to tell stories every single day." Warady went so far as to assert that companies "don't own our brands, the consumers do. It stands for whatever they want it to stand for," urging marketers to "think digital but act analog - talk to your consumers."
Tim Lowe, president of Winston-Salem, N.C-based grocery chain Lowes Foods touted the value of "small data" revealed through consumer engagement to help create exciting shopper experiences. "We want to be an entertainment company that sells groceries," Lowe said.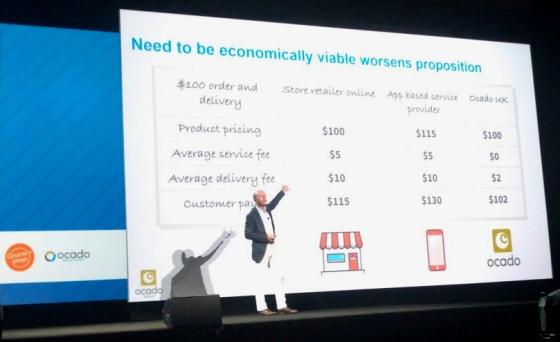 PURE PLAY: YAY OR NAY
Meanwhile, Pradeep Elankumaran, co-founder and CEO of AI-powered digital micro-grocer Farmstead, questioned the need for grocery stores, asserting that a pure ecommerce model is the best way to attain his goal of connecting perishable supply to digital demand in real time.
Certainly pure-play ecommerce has advantages, as suggested by Matt Fitzgerald, brand SVP for meal kit provider HelloFresh: direct consumer feedback, ability to move faster and have a more intimate relationship with consumers. But Fitzgerald acknowledged advantages in partnering with brick & mortar retailers: help in generating brand awareness and ability to tap an "unrivaled" perishables supply chain for deeper consumer penetration.
Customer experience and strategic retailer partnerships have become key to the success of Shipt, said Harley Butler, CMO of the online grocery delivery marketplace owned by Target.
Chicago's Foxtrot Market positions itself as the "next-generation corner store," according to founder Mike LaVitola. Described as curation plus convenience, Foxtrot creates neighborhood hubs that serve as physical stores as well as fulfillment centers for online order delivery.
Order fulfillment is a key part of the equation, illustrated by Albertsons Digital/Ecommerce SVP Narayan Iyengar's announcement at Groceryshop that the retailer is partnering with delivery solution provider Takeoff to drive down its online order picking and delivery costs.
"If you're prepared to rethink end to end how you do business, you can be profitable" with online grocery, declared Luke Jensen, CEO of U.K.-based Ocado Solutions, which is partnering with Kroger in the United States.
Other tech applications unveiled at the conference included Midwestern supermarket chain Schnuck Markets'  use of Tally stock-keeping robots, which Schnucks VP of IT David Steck said "gives our team the ability to focus more on customer service instead of mundane tasks." 
VALUE BRANDS
Meanwhile, Constellation Brands VP of Ecommerce Wayne Duan urged retailers and CPG companies to embrace consumer empathy and avoid "techno-chauvinism."
To be sure, grocery "has emerged as a lifestyle category" with brands with a mission that reflect consumers' values, said Nick Green, co-founder and CEO of online membership platform Thrive Market.
"My grandparents bought supplies ... Millennials buy attributes," noted Jason Bidart, VP of private brand programs at New York metro area grocery chain Fairway Market. And JB Osborne, co-founder and CEO of brand consultant Red Antler asserted, "Having a great product isn't enough ... What do you stand for and how can consumers connect with you on a deep emotional level?"
For folks who want to eat better, the food industry needs to build trust with consumers to take the guesswork out of healthy eating, amid rising obesity and health care costs, said Michael Wystrach, co-founder and CEO of meal subscription service Freshly. "We're creating a Netflix for food ... using data to help you on your health journey."
Consumers are increasingly demanding transparency from retailers and brands, and whether it's by using blockchain or the Internet of Things, companies need to bare their supply chains, if not their souls, to their customers.
ShiSh Shridar, global retail industry solutions director for Google, declared the "biggest innovation of blockchain is trust in the supply chain. Frank Yiannas, Walmart's VP of food safety and health, described blockchain as "food traceability at the speed of thought." Similarly, IoT means "no-BS transparency," asserted Lauren Fleming, VP of quality for snack manufacturer RXBAR.
Close collaboration between retail and CPG is essential to moving the industry forward. The retailer/CPG relationship is "about how do we elevate the partnership beyond sales," said Gayitri Budhraja, brand VP for E.L.F. Beauty. And Constellation's Duan advised, "Be the easiest retailer or supplier to partner with - that's how you get those jump balls."
But the lines are blurring between retail and CPG, with the rise of private label products and direct-to-consumer sales. "It's the wild west right now," quipped Chieh Huang, CEO of online wholesaler Boxed.
Wakefern's Henig said grocery's significant challenge in the coming years will be finding people who possess the skills required to drive innovation. "Schools are not graduating enough people with the skill sets we need," he asserted.
A study by the Manpower Group, shared at a session hosted by the Retail Industry Leaders Association, suggested ways to close the retail talent gap: recruit for the job, not the industry; position retail as a career path; and offer desirable benefits like flexible scheduling.
The financial community is watching grocery's evolution with keen eyes. Asked what he looks for in a company to invest in, Rob Trice, founder and partner at Better Food Ventures, said, "We're looking for companies that are solving problems now."
But with the current pace of disruption in the grocery market, it's hard to predict exactly what will happen next. As a panel member of a Wall Street discussion session quipped, "There is no playbook for the change that's happening in retail."
Groceryshop was held Oct. 28-31. Next year's event is scheduled for Sept. 15-18, 2019, at the Venetian in Las Vegas. Follow our live event coverage on Twitter at @pgrocer and @jimdudlicek.