Live from Groceryshop: Retailing's Fever Pitch
Get great content like this right in your inbox.
Subscribe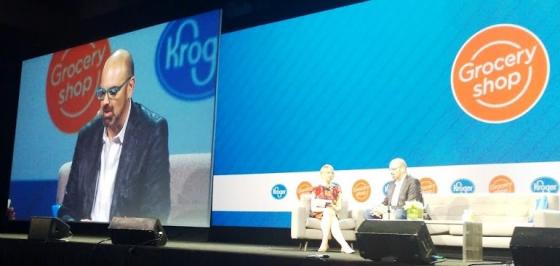 One point was clear after the first day of the inaugural Groceryshop conference: Slowing down is not an option for any company expecting to still be doing relevant business a year from now.
From the folks who produce ShopTalk, the conference – running Oct. 28-31 at the Aria in Las Vegas – promised a deep dive into the transformative forces impacting retail, with a host of content-rich concurrent sessions bound by the common thread of shopper experience.
To be sure, the speakers I caught on the opening day of Groceryshop made it clear that grocery retailers and their CPG partners need to be capturing more and better data in order to keep up with consumers' rapidly changing behaviors and tastes.
It's that middle that keeps getting squeezed, noted CB Insights Senior CPG Analyst Zoe Leavitt, pointing to the bankruptcies of retailers like Tops and Southeastern Grocers while players like Aldi and Amazon/Whole Foods continue to grow. Traditional grocers can fight back by upping their shopper insights game, Leavitt asserted, through in-store grocery technology, vertical integration and personalization.
Private brands will be a key component of future success, noted Diana Sheehan, VP of retail and shopper insights at Kantar Consulting, citing supermarket research from Kantar showing that 85 percent of U.S. consumers buy private label products at least some of the time. In fact, further research indicates that private label is becoming a trip driver for retailers and emerging as a key element of the store destination experience.
Working together, grocers and their CPG partners can be more competitive, but their efforts at collaboration still need work. Retailers reportedly still have limited confidence in CPG companies' capabilities within traditional channels and even lower for digital channels.
That's according to Art Ash, principal for consumer products corporate strategy and growth leader at Deloitte Consulting, citing research from Deloitte's 2018 Voice of the Retailer survey. Areas in which retailers have a dim view of what their CPG partners are doing: strategic alignment on how to grow categories, consistent and informative insight sharing, quality forecasting and replenishment capabilities, quality and breadth of assortment, collaboration and timeliness in new product development, well-designed and -timed exclusives and promotions, and content creation and delivery.
Ash recommended five major actions to address this:
Develop a unified approach across both digital and physical channels.

Generate and continuously share consumer insights and analytics.

Integrate supply chain and forecasting capabilities.

Partner on channel-optimized assortment, merchandising and promotions.

Partner on the creation and delivery of relevant content across channels.
Meanwhile, Barbara Kahn, marketing professor at the University of Pennsylvania's Wharton School, asserted that retailers need to master at least two of the four quadrants on her success matrix: brand, low price, experiential and frictionless. Amazon has pushed the envelope on low price and a frictionless experience, compelling traditional grocers like The Kroger Co. to make decisions unheard of just a few years ago.
For its part, Kroger (Progressive Grocer's 2018 Retailer of the Year and No. 2 on our 2018 Super 50 list of top grocers) is redefining retailing through innovations and strategic partnerships across the omnichannel spectrum.
"We have stayed true to our commitment to the customer and our strategy of investment to accelerate innovation," said keynote speaker Yael Cosset, Kroger's chief digital officer. Cosset advised: "Make sure you're clear about what to do for your customer and don't get distracted by what others are doing."
Groceryshop runs through Oct. 31. Follow live coverage on Twitter at @pgrocer and @jimdudlicek.