01/25/2019
Grocery Labor Outlook: How to Overcome Recruitment, Retention, Training and Diversity Challenges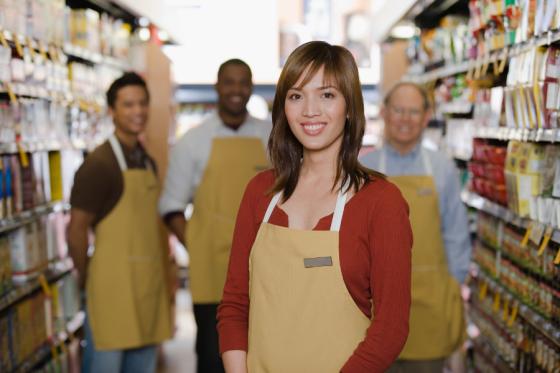 With labor a perennial headache for food retailers that's only grown worse in recent years – the issue topped the list of big issues keeping grocers up at night, according to Progressive Grocer's 2018 Annual Report of the Grocery Industry, chosen by 66.7 percent of survey respondents, up from second place in 2017 – it's more necessary than ever for the industry to figure out the best ways to recruit, retain, train and ensure the diversity of its employees. To that end, Progressive Grocer sought out several experts for their ideas on creating a happier, more efficient workforce in 2019 and beyond.
'Moments That Matter'
"By investing in resources to enrich the workplace for employees, grocers have an incredible opportunity to attract and retain high-performing, reliable associates – a.k.a. the types of employees you want representing your brand – while also cultivating customer loyalty across all channels," asserts Amanda Nichols, senior manager, industry marketing, retail and hospitality at Lowell, Mass.-based Kronos Inc., a provider of workforce management and HCM cloud software solutions.
"Simple things like making it easy to check a schedule or swap a shift with a co-worker sound small, but when your son has just made the playoffs, knowing that your employer has invested in automated and easy-to-use tools for scheduling and shift swapping really makes a difference," Nichols goes on to explain. "We call these the 'moments that matter' to employees, and it's critical that grocers simplify and streamline these daily tasks. Essentially, you want to meet your employees' baseline expectations around work tasks – it's the first step in building a great relationship with your teams. Get those right, and the stage is set for attracting and retaining the highest-caliber talent in your industry."
To meet those expectations, she urges grocers: "Take action to simplify the employee experience. Consider the tasks that your employees are doing every week, or maybe every day: clocking in and out, checking schedules, swapping a shift. … [I]t's critical that retailers simplify and streamline these daily tasks."
Continues Nichols: "For starters, tasks should be easy to complete using intelligent workplace apps or technologies that are modern, intuitive and user-friendly. Think one-click actions, automatic shift swapping (without manager intervention), personalized employee dashboards, single sign-on across multiple employee apps, and more. Many employees – especially Gen Z and Millennials – expect a familiar, consumer-grade technology experience at work, and it's within reach for employers to deliver."
Key Takeaways
Attracting and retaining an efficient retail workforce depends on offering such resources as technology that automates and streamlines daily tasks, seeking candidates who fit within a grocer's culture, and then making sure that employees stay by increasing their emotional connection to the company.
Training should be offered on an ongoing basis to help employees learn not just the fundamentals of their roles, but also to grasp their larger significance to the grocer's mission, vision and values.
To benefit from greater workplace diversity, which drives innovation and profits, retailers must help underrepresented groups, including women, to reach their full potential.
Retailers who want to reap the full benefits of women's leadership and retain talented women need to look at their policies, procedures and corporate cultures to root out bias that prevents not just gender diversity, but gender inclusion … and barriers to women's success.
Sarah Alter, Network of Executive Women
What's more, according to Nichols, "Additional differentiators like flexible and predictable schedules … and premium pay for hard-to-fill shifts help to maximize employee engagement."
"If you don't have a capable, connected and committed workforce, you can't focus on the rest of your business," points out Margi Prueitt, executive director of the Produce Marketing Association's Center for Growing Talent, in Newark, Del. "Companies can turn their talent crisis into a talent opportunity by focusing strategically on [their] 'people practices.'"
Adds Prueitt: "The best way to fix your talent challenge and become a talent magnet is to shift from transactional HR – e.g., focusing on hiring, firing, labor law compliance – to transformational HR. By aligning your HR programs and practices with your business' goals and related talent needs, you can take your company – and [the food] industry – to the next competitive level and grow your business' bottom line."
Once you've attracted that superior talent, let them know from the first day that they're valued members of the team.
"Onboarding … can be a make-or-break moment to demonstrate your company's culture, values and your expectations for employees. It's important to show that you reward top performers and that you'll provide them with the tools they need to do their jobs well so that employees are armed with this knowledge from the start," notes Nichols.
"Grocers are coming to understand that paying attention to culture and actively supporting employees with knowledge and career growth goes a long way towards attracting and retaining strong talent in the first place," agrees Carol Leaman, CEO of Waterloo, Ontario-based Axonify, a B2B software-as-a-service company and provider of microlearning solutions – that is, education offered in relatively small learning units. "It starts [on] day one, with more than just perfunctory onboarding. New employees should feel connected to the team and understand the bigger picture that the organization is trying to achieve."
Maintaining an Emotional Connection
Key to retaining a top-notch workforce is to make sure that associates remain personally invested in their jobs.
"Supporting employees every day in a way that's easy, personalized and relevant means employees feel engaged at work," observes Leaman. "Feeling supported and engaged is directly impactful to the sector's increasing focus on customer experience (CX) as a point of differentiation. Disengaged associates aren't particularly invested in bringing the CX strategy to life."

She adds: "Grocery retailers need to focus on increasing the emotional connection employees have to the organization to keep them from leaving. Rather than recruit and select candidates just based on their existing knowledge or experience, grocers should be looking for candidates who are good fits for the culture."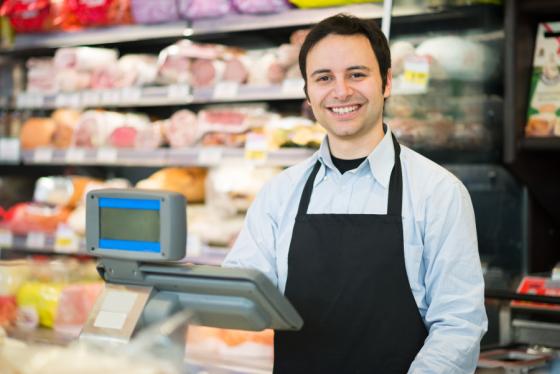 Moreover, this commitment must come straight from the top.
"Change starts at the corporate level," says Nichols. "Executive teams must not only believe that it is important to have a highly engaged workforce and a strong workplace culture, they need to understand that a focus on people, culture and work-life balance is a sound business strategy and the path to future success."
Change Management
One of the chief ways that a grocer can support employees is by "investing in ongoing development so associates feel confident and equipped with the knowledge to do the right things on the front lines every day," advises Leaman, who notes that once a grocer has hired those candidates who are a good cultural fit, "they must evolve their training strategy to quickly and efficiently help them learn not just the fundamentals of their role, but understand their larger significance to the organization's mission, vision and values. This training strategy should … become part of everyday work, so associates can remain agile as the organization continues to evolve their business to meet customer needs."
Nichols agrees that, due to the changing nature of the business, "grocers need a nimble workforce that's willing and able to adapt. For example, if a grocer decides to start developing meal kits, they need the right staff in place – from the leadership team all the way down to the front-line employee that's charged with assembling the kit. They also need to have a strong change management practice in place to ensure success when implementing these changes."
Once engaged, employees are poised to acquire various valuable skills.
"Software solutions that involve microlearning, adaptive learning, enhanced communication and manager coaching capabilities are critical to making sure associates are ready to deliver a new type of grocery experience," says Leaman. "And, by focusing on the needs of each associate through these strategies, grocers can improve their retention and further strengthen their ability to deliver on their experience goals – for both employees and customers – over the long term."
Grocers are coming to understand that paying attention to culture and actively supporting employees with knowledge and career growth goes a long way towards attracting and retaining strong talent in the first place.
She offers the following training suggestions to employers: "Evolve the associate experience incrementally so current associates have the opportunity to develop the knowledge and skills that will be required to be successful in the business as it changes. Build an associate experience that can efficiently upskill the right people and support their individual needs through continuous learning and mitigate the impact of turnover on the customer experience. Leverage a wide range of data to proactively identify critical performance gaps and embrace an agile, continuous training approach to address … concerns before they become problems. Focus on the roles of store managers, who are the front-line support every day and can make or break an associate experience."
The bottom line, according to Nichols: "Opportunity for change and growth within a shifting market is more accessible to grocers that have already assembled an effective workforce."
Everyone's Welcome
Along with the aforementioned strategies for improving the retail workforce, companies must enable underrepresented groups, such as women, to reach their full potential.
A major obstacle to achieving this sort of inclusion, however, is that such traits as empathy, humility, vulnerability, a willingness to collaborate and strong communication skills, which enable "diverse teams [to] perform their best, … aren't always valued in the workplace," explains Sarah Alter, CEO of Chicago-based Network of Executive Women, a leadership organization serving the retail, consumer goods, financial services and technology industries.
In response to this reality, the Network of Executive Women created a Blueprint for Gender Equality spotlighting five key areas that must be addressed to achieve gender parity in the workplace.
"The first is leadership – it all starts at the top – from the makeup of your board or c-suite to the vocal advocacy of senior leaders and the commitment of resources to ensure the company is one in which everyone can succeed," notes Alter. "Second is corporate culture, and the elimination of conscious and unconscious bias, and practicing conscious inclusion. Third is accountability – what gets measured gets done. This means measuring the representation of underrepresented groups, goal setting, action planning, transparency and benchmarking. This includes the work it takes to reach pay parity.
Continues Alter: "The fourth area is employee development – this includes inclusive recruiting and making sure everyone can thrive. For women especially, sponsorship is key, because they are less likely than men to have sponsors who put them in positions to succeed and advance to the next level. The final area of action [that] companies must take is work flexibility – always a struggle for retail jobs – but there is room for job-aligned and family-friendly policies, formal and informal, that help employees through life and career pivot points."
What will be the outcome of such radical changes? Pointing to "piles of research," Alter doesn't hesitate in her response: "Diverse thinking, experiences and perspectives drive innovation and profits." Prueitt wholeheartedly agrees, adding, "The best ideas happen when diverse perspectives come to the table."
And that's really what it's all about: enabling the grocery business to thrive, now and in the future.
"In short, a well-trained, technology-enabled and engaged workforce can be an incredible differentiator to not only recruit and retain a highly effective workforce, but drive customer satisfaction and repeat business in grocery," observes Nichols. "After all, if workers are engaged, happy, empowered, trained and have the tools to do their job well, that sense of engagement and positivity will be reflected in the way they interact with customers and the experience they provide. It's a virtuous cycle."