Leadership Lessons for Grocers
Get great content like this right in your inbox.
Subscribe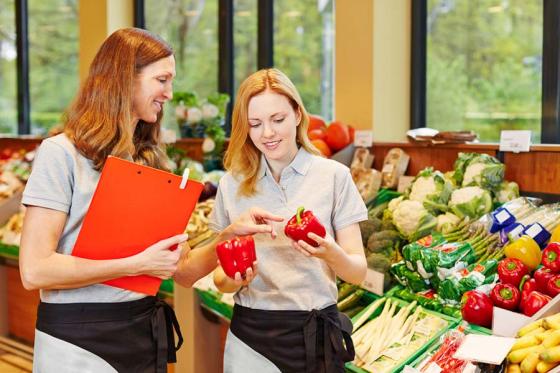 In developing the next slate of leaders, what should the grocery industry being paying attention to?
"When it comes to securing effective leadership to drive innovation and be competitive, expectations among grocers should be high," asserts Amanda Nichols, senior manager, industry marketing, retail and hospitality at Lowell, Mass.-based Kronos Inc., a provider of workforce management and HCM cloud software solutions. "Without effective and innovative leadership, these organizations would struggle to remain competitive — especially now, as rising consumer expectations, tastes and needs are reshaping the definition of 'grocer.' If leadership simply sticks to traditional grocery products and if they fail to evolve their workforce with training and technology to make employees' jobs easier, then grocers may find themselves behind the curve in meeting changing consumer needs and streamlining the moments that matter for employees."

"Managers are the most important component of the store and associate experience," contends Carol Leaman, CEO of Waterloo, Ontario-based Axonify, a B2B software-as-a-service company and provider of microlearning solutions. "Manager development and support must be prioritized to ensure they can drive the performance required to stay competitive and keep up with business innovation. Just as with associate support, managers must receive continuous development opportunities. They should be challenged regularly with scenarios that require them to apply and refine their skills. This is especially true for managers who rise up through the associate ranks and may not have previously led a team or department."
Among the resources that managers need to lead effectively, according to Leaman, are "the right data to proactively identify, diagnose and heal operational issues, [ranging] from business KPIs like customer satisfaction, sales and efficiency, to associate knowledge and behavior," and "the right tools for engaging and enabling their associates, including digital training and communication platforms that can help them get the right information to the right people as quickly as possible."
"Managers are the most important component of the store and associate experience." --Carol Leaman, Axonify
What Makes a Leader?
Of course, it helps if the various groups working at a company can agree on what makes a leader.
"The vast majority of women are working in corporate cultures that embrace outdated definitions of what makes an effective leader — definitions of leadership that don't cut it in today's marketplace," observes Sarah Alter, president and CEO of Chicago-based Network of Executive Women (NEW), a women's leadership organization serving the retail, consumer goods, financial services and technology industries. "Today's business environment demands leaders with so-called 'feminine' leadership traits" — such as empathy, humility and vulnerability — "though they are traits that today's most effective leaders, male or female, possess."
Many businesses, however, "don't always see the value and results brought by leaders who are patient enough to take the long view and who understand the importance — and can model — work-life integration," notes Alter, adding, "This is just one reason women are still vastly underrepresented in senior leadership roles."
Last spring, NEW issued a report, "The Female Leadership Crisis," which uncovered what Alter calls "four deeply rooted aspects of most workplace cultures that are causing women, especially women executives, to leave. First, favoritism and bias are embedded in our corporate cultures. Second, women, especially at the upper levels, feel isolated. Third, when given a new role, women don't feel as supported by their peers or managers as men do. And, exacerbating the first three, work-life issues still have not been addressed — and they are taking on toll on women and men."
Retailers that can address these issues – perhaps through such vehicles as NEW's Blueprint for Gender Equality – will be able to position their emerging leaders for greater success, and by extension, enable their businesses to perform better.