Festival Foods Introduces Private Label Meal Kits
Get great content like this right in your inbox.
Subscribe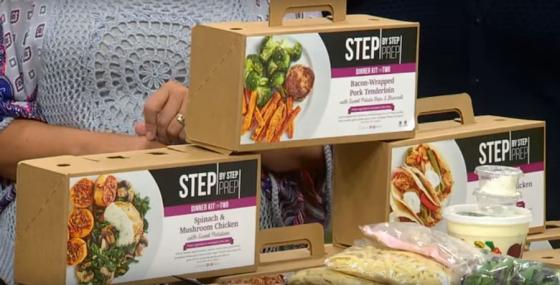 Festival Foods, one of Wisconsin's independent grocers, has launched its own line of meal kits: Step By Step Dinner Kits, available in the deli section.
Containing all of the ingredients needed for a meal, along with simple instructions, the kits allow time-starved consumers to prepare fresh meals with minimal work. They require no minimum purchase and feature less packaging, as well as containing locally sourced fresh ingredients.
Packaging is easy to read and color-coded to help shoppers easily identify how many people a meal can feed, along with the approximate time to prepare. All kits contain recipe cards, with most also including photographs to aid preparation.
"From a basic beef stew to chef-inspired meals, we have something for everyone," said Cindy Schmidt, senior specialist-fresh foods at De Pere, Wis.-based Festival Foods.
Prepared by deli associates, the kits now include 20 options and will offer even more soon. Festival encourages guests to order meals ahead of time through the deli department to ensure proper stock of the meals they desire.
Current kit types available are:
Skillet Family Dinners: These feed a family of four and are ready in 15 to 20 minutes. They include cut ingredients and precooked pasta or rice.
Slow Cook Family Dinners: Using a slow cooker, these meals are ready in four to six hours on high, or eight to 10 on low, and come in three varieties: Beef Pot Roast, Pork Pot Roast and Beef Stew. Exclusive seasonings also are included in each offering.
Dinner Kits for Two: These include pre-measured ingredients to ensure quick preparation, and require just 30 to 60 minutes to prepare. More than a dozen varieties are available, including Pesto Chicken Penne with Vegetables, and Bacon Wrapped Pork Tenderloin, Sweet Potato Fries & Broccoli, two best-sellers.
Festival Foods is one of several independent grocers in the United States to recently launch its own line of private-label meal kits. In April, Pacific Northwest grocer PCC Community Markets introduced Scratch-Made Meals at Home, subscription-free, in-house-prepared meal kits now available throughout Seattle both in-store and for delivery through Instacart and Amazon Prime Now. A month prior, Louisiana grocer Rouses Markets added its own line of private label meal kits.
Independent grocers see a huge opportunity in competing with larger operators via meal kits: Sales of in-store meal kits grew 26.5 percent over the past year, reaching $154.6 million, according to the report, "The Meal Kit Opportunity." At the same time, total brick-and-mortar sales for center store edibles – including shelf-stable, dairy and frozen foods – dipped 0.1 percent to $374 billion.
This growth could be attributed to the advantages that in-store kits provide over those offered through online services: They require less commitment than those purchased via subscription-based services, and they offer more flexibility for retailers and suppliers to experiment with components and "levels" of convenience that keep customers coming back.
Larger grocers and services have seen the advantages that in-store kits offer: Blue Apron and HelloFresh, for instance, have recently begun their own physical expansions, with the former recently beginning a partnership with Costco and planning several physical events nationwide, while the latter has just inked an agreement to start selling retail-ready kits in two Ahold Delhaize USA banners and eventually at other grocers.
Festival Foods operates 31 full-service supermarkets across Wisconsin and employs 7,500-plus associates.