08/02/2018
Consumers' Demand for Fresh Illuminates Growing Opportunity for Grocers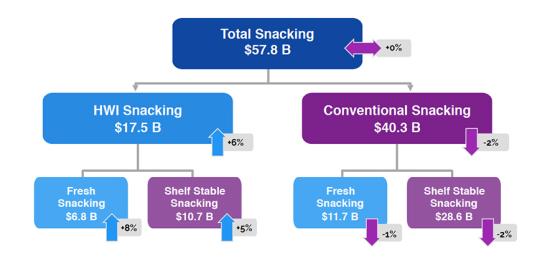 New data from global market intelligence agency Mintel spotlights the developments and future outlook of fresh snacking, in its recent report, "The Future of Fresh." Sponsored by Perfect Bar LLC, maker of The Original Refrigerated Protein Bar, and independently researched and written by Mintel in collaboration with SPINS, the report quantifies the impact and implications of fresh in CPG, ecommerce and retail, as well as illuminating the immense opportunities that lie ahead.
Fresh Snacking on the Rise
With 94 percent of adults snacking daily, fresh snacking is driving the growth in grocery stores' snacking categories. 
Data reported by SPINS indicate that the $40 billion conventional snacking market declined 2 percent annually over the past three years, while health-and-wellness snacking grew 6 percent annually, driven by outsize growth from fresh snacking, which grew 8 percent annually.
Mintel research has identified six packaged-product segments to most clearly define the fresh snacking category: refrigerated protein bars, protein snack packs, drinkable soups, bottled smoothies, yogurts, and other products such as hummus and guacamole.
These products have captured the interest of younger consumers, with "fresh" being the No. 1 purchase driver for Millennials (age 23-40) and the iGeneration or Gen Z (age 11-22), when shopping for food.
Despite Rise of Ecommerce, Consumers Still Shop Brick-and-Mortar for Fresh
According to SPINS data, the market began accelerating in 2008, with the percentage of new fresh-snacking product launches in the United States increasing by about four times between 2008 and 2016. However, fresh-snacking introductions in grocery stores paralleled the rise of ecommerce, representing the growth of a "fresh" niche in brick-and-mortar retail, one that the online channel currently doesn't serve particularly well, due to shipping and cold supply-chain challenges.
Mintel anticipates that fresh categories will be a bright spot for brick-and-mortar grocers as ecommerce erodes core shelf-stable categories for grocery retail.
In recent years, consumer awareness of the location of higher-quality fresh options within the grocery store has increased – so much so that there's now an expectation that the perimeter of the store is the place for discovery and variety, with a third of shoppers saying that they're specifically looking for new foods on the perimeter, while a quarter say that the perimeter is where they purchase impulse items.
Changing Retail Landscape as Fresh Perimeter Grows
With the fresh perimeter growing at 2.1 times the rate of total food and beverage, it's clear that shelf-stable products will continue to yield space to fresh as the perimeter moves inward.
These purchase-decision areas have grown around the perimeter, and are even driving retailers to expand refrigerated cases into the center of the store; most notably in the pet food and baby food aisles. Mintel anticipates that retail environments will continue to evolve around fresh concepts, with stores expanding their percentage of refrigerated shelf space and the front of the store supporting click-and-collect or home-delivery offerings that support refrigeration.
Insights From a Fresh Category Leader
The trend toward fresh is now moving beyond its infancy, which means substantial opportunities lie ahead. One brand that has been a fresh pioneer since its inception is San Diego-based Perfect Bar.
"As The Original Refrigerated Protein Bar, Perfect Bar was an anchor brand in the fresh-snacking set more than a decade ago, notes founder and CEO Bill Keith. "Since then, we've watched consumers' adoption of a 'fresher-is-better' mindset drive brands to the perimeter of the store and, in turn, shift the retail layout to focus on making the fridge a prominent shopping destination. We see immense opportunity ahead for fresh snacking and plan to continue delivering delicious and nutritious products that set the bar for what consumers expect out of the fresh set."