Category Spotlight: Meat
Get great content like this right in your inbox.
Subscribe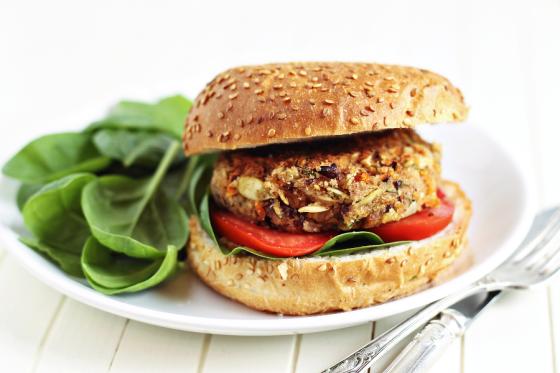 Convenience is undoubtedly playing a key role in the rise of fully cooked meat products, but even here, meat alternatives are starting to encroach on category sales.
While according to Chicago-based Nielsen, cooked chicken products still rule the roost, with $2.5 billion in sales, the category is essentially flat, having experienced a 0.8 percent dip from the previous year. By contrast, the meat alternative segment was up 10.7 percent to $285 million.
Looking at the frozen/refrigerated meat substitute category, as defined by Chicago-based IRI, one sees dramatic sales dollar growth across three of the five major players: Field Roast, up 70.2 percent; Gardein, up 51.1 percent; and Lightlife Foods, up 28.1 percent. Despite the rising popularity of these brands, Kellogg Co., maker of the popular Morningstar Farms brand, holds the lion's share of the category, an impressive 50.2. Rounding out the top five manufacturers is Kraft Heinz, with $27.5 million in sales and a 5.2 share.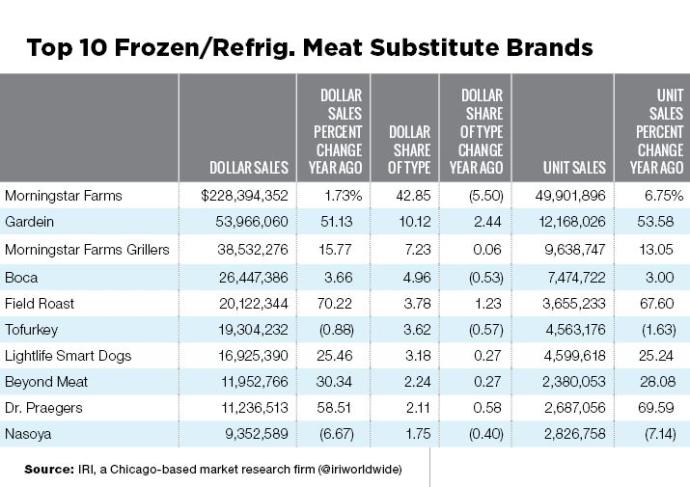 As well as being crafted from soy, meat alternatives can be made using jackfruit, mushrooms, lentils, pea protein, beans or wheat gluten, among other ingredients. Available items include products mimicking — some might say attempting — the flavor and texture of beef, chicken or pork in such forms as hamburgers, hot dogs and other sausage types, meatballs, meat strips, ground meat, and chicken cutlets. While most commonly encountered in the refrigerated and frozen sections, products such as those manufactured by Atlantic Natural Foods, which offers the Loma Linda and Neat brands, can also be found in center store; available items include meatless jerky.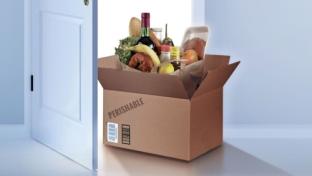 Download the 2018 Consumer Expenditures Study Data
Data provided via Nielsen's Total Food View, an inclusive data universe of UPC and non-UPC products (includes fresh random-weight retailer-assigned PLU and system 2 sales volume).
Retailers can make the most of rising consumer interest in plant-based proteins by featuring these products alongside their animal-protein counterparts, as emerging brands such as Beyond Meat (No. 8 among top brands, with its Beyond Burger landing a few notches down, in 12th place) are often merchandised, rather than segregating meatless items in the natural/organic section, where many shoppers rarely venture. 
Another way to encourage usage is to provide tasty recipes, preferably dietitian-approved, that show these products to their best advantage, thereby proving to shoppers that they don't have to give up their favorite meals — tacos, sliders, "pepperoni" pizza and the like — if they opt to go meatless.
But growing meat-alternative sales don't mean that consumers are abandoning animal proteins altogether: Spurred by concerns about their health and the environment, more consumers than ever before are embracing the concept of "flexitarianism," which means that they haven't stopped eating meat entirely, although they're making a conscious effort to eat less of it. Following their lead, retailers can make a special effort to capture the interest and dollars of these sometime meat eaters by promoting meat items for special occasions when flexitarians might be tempted to indulge, like holidays and seasonal entertaining.
Additionally, private label has a presence in this category, coming in at No. 11, just above the Beyond Burger, indicating that grocers have an opportunity, as in the diet and nutrition category, to make their own mark in product development by offering shoppers on-trend flavor profiles, appealing textures, consumer-friendly forms and simple preparation instructions.