Amazon Notes Q1 Grocery Highlights
Get great content like this right in your inbox.
Subscribe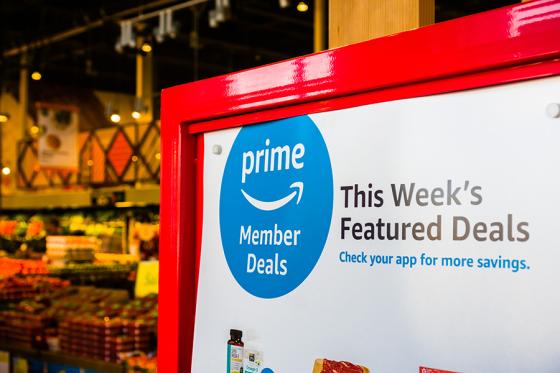 For its first quarter of fiscal 2019 ended March 31, Amazon.com Inc. reported a net sales increase of 17 percent to $59.7 billion, compared with $51 billion in the year-ago period. Excluding a $1.1 billion unfavorable impact from year-over-year changes in foreign exchange rates throughout the quarter, the company's net sales grew 19 percent versus Q1 2018.
Amazon's operating income rose to $4.4 billion in the first quarter of 2019, compared with $1.9 billion last year, while its Q1 2019 net income grew to $3.6 billion, or $7.09 per diluted share, compared with $1.6 billion, or $3.27 per diluted share, in the year-ago period.
Noting Amazon's trend toward less growth but greater profit margins, CNBC reported that the company's total revenue had slowed and its year-over-year sales in its brick-and-mortar stores -- mostly locations of its wholly owned Whole Foods Market subsidiary -- had increased by only 1 percent to $4.3 billion.
On the other hand, Amazon's cloud service continued to grow, posting a 41 percent sales increase, although that was less than the year-ago period's 49 percent growth.
Amazon's net income reached an all-time high of $3.6 billion, however, and its operating profit represented a 7.4 percent margin, from last year's 3.8 percent. CNBC attributed the wider margins to growth in such businesses as cloud, advertising and third-party seller services, whose profits are larger but total sales are smaller. 
Among its highlights of the quarter, the Seattle-based internet behemoth listed the following grocery-related items:
Amazon and Austin, Texas-based Whole Foods rolled out a third round of price cuts, offering new lower prices on fresh produce for all customers and expanded Prime benefits with more exclusive weekly deals on popular products across departments. 
Customer demand for free two-hour delivery from Whole Foods Market via Prime Now continued to surpass expectations, so, to meet this demand, Amazon and Whole Foods are continuing to grow the service in existing metro areas to serve more customers, as well as expanding coverage to new metro areas. Currently, delivery from Whole Foods via Prime Now is available in 75 U.S. metro areas, and grocery pickup from Whole Foods via Prime Now is available in 30 metro areas, with plans for continued expansion this year. 
Amazon now accepts New York-issued Supplemental Nutrition Assistance Program (SNAP) EBT cards as part of an online pilot rolled out in partnership with the U.S. Department of Agriculture, enabling millions of beneficiaries to use their nutrition-assistance benefits to order groceries online and have them delivered directly to their homes, including through free access via Prime Pantry and Amazon Fresh. 
The company also issued Q2 2019 guidance as follows: Net sales are expected to be between $59.5 billion and $63.5 billion, or to grow between 13 percent and 20 percent compared with the year-ago period, while operating income is expected to be between $2.6 billion and $3.6 billion, versus $3 billion last year.
 In other Amazon news, the company has revealed plans to make one-day shipping the standard for Prime members. 
According to New York-based digital research firm eMarketer, Amazon's worldwide ecommerce revenue will grow by nearly 20 percent this year, to $440.83 billion, and the company commands 47 percent of the U.S. ecommerce market.  In 2019, U.S. ecommerce revenue will grow more than 20 percent, to reach $282.52 billion, eMarketer forecasts.
Amazon/Whole Foods is No. 8 on Progressive Grocer's 2018 Super 50 list of the top grocers in the United States.