08/09/2018
Aldi Increases Fresh Product Offering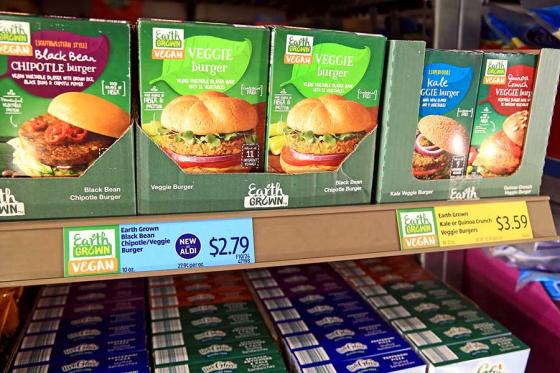 In tandem with Aldi's aggressive growth strategy in the United States, the deep-discount grocer is boosting its fresh offering by 40 percent, adding such consumer must-haves as organic and easy-prep options. In fact, according to the company, 20 percent of products in its stores will be new compared with last year.
Aldi is more than halfway through its plan to invest $5 billion-plus in remodeling its locations and growing its store count to 2,500 by the end of 2022. The chain's new store layout includes additional refrigeration space for the new fresh, healthy and convenient products rolling out through early next year.
"The continued success of our store expansion and remodel initiatives has given us the opportunity to carefully select and introduce new products that satisfy our customers' increasing preferences for fresh items, including organic meats, salad bowls, sliced fruits and gourmet cheeses," explained Aldi US CEO Jason Hart. "We know people lead busy lives, so we're making it even easier for them to purchase everything on their shopping list at Aldi, while still saving money."
Among the new items:
More ready-to-cook and organic fresh meats to make meal preparation easier, including organic chicken breasts and marinated cilantro lime chicken breasts

A larger produce selection, including veggie noodles and ready-to-eat sliced fruits, as well as more organics

The grocer's Earth Grown line now offers vegan and vegetarian options such as kale and quinoa crunch burgers, and chicken-less patties and tenders

A greater number of refrigerated grab-and-go products, including single-serve guacamole and organic hummus, in addition to fresh fruit and vegetable snack packs

Fresh organic salsa, antipasti salad, gourmet olives and calzones

More drinks and refrigerated beverages such as strawberry kefir and kombucha

More easy-to-prepare meal starters, including quinoa bowls, premium pasta sauces, and vegetarian options such as meatless hot dogs and sausages

More baked goods, including white and whole wheat pita breads, sourdough loaves, and gluten-free bagels

Organic almond milk, coconut milk and a full range of lactose-free and soy milk, giving Aldi the distinction of offering one of the country's biggest selections of private label milk alternatives
The grocer's enhanced fresh presence is in line with emerging retail trends, experts contend.
"As retailers make efforts to better satisfy consumers, it is clearer than ever that concepts around both assortment optimization and macro-space optimization will dominate the future landscapes of category management and planning capabilities," noted Ryan Powell, VP merchandising and category management at Dallas-based Symphony RetailAI, in response to the news. "Aldi's product refresh correlates with a larger shift we're seeing toward more fresh and prepared foods, along with macro-space reconfiguration to include nontraditional retail spaces and services. Retailers who have a clear understanding of how shopper interactions evolve across store, product, category and market will be best positioned to change product assortment successfully."
Operating more than 1,800 stores in 35 states, Batavia, Ill.-based Aldi US is No. 9 on Progressive Grocer's 2018 Super 50 list of the top grocers in the United States.