2nd Giant Heirloom Market to Open Aug. 2
Get great content like this right in your inbox.
Subscribe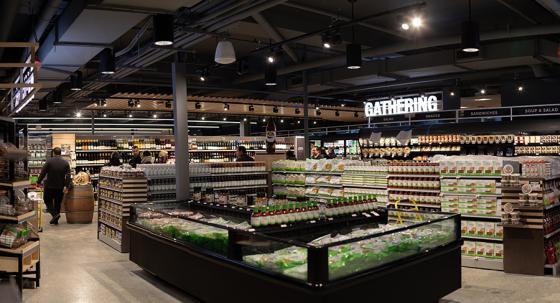 Giant Food Stores LLC's second Giant Heirloom Market will open in the University City neighborhood of Philadelphia on Friday, Aug. 2 at 8 a.m. The grocer's first store featuring the urban-focused concept opened Jan. 25 in the city's Graduate Hospital community. 
"The opening of our second Giant Heirloom Market store reaffirms Giant's continued commitment not only to the Philadelphia region, but also to our strategic investment in the city's urban core," noted Nicholas Bertram, president of Carlisle, Pa.-based Giant Food Stores. "We're thankful for the community's enthusiastic response to our first Giant Heirloom Market in Graduate Hospital and look forward to introducing this innovative design and concept to University City next month." 
"University City is the perfect neighborhood to bring Giant Heirloom Market to – a vibrant, fast-paced community full of professionals and students looking for fresh, healthy, convenient food," said Angel Cordero, who managed the opening of the first Giant Heirloom Market, and will now manage the University City store. "Just like Giant Heirloom Market, the University City community is a neighborhood bursting with creativity and innovation, making for the perfect pairing. We can't wait to open our doors and get to know our new neighbors!"
Measuring 9,950 square feet and located near Drexel University, the University of Pennsylvania and the area's hospitals, the University City store will offer a wide selection of high‐quality, fresh, local and seasonal foods; convenient grab-and-go meals; a large variety of plant‐based foods; an expansive gluten-free section; a dining area with plenty of electronic device charging stations; and a curated selection of wine and beer, complete with a rapid bottle chiller. The store will also sell Giant's Nature's Promise line of products, as well as items from such local purveyors as High Street on Market, Claudio Specialty Foods, Isgro Pastries and One Village Coffee.
Further, to best meet the needs of its time-pressed customers, the store will provide Giant Direct, Powered by Peapod service, which enables shoppers to order items online for next-day pickup or delivery. The online service recently marked its availability at 100 stores. Customers can additionally make use of Giant's Scan It! mobile app to simplify shopping and make use of self-checkouts named after local streets in the area.
Among the location's additional highlights are a sampling station showcasing new flavors, an expanded fresh-made sushi department, a gourmet cheese section offering pairing recommendations, kombucha on tap, and a do‐it‐yourself olive oil and vinegar blending station.  
The store will operate 6 a.m.-10 p.m., seven days a week and will employ about 50 full- and part-time associates.
Two more Philadelphia Giant Heirloom locations are currently in the works, one in the Northern Liberties neighborhood and one in Queen Village.
Progressive Grocer featured the Graduate Hospital Giant Heirloom Market as its April 2019 Store of the Month.
Giant Food Stores operates 180 grocery stores, 132 pharmacies, 102 fuel stations, and online grocery ordering and delivery services. Pennsylvania, Maryland, Virginia and West Virginia. Parent company Ahold Delhaize USA is No. 4 on Progressive Grocer's 2019 Super 50 list of the top grocers in the United States.