10/05/2018
13 Key Takeaways from Grocerant Solutions Summit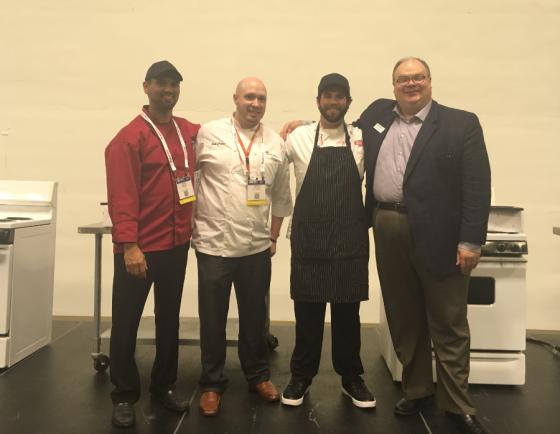 Progressive Grocer hosted the fourth annual Grocerant Solutions Summit, a gathering focused on the retail foodservice sector, in Minneapolis this week. Held in conjunction with sister event Path to Purchase Expo, the event was a combination of educational sessions, one-on-one meetings with industry suppliers and a chef challenge, the last of the three introduced this year.
During the inaugural Chef's Solutions Challenge, chefs Josh Croson, of Coborn's; Dave Histed, of Giant Eagle; and Neal Meier, of Hy-Vee competed in two challenges to create a Best Special Occasion Meal using fire-braised chicken thighs from Hormel Foods, and a Best Easy Weeknight Family Meal using white cheddar mac and cheese from Nestle Professional. Histed won the Best Special Occasion Meal with his Korean Chicken with Turmeric Rice, and Meier won the Weeknight Meal Challenge with his Chicken Fajita Mac & Cheese.
The educational component of the retail foodservice event covered topics ranging from category trends to diversity hiring to attracting superconsumers. Here are 13 of the top takeaways from the sessions:
Key consumer trends to be aware of in your prepared food program are the rise of snacking, personalization, customization, and health and wellness, noted Angela Bozo, of the International Dairy Deli Bakery Association.

A focus on cooking methodology is just as important as flavor trends, Bozo added. Offer products that can be made at home in a range of cooking options like slow-cooker meals, sheet-pan meals (baked in an oven) and electric pressure-cooker meals.

Seafood is a rising trend, and along with that is the introduction of "seacuterie," a seafood version of the charcuterie board that uses the whole fish from fin to tail, Bozo noted.
Disruption is a fact of life, and retailers need to have a plan for the five drivers of change: technology, including unattended checkouts and robotic production; convenience, which is often combined with technology like in the Amazon Go model; local, which means retailers need to let consumers know from where they're sourcing the products/ingredients; fresh food, or hyperlocal, where the food can even be grown on-site, as with hydroponic tomatoes; and experience, which may be the most critical and is a convergence of all the other drivers, combined with the atmosphere of the space that emphasizes the uniqueness of the brick-and-mortar store, noted Lewis Shaye, of Grocerant Design Group and Steven Duffy, of Cuhaci & Peterson.

To create a unique retail foodservice experience, retailers must use a discovery process to ideate the concept, said Shaye and Duffy. Then comes the definition phase, in which the core of the concept is fleshed out. This is followed by the design phase, the beginning of the concept's being brought to life. In the delivery phase, those design concepts are implemented in the physical space by such means as signage and lighting. Finally is the direct phase, when everything is set in motion and retailers must continually assess the concept to ensure that it's meeting customers' needs.

Food waste reduction has emerged as a standard of excellence and an expectation, noted Steven Finn, of LeanPath. To help reduce food waste, weekly waste summaries and detailed daily reports focus the conversation on the greatest opportunities for prevention.

We have now entered the 3.0 version of healthy eating, which is focused on functional foods, driven by performance, superfoods and positive nutrition, noted Erin Murray, of Datassential. Some of the ingredient trends of this healthy-eating version include chia seeds, flax seeds, kombucha, cold-pressed juices and turmeric.
Grocerant Solutions Speakers
Datassential predicts that the 4.0 version of healthy eating will be more personalized nutrition, Murray said. For example, there are now several companies that offer a breakdown of what a person should be eating based on his/her DNA and what he/she wants to accomplish with nutrition.

Ethnic cuisine will continue to influence menu trends as the makeup of the American consumer becomes more diverse, Murray noted. While Asian, Latin American and, increasingly, Middle Eastern flavors are influencing menus, the wave of the future will be ethnic dishes themselves rather than the flavors and spices used to create them.

Meal kits are best placed in the produce department at the front of the store, because consumers shopping for meal kits don't know what they want to eat for dinner, noted Jody Barrick, of Supervalu, who spoke during a panel discussion that included Kathryn Fealtman, of Giant Eagle, and Dan Koch, of Associated Wholesale Grocers. Meal kits don't really work in the meat department (at least for consumers) because customers who go the meat department already know what they want for dinner and may not be swayed enough by the meal kits to purchase them.

Managers in the grocerant space need to have cultural intelligence, or the knowledge, skills and abilities necessary to effectively and appropriately engage people from different cultural backgrounds to deliver better results, noted Gerry Fernandez, of Multicultural Foodservice & Hospitality Alliance. By having cultural intelligence, managers can increase employee engagement, increase motivation and flexibility, and improve customer service.

Meal kits are the right idea, but they currently have the wrong execution, noted Eddie Yoon, of Eddie Would Grow. For many, the recipes are too complicated.
Yoon also noted that a grocerant shouldn't try to replicate traditional foodservice operations, but instead, leapfrog over foodservice to introduce the next best "thing."