Workshop for Retail's Future
Get great content like this right in your inbox.
Subscribe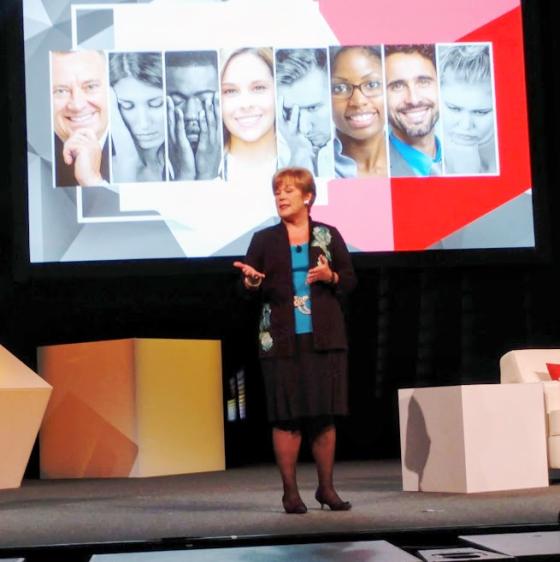 One of the sessions at the 2019 Food Marketing Institute Midwinter Executive Conference reminded me of an '80s perfume commercial: Between physical and digital lies obsession … with the customer …
I sensed a change in the tone of this year's conference, held this past weekend at the National Doral resort near Miami. With the rapid rise of digital retail disrupting the market, the past few confabs came across to me as perhaps a bit panicky, arms waving in the air, warning all to jump aboard the online express or be ground under its wheels.
This year, the call was no less important, but the gathering felt more like a workshop for how best to get one's arms around the task of leveraging technology to create a seamless shopping experience for consumers who embrace both the smartphone and the brick-and-mortar store.
Of course, when it is done, it should be done quickly, and you should be all in.
"Invest in where you can win, not just play," advised The Dialogic Group's Thom Blischok, who moderated two morning sessions on succeeding in digital. "Be comfortable with experimentation. Fail fast and fail cheap."
Tom Furphy, an Amazon veteran who's now CEO of product replenishment platform Replenium, contended, "You can't just make incremental changes – you have to go outside your comfort zone and focus on things two to three years out."
It was Furphy who put me in mind of the perfume ad: "Focus on the customer. Obsess over them. Anything that doesn't add value for them is ripe for automation."
To be sure, presenters preached shopper-centric category management, which "must fundamentally shift to thinking like the customer," asserted Jim Smits, VP of retail development at Retail Solutions Inc. "Retailers need to be 40 percent merchant and 60 percent data miner."
And retailers are increasingly serving "phytigal" shoppers, who browse and buy in the physical and virtual worlds as their needs require.
"Consumers have shown an eagerness to cherry-pick more formats more frequently," observed FMI's Mark Baum, noting that a third regularly buy groceries online. How will that continue to evolve? Furphy speculated that within 10 years, 20 percent of all food and 40 to 50 percent of all nonfood products would be sold online.
To survive and thrive in the new retail world, "innovation has to be pervasive in an organization," said Ripkurrent's Justin Dye; players must experiment, learn and make changes on the fly.
"Adapting to digital retail is more about mindset than organizational structure," said AT Kearney's Randy Burt; collaboration models need to shift, and retailers must hire digital talent.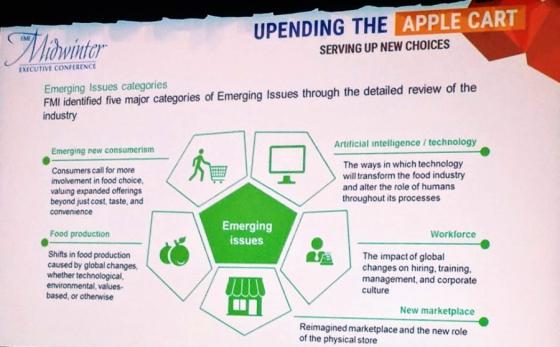 The program for this year's conference was built around a recent FMI study that identified five key emerging issues facing the industry: emerging new consumerism, artificial intelligence and technology, workforce, the new marketplace, and food production.
"We no longer just sell food - we barter in experience and information," FMI President and CEO Leslie Sarasin said in her keynote address Monday morning. "We have to become more comfortable talking science, technology and nutrition … Our ability to adapt, adopt and evolve is preparing us for the next golden era of retail."
Connecting with shoppers on the issues they hold dear is essential, as Furphy noted: "No retailer is better because they sell more paper towels – it's because they focus on things that are tactile and emotional."
Also at this weekend's event, FMI handed it out its annual awards to longtime industry leaders and, rather than have each recipient deliver an acceptance speech, convened panel discussions so the vets could share their expertise. For example:
Randy Edeker, chairman, CEO and president, Hy-Vee Inc., on loyalty: "Be authentic, be transparent, respond to the customer's needs. It's your quest to thrill the customer and fulfill their needs, maybe even before they need it."
Tom Heinen, co-president, Heinen's Grocery Stores, on talent development: "We try to help everybody to grow and be successful, and get them to love coming to work."
Muhtar Kent, chairman, The Coca-Cola Co., on people: "Relationships – grow them, nurture them, invest in them. That's what helps get everything done. Never eat alone – don't waste that opportunity."
Ern Sherman, retired VP, Coca-Cola Refreshments, on passion: "The passion we have for what we do – it's inherent in the business."
Certainly these industry veterans have seen much change over their many years in the business. But perhaps, not as much as they're seeing now. As Chieh Huang, co-founder and CEO of online shopping service Boxed.com, remarked, "We will not see an industry change as quickly and violently as food retail is changing today."
See my live reports from FMI Midwinter and other industry events on Twitter ...