Why Chicago Makes Sense for Amazon's 2nd HQ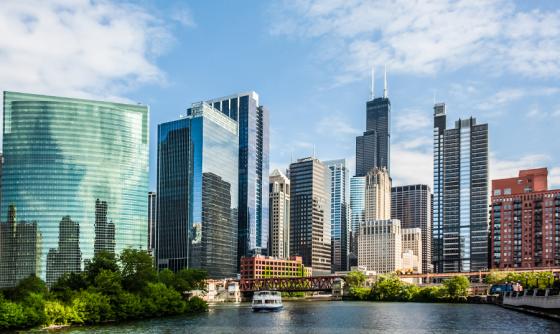 News that ecommerce giant Amazon is planning to locate its second headquarters (HQ2) in Crystal City, Va., broke this past weekend, with The Washington Post, owned by Amazon CEO Jeff Bezos, claiming the company held "advanced talks" at the Arlington, Va., development, Crain's Chicago Business has reported. But while the city and others, such as New York and Dallas, are also top contenders for HQ2, Chicago also remains a viable contender among the 20 finalists Amazon originally named. 
According to The Wall Street Journal, while Dallas and New York are still talking with the Seattle-based ecommerce giant, Chicago is not currently negotiating. However, the news outlet says that doesn't mean the city should be "counted out." In fact, it now has two chances, not just one, following the WSJ report today that Amazon plans to split HQ2 across two cities.
In fact, in late August, Amazon reportedly made its second visit to Chicago to reexamine a site along the Chicago river in the city's South Loop neighborhood as the company continued its search for the site of HQ2, the Chicago Tribune reported. When built, the facility is expected to house up to 50,000 associates.
Already, Chicago has transportation systems and terminals in place to help make it ideal for HQ2 – for both workers and clients. The city recently ranked No. 6 on a list of major U.S. cities with the best public transportation, and O'Hare International Airport is No. 2 in the world in terms of aircraft movements (and No. 6 in terms of passenger traffic).
But other reasons exist for Chicago to house HQ2, says Jeff Cohen, CMO at Athens, Ga.-based Seller Labs, whose job is to help Amazon sellers better promote and sell their products through the ecommerce giant. These include:
Size – Chicago is a massive city, and therefore, it has multiple locations that are a "great fit" for an Amazon campus
Education – Chicagoland is home to several important universities, from the University of Chicago to Northwestern University, which can function as feeders that can provide Amazon with graduates who are prepared for the new, highly skilled roles planned for HQ2
Desirability – Chicago is considered a desirable location that recently ranked as the top city for employees who make six-figure salaries – the salary level Amazon pays for the positions it would seek to fill
Affordability – Monthly rent in Chicago is less than that of San Francisco or New York – two ideal places for a technology company's HQ2: A one-bedroom apartment runs $2,800 in New York and a whopping $3,600 in San Francisco, but only $1,500 in the Windy City
"Chicago has a unique position in the race for Amazon. With 50,000 employees, Amazon [would be] a big corporate entity in Chicago – but they are not the only one in the area," Cohen told Progressive Grocer. "Right now Chicago has a rich culture which spans many different ethnic groups, cultures and companies. Amazon would add to that – enriching Chicago as much as our city will enrich their organization."
Amazon has more than 575,000 employees worldwide. Under its Whole Foods Market banner, the company is No. 8 on Progressive Grocer's 2018 Super 50 list of the top grocers in the United States.