Walmart, Amazon Continue Grocery Delivery Expansion East, West
Get great content like this right in your inbox.
Subscribe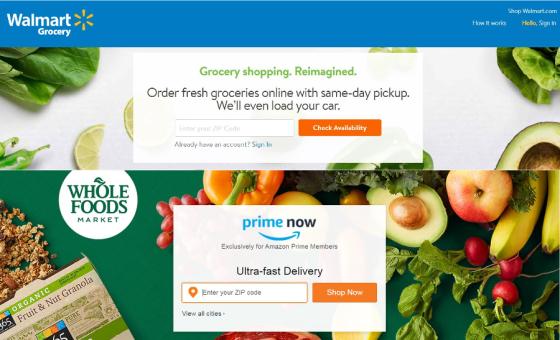 Walmart Inc. and Amazon have continued to grow their respective online grocery delivery footprints, with Walmart bringing the option to the Atlanta area through a partnership with San Francisco-based delivery service DoorDash, and Amazon now delivering to residents in the Denver, San Diego and Sacramento, Calif., areas via Whole Foods stores.
Walmart's team of more than 18,000 personal shoppers will work with DoorDash to fulfill any orders from thousands of Atlanta-area customers, allowing them access to fresh produce, meat, seafood and baked goods, as well as pantry staples and general merchandise, for front-door delivery. Seattle-based Amazon will fulfill orders through its Whole Foods stores to members of its Prime subscription service in and around San Diego, Sacramento and Denver, delivering fresh produce, meat, seafood, everyday staples and other locally sourced products through Prime Now.
For Walmart orders, customers simply select a delivery window and place orders via Walmart.com/grocery or on their existing Walmart Grocery App. After orders have been picked by Walmart's personal shoppers, a DoorDash delivery person (a.k.a. "Dasher") will retrieve the order from a Walmart store and complete the last mile of delivery, as soon as the same day.
"We're connecting all the parts of our business to create a shopping experience like no one else can. With the expansion of our online grocery delivery program, customers can have great items at everyday low prices delivered to their door with the click of a button," said Greg Foran, president and CEO, Walmart U.S. "With the help of DoorDash, we're delivering the best of Walmart to customers in Atlanta and beyond."
Meanwhile, Amazon orders can be placed at www.primenow.com or through the Prime Now mobile app.
"We've been delighted with the customer response to free two-hour delivery through Prime Now, and we're excited to bring the service to our customers in Denver, Sacramento and San Diego," said Christina Minardi, EVP of operations at Austin, Texas-based Whole Foods. "Today's announcement is another way that we are continuing to expand access to our high-quality products and locally sourced favorites."
The Walmart expansion is part of Bentonville, Ark.-based retailer's plan to provide grocery delivery to more than 40 percent of U.S. households by the year's end, which it announced a couple weeks ago. At the time, chief grocery ecommerce rival Amazon had just revealed that it was launching grocery delivery via Whole Foods stores, which it began in the Austin, Texas, area and expanded to the San Francisco Bay Area, Atlanta area and Los Angeles area before unveiling the three latest markets.