Wakefern Expands Warehouse Facilities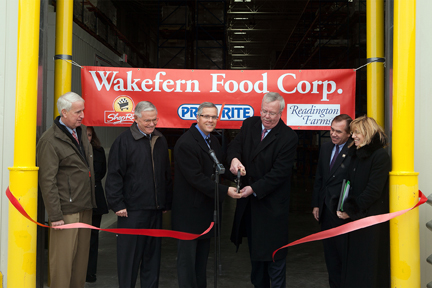 Wakefern Food Corp. marked the opening of an almost 90,000-square-foot extension to its existing warehouse facility in Keasbey, N.J., with a Dec. 6 ribbon-cutting ceremony. In attendance at the ceremony were John E. McCormac, mayor of the township of Woodbridge, where the warehouse is located, and other township officials, along with Wakefern chairman and CEO Joseph Colalillo, president Dean Janeway and EVP Joe Sheridan.
The Southern Perishables warehouse, originally more than 366,000 square feet, now measures more than 450,000 square feet to accommodate the recent growth of the largest retailer-owned cooperative in the United States. The expansion also added 25 new loading dock doors, for a total of 100, thereby boosting the warehouse's pallet capacity by 28 percent.
The construction, which took six months to complete, enhanced Keasbey, N.J.-based Wakefern's ability to service its 47 member companies which individually own and operate more than 228 supermarkets under the ShopRite banner in New Jersey, New York, Connecticut, Pennsylvania, Maryland and Delaware. Wakefern additionally runs 45 PriceRite stores in five states.
The facility ships more than 1.5 million cases of product weekly and handles all incoming and outgoing meat, dairy/deli, fresh bake and appetizer deliveries for all ShopRite and PriceRite stores.
"We moved to this Keasbey location in 2001, knowing we were able to expand and move our business forward here." explained Colalillo, "The location has been perfect for us, allowing us to have a central location to better serve all of our stores and members."