07/11/2018
Retailers Decry Additional Tariffs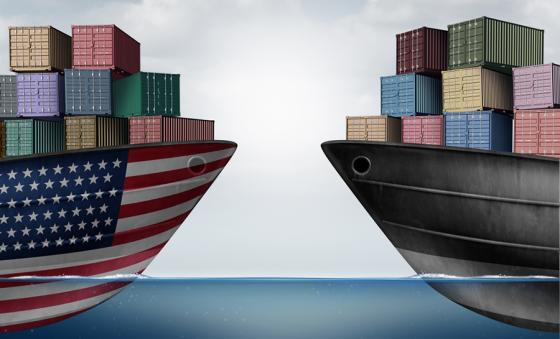 The Trump administration's decision to impose tariffs on a further $200 billion worth of imported goods from China has drawn disapproval from retailers, who said that such actions would end up harming U.S. consumers. 
The U.S. Trade Representative has issued a list of the Chinese imports, mainly of raw materials, but also of such items as spark plugs and buttons, that will be subject to new tariffs.
"The latest list of $200 billion of products to be subject to tariffs against China doubles down on a reckless strategy that will boomerang back to harm U.S. families and workers," said David French, SVP for government relations at the Washington, D.C.-based National Retail Federation (NRF). "The threat to the U.S. economy is less about a question of 'if' and more about 'when' and 'how bad.' Tariffs on such a broad scope of products make it inconceivable that American consumers will dodge this tax increase as prices of everyday products will be forced to rise. And the retaliation that will follow will destroy thousands of U.S. jobs and hurt farmers, local businesses and entire communities. 

Continued French: "The administration has been pursuing tariffs now for months, and we still don't know what the endgame is. Now is the time to get back to the negotiating table with China while working through a global coalition that shares our concerns. The way things are shaping up, it may be too late, but we hope the administration changes course before we lose the momentum from tax and regulatory reform and return to an era of high prices, job loss and negative growth in our economy."
In May, French testified in a hearing held by the Office of the U.S. Trade Representative that the prices of back-to-school and seasonal merchandise would likely rise following tariffs on Chinese goods, causing the economy to suffer.
"American retailers and the families we serve barely had time to process the barrage of tariffs implemented last week," noted Hun Quach, VP of international trade for the Arlington, Va.-based Retail Industry Leaders Association. "Now, we will need to grapple with new tariffs on an additional $200 billion worth of imports, which are bound to include even more consumer products and everyday essentials."
Added Quach: "The president has broken his promise to bring 'maximum pain on China, minimum pain on consumers,' and American families are the ones being punished. Consumers, businesses and the American jobs dependent on trade are left in the crosshairs of an escalating global trade war."
She went on to warn that "[u]nless the administration finds meaningful solutions, American businesses, families and jobs are on the losing end of this battle."
NRF's French does see the possibility of relief via Congress, however. Following the Senate's approval of a "motion to instruct" related to congressional approval of national-security-designated tariffs, he noted: "There is clearly growing bipartisan concern over the administration's reckless trade agenda as the real-world consequences of tariffs spread in communities across the country. Congress has an important role to play in protecting hardworking Americans from a trade war, and this vote is an important first step. We appreciate the leadership of Sens. Corker, Toomey and Flake and hope to see this commonsense legislation continue to move forward."
Expected Impact on Grocers, CPGs
The grocery industry in particular has voiced its opposition to tariffs, with Pamela G. Bailey, then the soon-to-retire president and CEO of the Washington, D.C.-based Grocery Manufacturers Association, noting in a letter to President Donald J. Trump that the food and agriculture sectors have faced significant retaliation from foreign trading partners in the past when the United States has implemented similar policies, and that there are already strong indications that this will happen again if tariffs are enacted. 
"Global tariffs on steel and aluminum will have a unique impact on foods and beverages, acting as a tax on consumers and creating competitive dislocations in the marketplace," wrote Bailey. "We support your efforts to strengthen the U.S. domestic manufacturing base, but the proposed global tariffs will injure downstream purchasers of these products and add hundreds of millions of dollars in added costs to food and beverage manufacturing."
Bailey's letter cautioned that any rise in prices of foods and beverages as a result of steel and aluminum tariffs would bring particular hardship consumers dependent on shelf-stable canned products.
Meanwhile, the Freedonia Group has released a white paper discussing the adverse effects of U.S. tariffs and retaliatory measures by targeted countries on various consumer products, including cheese and wine.
Regarding Mexico's 25 percent duty on hard, semi-hard and grated cheese and 20 percent tariff on grated, shredded, and powdered cheese, imposed in response to U.S.-imposed steel and aluminum tariffs, Cleveland, Ohio-based Freedonia wrote, "As a result, U.S. cheese prices will rise in the Mexican market, and the U.S. will face increased competition from more affordable foreign substitutes. This disadvantage will be exacerbated by an April 2018 agreement between Mexico and the EU that is expected to result in reduced Mexican tariffs on European dairy products."
Longer-term effects will include an acceleration in closures of already-struggling U.S. dairy farms, and the loss of U.S. cheese manufacturer brand name recognition and market penetration in Mexico, according to the white paper. 
Regarding China's imposition of a 15 percent duty on wine products, raising the the total tariff to about 65 percent, Freedonia observed, "The move does immediate harm to the competitiveness of American wines in the Chinese market, where other heavy exporters of wine may not be required to pay tariffs, including" Australia, Chile and New Zealand, with the result that Chinese consumers may gravitate toward these less expensive options.
Among retailers that sell food, Walmart, Costco, Target and Dollar Tree signed on to a letter last March urging President Trump to reconsider the tariffs.