Raley's Revamps Cold Cereal Aisle to Highlight Healthier Offerings
Get great content like this right in your inbox.
Subscribe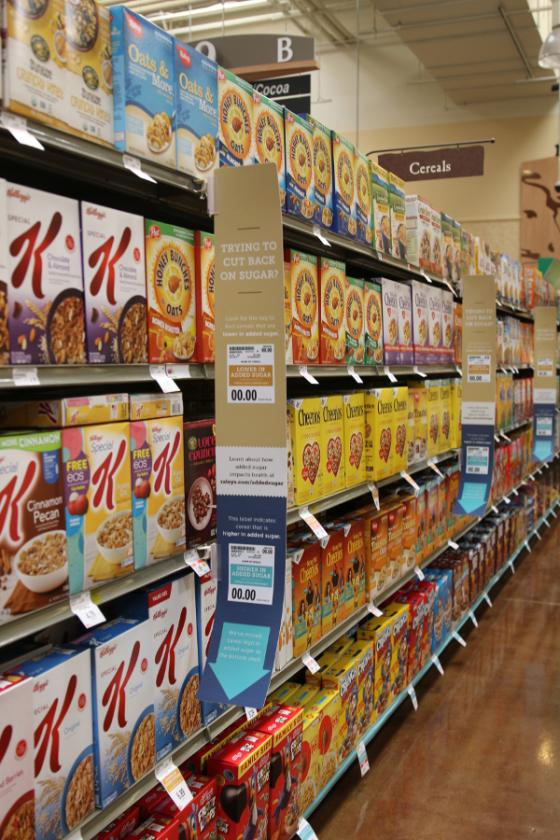 Raley's has unveiled its latest attempt to reimagine the grocery store as a destination that empowers people to take charge of their health – this time in the cold cereal aisle.
The West Sacramento, Calif.-based grocer is giving prime placement to cereals with less added sugar, changing the layout with consideration of each products amount of added sugar respective to its calorie count and serving size. Meanwhile, cereals with 25 percent or more of total calories coming from added sugar, based on a standard one-cup serving, will be moved to the bottom shelf.
To promote transparency, Raley's has added shelf blades down the aisle to communicate the change in placement and grow awareness about added sugars in food. Moreover, cold cereals use a proprietary equation to determine which cold cereals to label as "Higher in Added Sugar" (blue shelf tags) and which to label as "Lower in Added Sugar" (gold shelf tags).
Developed in partnership with Label Insight, the sugar filter equation uses the nutrition facts label and a standardized one-cup serving size. It also considers total calories and total added sugars.
Last month, Raley's also unveiled a series of videos in which owner Michael Teel shares information on some of the larger issues affecting the food industry and consumer health. The first in the series focuses on growing awareness surrounding the added sugar in the foods people eat.
"Studies have shown that added sugars may contribute to a diet that is high in calories but low in essential nutrients," said Yvette Waters, MS, RDN, CISSN, and Nutrition Strategist & Brand Influencer for Raley's. "As the resident nutrition expert, I'm passionate about helping our customers find better for you options."
Today's consumers are taking a hands-on approach with their health, reading labels and following nutrition guidelines to be more conscious of their sugar intake. According to Schaumburg, Ill.-based market research firm Nielsen, 22 percent of households are restricting sugar intake, while 52 percent are actively trying to avoid artificial sweeteners.
Teel has made it clear that Raley's approach to changing the way the grocery industry thinks about health and eating is akin to a domino effect. If it can make small changes, such as the ones listed above, these changes can add up and create the bigger change needed to help transform the way people approach eating and their health.
Other initiatives Raley's has executed to help shoppers better take charge of their health include:
Raley's operates 129 stores under five banners: Raley's, Bel Air Markets, Nob Hill Foods, Food Source and Market 5-One-5. The company is No. 26 on Progressive Grocer's Super 50 list of the top grocers in the United States.