Small Decisions Add Up in Raley's Transparency
(Above: Michael Teel, owner and CEO of Raley's, speaks on his company's better-for-you initiatives at TransparencyIQ. Photo credit: Stephanie Casstevens, Label Insight.)
Not every successful company must be purpose-driven or change the way people think about everyday activities. That's not to say, though, that the grocery industry isn't in need of retailers that base success on such pillars, especially in an age where consumers value transparency more than ever.
At TransparencyIQ – an event covering CPG transparency hosted by Progressive Grocer parent EnsembleIQ, held Oct. 16-17 in Rosemont, Ill. – Michael Teel, owner and CEO of western grocer Raley's, noted that in the future, three types of companies will be successful: price leaders, innovation leaders and purpose-driven leaders. Given Teel's family history with the longtime trusted grocer, the executive decided to go with the third for Raley's: to lead with purpose, specifically that of infusing life with health and happiness by changing the way the world eats, one plate at a time.
Teel showed a video of a room full of mousetraps, each with a ping-pong ball on it, to display how one small, effective, properly intentioned decision – such as throwing a single ping-pong ball – can trigger many more and cause everything to fall into place. For Raley's, it was removing cigarettes, and then certain private label sodas containing high-fructose corn syrup and artificial flavors, and then candy from checkout displays. But because the company had that purpose and made that first decision, every subsequent decision made fit in with it and – Teel believes – will ultimately help make a change in the marketplace.
Another such decision to spur others was the grocer's recent introduction of Raley's Shelf Guide, which is said to combine current food trends and leading research to set strict standards for packaged food claims and provide label transparency. Today, 59 percent of grocery shoppers encounter difficulty in understanding nutrition facts on product packaging, while at the same time, recognizing ingredients is the No. 1 influencer of consumers' decisions to purchase a food or beverage.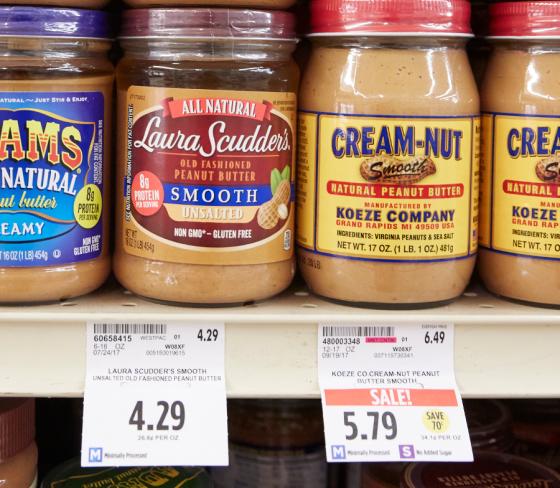 Created in partnership with Chicago-based Label Insight, which uses data science to provide access to complete and accurate product information for more than 400,000 products, the new tool differs from other shelf tag programs by taking a closer look at packaged ingredients, food processing and nutrition. Using simple, colorful icons, Raley's Shelf Guide helps customers quickly interpret whether a product meets their needs, without having to analyze multiple labels. Raley's has even created two unique shelf tag descriptions, making it easy for customers to find food that's minimally processed and nutrient dense.
Developed independently – and not driven by any brands or products – Raley's unique Shelf Guide descriptions include:
Minimally Processed: Simply prepared with only clean ingredients, and limits on added sugar and sodium
Nutrient Dense: Contains vitamins, minerals, dietary fiber, and other beneficial substances that may have positive health effects
No Added Sugar: No added sugar or artificial sweeteners
For ease of use, the icons are placed directly on the price tag. The top two icons are shared on the tag in-store. Customers seeking value at the shelf will now be able to use the Shelf Guide to find a better option at an affordable price.
In addition to helping in-store, the Shelf Guide's icons also can assist online shoppers via Raley's eCart click-and-collect service, allowing them to quickly find the products that meet their health-and-wellness needs at shop.raleys.com. Some 13,000-plus center-store products have at least one icon each. Teel pointed out the benefits of the labels online, as customers can essentially build their own store by selecting a specific label, which shrinks down the aisle to personalize their shopping experience. He also shared his hope that this change could be the smaller one that brings about the wave of others that will change the industry.
Although change isn't always received with open arms and can take time to catch on, when it has true purpose and keeps the customer's best interests in mind, it can grow if the grocer stands by its decision. Speaking of one Raley's partner, Elk Grove Village, Ill.-based Topco Associates, which provides a variety of private label products, Teel noted that when the West Sacramento, Calif.-based grocer requested a list of free-from attributes for one particular brand, Topco said that such a demand couldn't be fulfilled.
However, when Raley's decided it would opt instead to do business with a company that could fulfill the request, knowing the free-from attributes were necessary, Topco returned and fulfilled Raley's wish. As a result, the company did the same for other clients. This, Teel said, was a true example of sticking to one's guns to bring about purpose-driven change.