Raley's Enhances Shopper Experience With New Website
Get great content like this right in your inbox.
Subscribe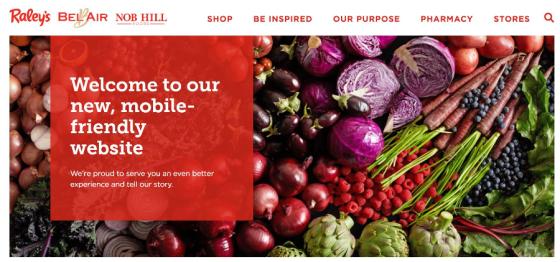 Raley's has launched a new website with the intent of enhancing the customer experience through a revamped ecommerce interface and a design that helps shoppers better understand the grocer's vision and purpose surrounding health and wellness.
Designed to deliver a personalized, time-saving digital shopping experience no matter when, where and how people shop, the site, which is also mobile-friendly, aims to be more personal for each user. It integrates personalized offers, regularly purchased products and more.
"We understand that customers' needs are changing whether shopping online or in-store," said Mike Molitor, Raley's VP, ecommerce and loyalty. "Our goal is to make it easier and more compelling for customers to interact with online shopping and our savings program, Something Extra." The program was redesigned as part of the launch, using real customers who shared their experiences saving money.
The website also showcases the ways that the West Sacramento, Calif.-based grocer makes a difference for its people, the communities it serves and the planet overall. It shares Raley's stories, offers customer inspiration and enhances transparency about the grocer's products.
"The new Raleys.com represents another step in Raley's transformation into a customer experience company that is committed to making healthier options available to customers through transparency, personalization and service," said Deirdre Zimmermann, Raley's SVP, marketing.
The site's enhanced digital customer experience is an extension of Raley's continuing partnership with Unata, a Toronto-based grocery technology company that's a subsidiary of San Francisco-based grocery delivery service Instacart. The new site lets shoppers both plan their in-store shopping trip and make click-and-collect or delivery orders via one interconnected website. Unata's engine allows for full integration of Raley's grocery ecommerce with the weekly ad, promotions and digital offers.
To develop the site, Raley's hired Position Interactive, which helped to ensure that the user interface and experience both supported the grocer's brand positioning.
The new website comes at a time when Raley's is ramping up promotions for its grocery ecommerce program. Last month, the grocer launched a video promotional campaign for the service, focusing on such elements as convenience and customization to help drive usage of the service.
Raley's developed the campaign after conducting focus groups and online surveys to understand what customers want when shopping online. Convenience was a clear driver, with people such as new parents stressing its importance, as they can't easily get to a store. They also wanted the ability to pick fresh products based on personal preference.
Raley's isn't the only grocer revamping its website to better fit its brand while making it easier for people to find what they want, when they want it. Earlier this month, Natural Grocers relaunched its site, designed to better personalize the online experience. Offering a cleaner, more streamlined experience, that new site features an improved page speed and enhanced layouts, faster and more responsible page load times for different devices, and simplified navigation to help visitors easily locate stores, favorite recipes, articles or sales.
Moreover, Albertsons Cos. earlier this week launched an online marketplace to help shoppers more easily discover hard-to-find products. The site is focused on connecting patrons with natural, organic, ethnic and alternative goods – all with the intent of helping both itself and its vendors react better and faster in trending markets.
Raley's operates 129 stores under five banners: Raley's, Bel Air Markets, Nob Hill Foods, Food Source and Market 5-One-5. The company is No. 26 on Progressive Grocer's Super 50 list of the top grocers in the United States.