Natural Grocers Redesigns Website to Help Shoppers Take Control of Their Health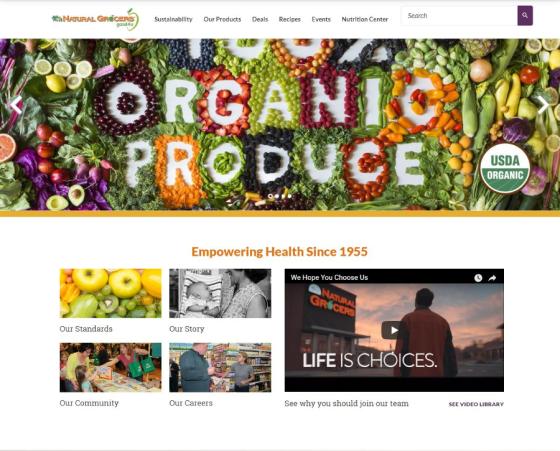 Natural Grocers is making its online experience more personalized and convenient with a fully redesigned website that's both desktop- and mobile-friendly.
Offering a cleaner, more streamlined experience, the new site has an improved page speed and enhanced layouts, faster and more responsible page load times for different devices, and simplified navigation to help visitors easily locate stores, favorite recipes, articles or sales. It also employs a centralized content management system and allows for the integration of additional applications, providing a foundation for future growth and development.
Additional features include:
Product standards – Customers can easily access the grocer's meat, dairy and other product standards, including explanations of what Natural Grocers won't sell and why
Product finder – The site lets shoppers seamlessly search for products carried in any Natural Grocers store
Recipe finder – Customers can find recipes suited for any healthy lifestyle, dietary restriction or special diet
Store locator – The tool allows shoppers to easily get directions to their nearest Natural Grocers store
Nutrition Center – Shoppers can find nutrition education tips, recipes, a nutrition library, an event finder and access to Nutritional Health Coaches 
Deals – This section provides access to rewards, deals, discounts on organic produce and the company's monthly Hot Deals
"Since 1955, it has been our mission to empower our customers to take control of their health. Above all, our new website aims to connect Natural Grocers customers to vital nutrition education and resources in the ways that are most relevant to them," said Kemper Isely, Natural Grocer's co-president.

He added: "We recognize today's consumers want to know the story behind the products they buy, and we have a powerful and unique story to tell. The new and improved website showcases why we're different, telling the good4u Natural Grocers story through the eyes of family members, customers and vendors. The new website also describes the company's standards and purpose in an informative and entertaining format."
One of the country's top grocers for natural and organic products, Lakewood, Colo.-based Natural Grocers employs more than 3,500 employees and operates 148 stores in 19 states.