06/22/2018
Latest Grilling Trends Can Drive Meat Department Sales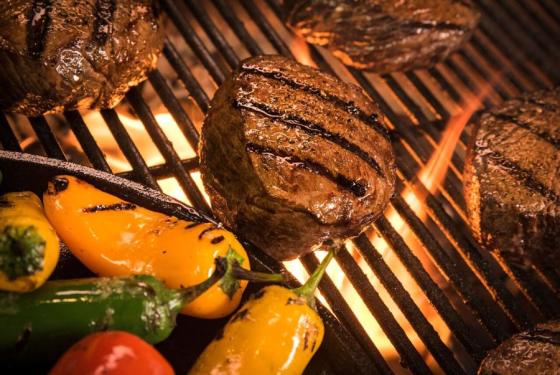 Higher quality, a diverse array of cuts and ethnic flavors are among the trends grocers should expect shoppers to come searching for during the summer grilling season.
From beef and pork to poultry, consumers are looking for variety.
"The most popular summer grilling cuts are middle meats, such as ribeye steaks, strip steaks and T-bones," said Autumn Velez, manager of media relations at the National Cattlemen's Beef Association. "Beyond the middle cuts, an on-trend summertime cut is top round first steak, more commonly merchandised as London broil."
Emerging grilling season favorites include hanging tenders and hanger steaks. But three cuts in particular tend to sell more during the summer than any other time of year, Velez noted: kabobs, coulotte roasts and bottom sirloins. "To put this into context, 58 percent of dollar sales from kabobs happen within the 15- week grilling season, which comprises only 29 percent of the year," she said.
With current beef supplies and pricing options, retailers are capitalizing on opportunities to provide a wider variety of grilling cuts and bring new items to customers, said David O'Diam, director of retail for Wooster, Ohio-based Certified Angus Beef.
"Some retailers are looking to end meats, like chuck eye and top sirloin steaks, for price advantages. Others are adding ground beef items with different packaging, including brick packs, and the convenience of ready-to-cook burgers from frozen foods," O'Diam said. "At the same time, retailers are targeting more cuts for Hispanic and Asian-style cooking methods."
Despite the growth in plant-based proteins and the popularity of grilled veggies, the meat department is still the core of summer grilling features and promotions.
"We assist our retailers in developing campaigns for burgers and grilling, just as we do year-round for their marketing needs," said Tara Adams, Certified Angus Beef's director of account strategy and key accounts. "We're seeing greater interest in promotions for beef cooking and grilling tips. Social media, magazine articles, cooking classes and retailers' chefs help satisfy shoppers' interests in food and guide their purchases. We are providing retailers with more videos, recipes and our own chefs' cooking tips to support retailers in this area."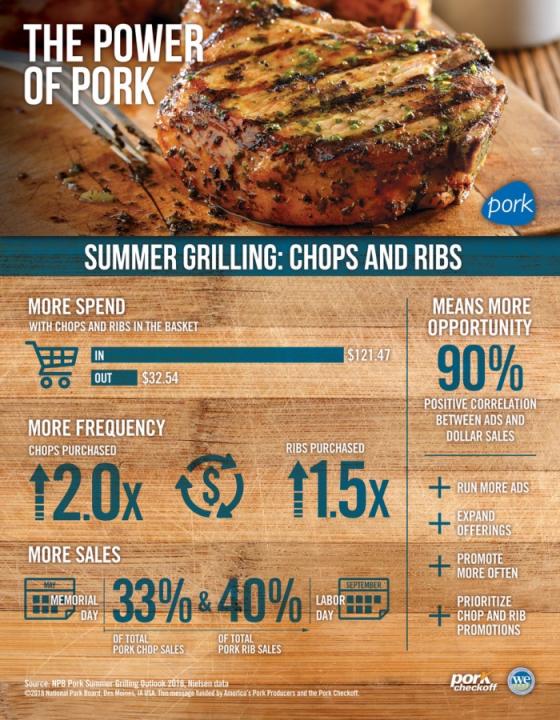 Selling Season
While beef remains a favorite, and stabilizing prices over the last couple of years have made beef more accessible even to price-conscious consumers, pork is bragging on its own prowess to drive basket ring.
As the Des Moines-based National Pork Board reports, according to 2017 Nielsen Perishables Group data, one key retailer who widened and promoted its selection of pork ribs and chops saw increased sales of 9.3 percent and 4.7 percent, respectively.
For retailers who promoted these cuts, sales were incremental. For retailers who do not program around these key cuts, an average of 35 percent of chop and rib sales are leaked to competitive retailers – resulting in $46 million in missed sales opportunities.
"Pork is a basket builder and a huge opportunity for retailers during grilling season," said Stephen Gerike, assistant VP of channel marketing for the National Pork Board. "There's a substantial benefit to the retailer because consumers don't eat ribs or chops by themselves. They need all the fixings like side dishes, sauces and rubs – resulting in an average basket worth more than three times as much."
Pork Board research indicates consumers are prepared to pay more for pork during grilling season, spending an average of $1.10 more on ribs and 12 cents more on chops. Typical consumers shopping for chops and ribs to grill at least once a month will spend an average of $88.63 more per trip. A basket with ribs and chops is worth $121.47 or 3.7 times more than a basket without, according to recent Nielsen data cited by the board.
Suppliers like Tyson Fresh Meats have responded to consumer demand for both on-trend and traditional cuts for summer grilling. Tyson, under its IBP Trusted Excellence brand, launched three innovative pork cuts that are popular for barbecuing: Frenched Pork Spareribs, Contemporary Petite Pork Rack and Petite Porchetta.
Additionally, Tyson recently introduced beef and pork tomahawk cuts that have also been well received, said Kent Harrison, VP of marketing and premium programs for Tyson Fresh Meats. "But classic steak cuts like ribeye, strip steaks and filet mignon, as well as traditional pork cuts such as ribs, shoulders and pork chops, remain summer grilling and smoking favorites," Harrison declared.
Summer Solutions
Shoppers want solutions to every eating occasion, and summertime grilling is no exception. Key to delivering on these need-states is effective cross-merchandising.
"One of the easiest ways to cross-merchandise is to highlight beef's best friends – sauces, rubs, marinades and salsas," NCBA's Velez said, noting the association's website, BeefItsWhatsForDinner.com, offers a variety of resources that can help retailers with cross-merchandising initiatives.
Keep in mind that cross-merchandising can happen beyond the meat department.
"Retailers with coffin case or upright case space can display beef items in prime locations for added convenience to the consumer," Velez said. "Think of a burger bar that could be merchandised in the deli department with a tie-in to the bakery (buns) and non-perishables (toppings/seasonings)."
It's a great opportunity to, for example, leverage the condiment and seasonings aisle by bundling the ingredients for easy-to-prepare meat rubs.
To put a fresh spin on cross-merchandising, Velez continued, "consider highlighting how a few items from the produce department can be used to create a delicious grilled vegetable salsa. The options are endless when it comes to cross-merchandising for the grilling season."
For its part, Tyson's Star Ranch Angus brand markets its beef products along with produce, dry goods or dairy products on "shelf talkers" during seasonal promotions, Harrison said.
"The shelf talkers act as meal thought starters, driving shoppers from other parts of the store to the meat department to purchase beef, which increases the overall value of the basket. This added value also boosts total store profits from increased sales of produce and dry goods," he said.
Of course, targeted pricing continues to be effective for driving sales.
For example, Certified Angus Beef brand T-bone and porterhouse steaks were featured in some markets at $5.99 per pound the week before Memorial Day, O'Diam noted. "It was a great start for summer ad activity, giving quality-focused retailers an avenue for driving traffic to the meat case and beyond for a complete meal," he said.
Social media marketing, grilling tips, events and giveaways also are popular this time of year, CAB's Adams said, "so we're also helping retailers elevate these promotions. Retailers continue to be successful in building their summer promotions around grilling and the meat department. It's a great opportunity to tie in so many other departments and accompaniments, from produce to center store to dairy."
Organizations like the National Chicken Council offer cooking tips and recipes that grocery retailers can leverage, to provide more guidance for their shoppers when merchandising poultry for summer grilling.
Online initiatives also supplement grocers' in-store education efforts to help shoppers better understand the category.
"Differentiating loin chops using nomenclature, like porterhouse and ribeye, and educating consumers on the proper end-point cooking temperature of 145 degrees will provide a positive eating experience that delivers repeat purchase," the Pork Board's Gerike said. "The National Pork Board has how-to grilling videos available online to answer those questions consumers are asking Google, and point-of-sale kits available for retailers looking to educate consumers at the meat case."