12/04/2018
Kroger Tests Store-Within-a-Store Concept in Walgreens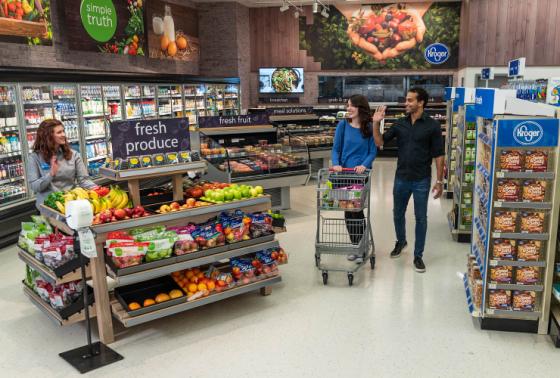 Kroger is testing two new initiatives within select Walgreens stores in the Cincinnati and Chicago areas, building on an October-launched exploratory pilot allowing shoppers to order Kroger groceries online and pick them up at select Walgreens stores.
Combining "America's food and grocery authority with Walgreens' global expertise in pharmacy, health and beauty," the initiatives involve a store-within-a-store and new quick-prepare meal kits for the Deerfield, Ill.-based chain's shoppers. Both continue the mega-grocer's quest to deliver on its Restock Kroger strategy, particularly on two of its four pillars: Redefine the Food and Grocery Customer Experience, and Expand Partnerships to Create Customer Value. 
The initiatives include:
Kroger Express
Using shopper data and insights from its data analytics subsidiary 84.51°, Kroger has curated an assortment of 2,300 products to test at 13 Walgreens stores in Northern Kentucky, including Home Chef meal kits, national brand products and private label items. Already operational in a Florence, Ky., store, the concept highlights the Simple Truth brand along with dairy, meat, produce, frozen and meal solutions. It is available to shop both in-store and online for pickup.
Home Chef Express
As of today, 65 Chicago-area Walgreens stores offer Home Chef Express kits, which already are available at select Mariano's stores in the region. Three offerings are now available at the drug stores, with recipes rotating bi-weekly, and each provides two servings for a total of roughly $17. Additional weekly varieties can be ordered for delivery through homechef.com.
Walgreens previously tested meal kits from Chef'd in the New York metropolitan area before the service shuttered. 
"The Kroger Express concept creates easy access to our most popular Our Brands products through a fill-in grocery shopping experience for Walgreens customers, and our Home Chef Express meal kits provide customers with an on-demand solution for tonight's dinner," said Robert Clark, Kroger's SVP of merchandising, adding that "customers have responded favorably to the retail meal kits at our Mariano's stores in the market and other Kroger Family of Stores located in different cities. The Walgreens expansion provides more Chicagoans convenient access to a quick, simple meal."
The Kroger Co. operates a seamless digital shopping experience and 2,800 retail food stores under a variety of banner names nationwide. The Cincinnati-based company is No. 2 on Progressive Grocer's 2018 Super 50 list of the top grocers in the United States. It was also named Progressive Grocer's 2018 Retailer of the Year.