Hy-Vee Ups Food Court Offerings, Center Store Chic with New Twin Cities Store
Get great content like this right in your inbox.
Subscribe
Hy-Vee Inc.'s new supermarket in the Twin Cities suburb of Savage, Minn., embodies several of the retailer's key initiatives, including continued development of fresh prepared food offerings and innovative center store concepts.
The $28 million store, Hy-Vee's sixth location in the Twin Cities market since the West Des Moines, Iowa-based grocery chain began its push there in 2015, features an expansive food court in addition to a full-service Market Grille restaurant, the trend-aware F&F clothing boutique, and Basin, a 2,200-square-foot bath and beauty department.
"We have a lot of unique destinations in this store," says Nick Haidar, store director of the 98,000-square-foot market.
As part of those destinations, Hy-Vee — Progressive Grocer's 2017 Retailer of the Year — is investing heavily in its Aisle One offerings, where shoppers will find a vast array of customizable cuisines. The round-the-clock store features Asian, Mexican and Italian options, as well as deli, smokehouse and comfort food selections.
"Customers have realized they want a sit-down dining experience some days, and then the very next day, they need fast casual," says Jay Marshall, Hy-Vee's EVP and COO. "They need to be able to pick it up and either take it with them in the car, or sit down at a table in the aisle and dine that way."
Meanwhile, Marshall continues, "Center store really is under siege … [because of] people who would rather buy those things online, yet it's still such an important part of the grocery store experience and a revenue generator. You have an area that's not exciting but you need it, so how do you make it better?"
Fresh First
The view for shoppers entering the Savage store is nothing but fresh, a 180-degree panorama sweeping from the Market Grille, across the food court, through the produce section and into the sweet shop, a showcase of colorful bakery confections.
"When we came to Minneapolis, we didn't see this in grocery stores," Marshall says during a tour of the store. "The specialty shops had it, and we had to have it." The front end glass bakery counter greets early risers with fresh-made doughnuts every morning, along with fancy pastries and custom cakes.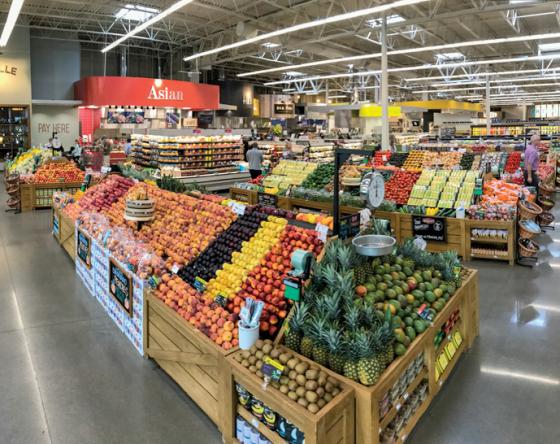 In produce, Hy-Vee excels in variety, Marshall notes, with more than 1,300 items in each store: "We've led with produce for 25 years, and continue to do so." Conventional and organic items are merchandised alongside each other, which Marshall says allows for comparison shopping better than when the products were segregated into Hy-Vee's destination HealthMarket.
Gaining traction is Hy-Vee's Misfits program selling so-called "ugly produce" — perfectly edible and wholesome items considered cosmetically unappealing. "We were shocked" by the program's reception by shoppers, Marshall remarks. "People are really interested in it."
There's also a juice and smoothies bar, and a produce butcher who will cut fruits and vegetables to order at no extra charge.
Just outside the Market Grille's front door is the food court, extending along Aisle One's perimeter, starting with Hibachi (Asian) and continuing with Cocina Mexicana (Latin), Dia Pida (Italian "street food"), Hickory House (barbecue and comfort food), and the Long Island Deli (sandwiches). All offer customizable options to suit everyone's personal tastes.
"The food court is a main draw," Haidar says. "Hibachi is a Mongolian grill concept where you choose your meat, fresh vegetables and sauce. The Market Grille is an awesome destination, a full-service restaurant with a bar inside the store. Customers, before they go shopping, can sit at the bar, eat — have appetizers or a three-course meal — or when they finish shopping, they can come in and enjoy.

"We offer a lot of meal solutions for our customers," Haidar continues. "Everybody's starved for time. We prepare a lot of meals to go — all customers have to do is heat them up. There's a lot of healthy choices. We take a lot of prep time out of the meal."
Future stores will bring seating areas closer to each food court station, Marshall says, noting that Hy-Vee offers the only 100 percent sustainably sourced sushi in the nation.
Cocina Mexicana creates fresh burritos, while Dia Pida features "anything you'd see from a street vendor or food truck," Marshall notes. "This is really new for us — sales are good." Hickory House offers "all the foods you grew up with, with some attitude — feel-good food" like smoked meats, sausage and fried chicken. "Sales on this are crazy," he says, adding that although Hy-Vee increasingly caters to the health-conscious, "this type of food is still important."
Long Island Deli, with its corned beef and pastrami,  is "styled after Katz's Deli in New York City … [and] doing really well," Marshall observes; meanwhile, charcuterie is "a third of our deli volume."
With the sweet shop up front, the bakery in back has become a destination for an artisan bread program, developed with guidance from a noncompeting retailer, Marshall explains. "Bread sales are dramatically higher," he says. Nearby, a separate bagel counter hawks custom cream cheese schmears blended in the deli with ingredients pulled from the produce section.
Surf and Turf
"For years, our seafood and meat [departments] were joined at the hip," Marshall says. "We pulled seafood out completely, to give it its own feel."
Selections are flown in daily, and "every lot is inspected by the USDA," Marshall asserts. Each item complies with Hy-Vee's much-promoted Responsible Choice sustainable-seafood procurement program.
"This is where we excel at making seafood easy," Marshall says of the case dedicated to value-added seafood items, including flavored and marinated selections.
More value-added items are found at the meat counter. "The closer you can make it to home-prepared, the more you're going to sell," Marshall remarks. "Our meat department folks love to take produce items and drive sales in meat."
Among the more popular items are chicken grillers — skewered meats, some seasoned, some bacon-wrapped, all ready for cooking. Dry-aged beef, held for 28 days, is also a big seller: "Our biggest problem is we can't keep up with it," Marshall says.
Between the seafood and meat counters is the Chef's Grill, a cooking station where the store's culinary team whips up items from both departments. The grill sits opposite displays of wine, spices and cookware, offering additional inspiration for home cooks.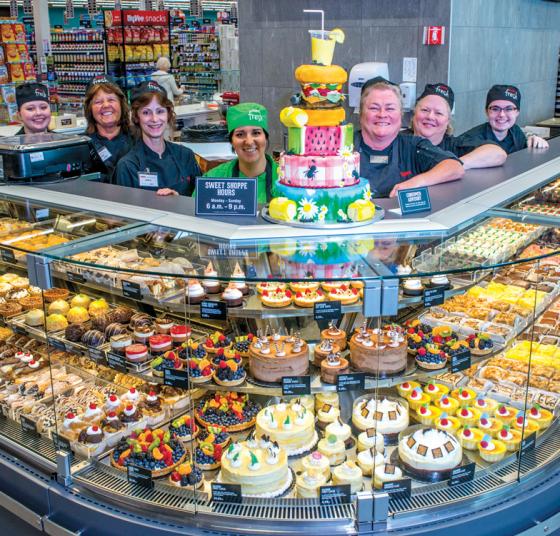 High Middle Ground
The Savage store highlights several of Hy-Vee's initiatives to generate excitement in center store.
International products are featured prominently, with imports on islands surrounded by popular ethnic brands. "We've started sending folks to Europe to bring back products," Marshall notes.
This has led to the development of exclusive items, among them Gustare Vita, a line of pastas, sauces, breadsticks and crostini created with cooperation from the Italian Trade Commission.
"This is what we're doing to create destinations within center store, to make it vital," Marshall says.
Further examples: The pet department is a double-wide aisle featuring many specialty products; it's an area that continues to be developed, with the aim of rivaling the specialty pet channel. According to Marshall, Hy-Vee is looking at similar enhancements in its baby aisles.
Meanwhile, Hy-Vee's HealthMarket is a destination of better-for-you products — as many as 7,000 items encompassing organics, free-froms, sports nutrition, supplements and protein drinks, as well as the Performance Inspired line of whey protein bars and powders developed exclusively for Hy-Vee by well-known actor and restaurateur Mark Wahlberg.
"This department has experienced double-digit growth every year, and we're bringing new categories in," Marshall says.
Hy-Vee is hoping for similar success with its latest nonfood concepts: F&F, a 2,700-square-foot clothing boutique, and Basin, a luxury-feel beauty and fragrance department featuring the category's top brands.
Inspired by British retailer Tesco, F&F aims to offer consumers a mall-shopping experience with greater convenience. "It's mainly focused on moms and kids — she's shopping with kids and can't get to the mall," Marshall explains.                 
Similarly, with Basin, he notes, "We're hoping you feel like you're at the mall, like a Sephora or Ulta." Basin's licensed cosmetologists, who perform makeovers and give beauty consults, "give us credibility," Marshall adds.
The store's resident retail dietitian, Melissa Bradley, offers further gravitas, directing wellness programs from her office in the pharmacy. "Health is a huge initiative for us," Marshall notes.
Between pharmacy and F&F, a glass wall offers shoppers a glimpse of the wine and spirits shop next door, which by local ordinance must be separate from the grocery store. Of course, the Market Grille restaurant features a full bar offering more than a dozen local beers on tap.
Being the Solution
All of the features of the Savage store are designed to offer the greatest level of service and convenience to shoppers, with a multitude of solutions that anticipate consumers' every need. From traditional grocery selections and ready-to-cook items to fresh prepared foods and in-store dining, solutions abound for all.
There's even Simple Fix, which lets consumers be an active part of their own solutions. With the tagline "Make. Take. Enjoy," Simple Fix brings together "five families who pick five recipes, and each makes one recipe for all the families," creating meals for a whole week, Marshall explains.
"Our dietitians started it for folks looking for healthy meals. Then our chefs got a hold of it," he recounts. "A lot of folks make it a night out — buy glasses of wine while they cook — and they leave with meals for the week."
It's one of the many things that make the Savage supermarket, in Haidar's words, "a very unique store."
And here in Savage and elsewhere around the Twin Cities, Hy-Vee has proved itself a crowd-pleaser.  "Hy-Vee is very grass-roots and deeply embedded in the community," Haidar says. "The community here has really opened its arms to us."
What impression does Hy-Vee want the Savage store to make on customers?
"We want them to know that 'a helpful smile in every aisle' is a motto we live by every day," Haidar replies. "We want them to know we'll take care of them today, tomorrow and [in the] the future. Our hope is that customers see our motto is mirrored in the way we interact with them. We live our motto daily, whether it's the variety that we carry or how we handle ourselves in the community."