09/26/2018
HelloFresh Commits to More Sustainable Packaging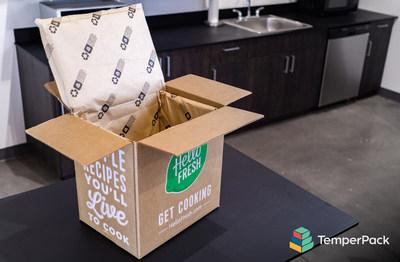 Meal kit delivery service HelloFresh has replaced the liners of its boxes with an option that performs as well as extruded polystyrene foam but is more sustainable.
The company is now using TemperPack's ClimaCell liners, which offer the same performance inch per inch but can be disposed of in curbside recycling bins alongside the corrugated boxes containing the packaging material. HelloFresh has the same plans for its Green Chef box liners.
The impact of such a change is a big deal for the meal-kit service's shipments, as the liner makes up more than 30 percent of an entire box's volume, making it the largest piece of packaging. HelloFresh estimates that it will divert 15,000 tons of packaging waste from landfills every year with the change.
"The ClimaCell recyclable liners are another example of how we listen to our customers that want quality fresh food conveniently delivered to their doorstep, but with the most environmentally friendly packaging the meal-kit category can deliver on," said Uwe Voss, managing director and COO at Berlin, Germany-based HelloFresh.
ClimaCell is currently produced in TemperPack's Richmond, Va., facility and will soon be available at the company's Las Vegas facility, too. TemperPack plans to expand manufacturing of the new material to the second facility to better serve clients on each coast.
The news about the packaging change comes at a time when many people who have purchased meal kits are getting tired of excess packaging. Nearly one in five (17 percent) people who have purchased meal kits reported waste to be a key drawback of buying such products, according to a 2017 report from Fayetteville, Ark.-based market research firm Field Agent.
Plant-based meal-kit service Purple Carrot, for instance, changed its packaging this summer to make it 100 percent recyclable, fitting with the better-for-you image of the meals it provides. Additionally, other services have positioned their products as alternatives to meal kits that provide a more sustainable option: eMeals, for instance, is a shoppable recipe service that touts its benefits as requiring less packaging for portioned ingredients while reducing food waste, as orders include standard, nonportioned packaged ingredients that can be used in other recipes throughout a week.