02/26/2018
Greater Consumer Expectations Push Grocers to Up Prepared Foods Game
Welcome to the age of rock-star chefs and diners obsessed with tracking down the greatest new place to eat in every city.
In a world where patrons demand to know the origin of each item on the menu, food experiences of all types are being held to a higher standard. Grocery stores' prepared food sections need to keep pace.
Experts see better health, convenience and exceptional service as the ways for grocerants to beat competition from many channels.
Key Takeaways
Engage shoppers on their specific needs
Demonstrate easy meal solutions through strategic cross-merchandising
Create experiences to show opportunities that prepared foods offer
Keep ingredients simple and labels informative
Know your shoppers' changing food interests
Clean and Green
"It's becoming more important for grocerant planners to know their demographics and to know shoppers' changing need states and their food interests," says Jamie Phillips, director of scientific affairs at Chicago based SPINS, which provides retail consumer insights, analytics and consulting for the natural, organic and specialty product industries. "People want more from prepared foods than just bar food or comfort food. We see from consumer packaged goods companies that people are buying more natural products — up 9 percent — and shoppers want to see natural and clean products extended through all parts of the store, including the prepared food sections."
For some retail chains, changing to antibiotic-free rotisserie chicken has been a significant step in offering cleaner options, while others, like Austin, Texas-based Whole Foods Market, strive to ensure prepared foods meet all of the clean-label options available in the CPG aisles. In fact, SPINS data show that natural labeling is up 46 percent across prepared food sections.
Phillips observes that leading and independent retailers are overhauling their fresh prepared food sections to meet consumers' current health-and-wellness needs, with changes ranging from ethically sourced and organic ingredients to protein-packed and plant-based meals that focus on fresh. Food labels and menu messages have made a big impact on restaurant sourcing and consumer food choices. Prepared foods need to follow the restaurant industry's leads with labeling priorities that include no added hormones, raised without antibiotics, pesticide-free, non-GMO, organic and locally sourced.
"So far, prepared foods in retail do not have to follow any food-labeling regulations," notes Phillips, "but shoppers want to know what they are buying."
Keeping ingredients simple and store labels informative and easy to understand are the best ways to serve health-minded shoppers. Messages like "five simple ingredients" or "nothing added" resonate.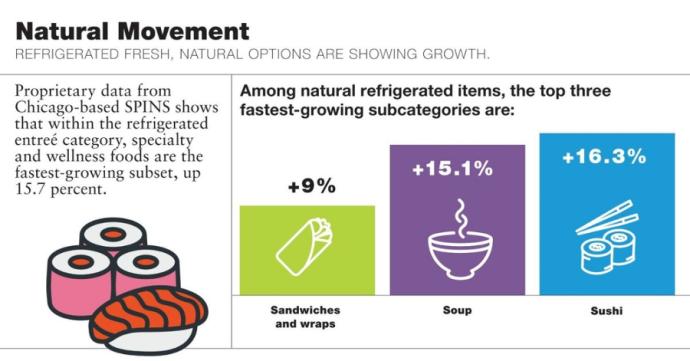 Specific diets are having an influence on eater preferences, with paleo-friendly positioning up 127 percent, vegan up 13.4 percent and plant-based eating up 7.5 percent, according to Jill Failla, copywriter at SPINS.
"Plant-forward" eating appeals to more people, not just strict vegetarian and vegans, which means that prepared food sections need to provide nutritious, plant-centric dishes for main dishes, sides and even snacks (see sidebars on page 60). SPINS research also shows a need for prepared food sections to look ahead and tie into macro-trends like nutrient density.
Plant-based protein sales are up 23 percent, animal-based are up nearly 46 percent and pea protein foods are up 167 percent. "People want quality ingredients with more nutritional bang for the buck, like quality carbs, healthy plant and plant-based protein," Failla says.
SPINS tracks health-minded purchases, which are becoming more specific. Digestive health, cardiovascular health, bone health, immune health, cleansing, detox, energy support and cognitive health are some of the messages emerging in the CPG world and likely to carry over into demands for prepared foods.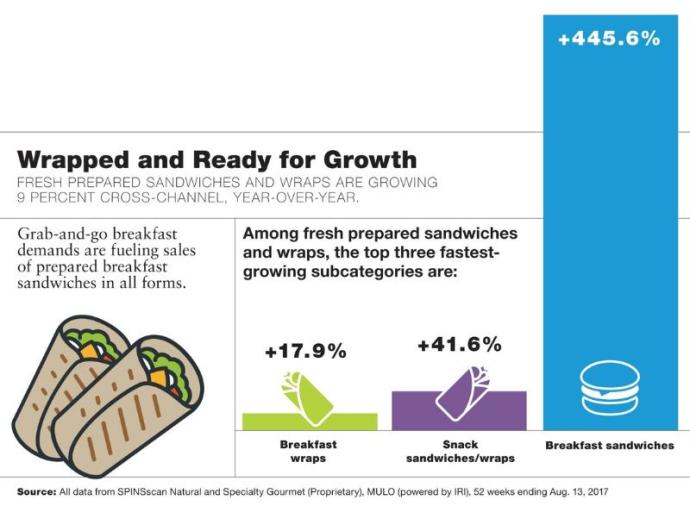 Ready to Serve
Grocery stores have an advantage over restaurants when it comes to serving shoppers in meaningful ways.
"If you have in-store dietitians, offer their services to people, especially those who need to stick to restricted diets," Phillips advises. "Labeling, signage and in-store communicating are especially important for people seeking things like vegan and gluten-free options."
Bear in mind that all shoppers, whether on specific diets or not, need help with meal planning, according to Eric LeBlanc, director of marketing at Springdale, Ark.-based Tyson Foods.
"Our research shows there's some real stress around cooking, especially at the end of a busy day," LeBlanc says. "We see how buying groceries can become a pile of good intentions, but turn into a bundle of stress when shoppers now realize they have to use their purchases in two days before it goes bad."
Conducting extensive research on shopping patterns in prepared food sections, Tyson found that 67 percent of all shoppers admit to some confusion about shopping in the prepared food section. Only 3 percent of shoppers ask a question, but of those who do, 97 percent take the advice provided.
"Shoppers basically have signs around their necks reading 'Tell me what to do,'" says LeBlanc, who encourages the industry not to fixate on "the thing in the box," or the product alone. "We also have to focus on helping people, communicating with people and building flexibility into meal planning."
In July 2016, Tyson worked with Ahold USA markets to test the "tell me what to do" theory, and hypothesized that if the prepared food target audience knows how to use the department to create meals, they'll shop the department more frequently.
Amber Langston, channel marketing manager at Tyson, describes how Ahold USA selected Giant Landover as the test division. Tyson worked with Ahold USA's shopper marketing, merchandising and digital teams to create a comprehensive three-month program for in-store and out-of-store communication. The campaign highlighted the ease of using prepared foods to assemble convenient, fresh, high-quality meals. Communication included store signage, social media, website integration, magazine advertorial email, and highly targeted mobile and online advertising.
One particularly revealing part of the test was having seven stores use merchandised spot coolers to display components of a featured recipe like BBQ Chicken Sliders. Recipes featured a protein from the deli — in this case, rotisserie chicken — and additional items ranging from other prepared foods and produce to center store product. Everything was fully cooked, or as close to it as possible, for ease of preparation.
"We saw this campaign hitting a bulls-eye," says Langston, who explains how connecting external and internal messages with bundled meal ideas is a holistic way of thinking for the shopper, making inspiration easy. "Shoppers need to see and hear integrated messages in and out of stores, from pre-shop planning to the 'tell me what to do' phase of shopping, and communication around the point of purchase. Not only did sales of rotisserie chicken see a boost from this campaign, all prepared foods sales were lifted."
"Shoppers need convenience," affirms SPINS' Phillips, "so cross-merchandising and bundling have become increasingly important. Building one-stop shopping stations for fajitas fixings or soup stations with broth, protein, veggies and noodles are other easy meals. This is a way to compete with the ease of QSRs and meal kits. Recipes or DIY instructions and videos are more ways to deliver speed-scratch help."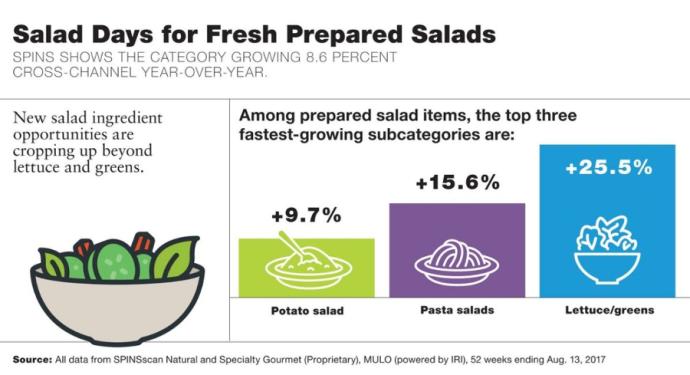 Solution-based Experiences
An elevated level of service and how-to help are part of the experiential shopping and customization that another expert sees as vital to prepared foods' growth.
"Supermarkets need to get back in the experience business," asserts Steven Petusevsky, a one-time corporate chef for Whole Foods Market who now acts as a consultant on prepared foods to more than 20 national supermarket chains. "It's not enough to be a place just to grab food anymore, because people are doing that online and at any number of places. You need to be the place that grabs some of their attention and money.

"It's important to establish a name for yourself in prepared food and make a mark," he continues. "It's about the food and the experience. Maybe you're doing great things with your wood-fired oven or store-made sausages. Show people meal ideas with a sausage sandwich kiosk, or bundle fresh sausages, pasta and vegetables for a standout dinner that's engaging and affordable. Anything that works incrementally is a great idea, so build on it and make sure you are known for it."
LeBlanc sees one-on-one assistance as the most effective experience a shopper can have. Putting more staff in the department during the "desperate-for-dinner hours" is great, but Le-Blanc points out that the category needs to have people on hand who love food and have been trained in giving meal advice based on a store's offerings and recipe ideas.
"It's often not enough to say 'Can I help you?'" he asserts. "That's often met with a 'no.' But if you approach shoppers with the question 'What are you making tonight?' you create an opening, and people start talking. Even if shoppers aren't sure what they are making, a staff member can create an opening with questions such as 'Do you like Brussels sprouts? Have you tried them shaved and sautéed?'
"People love great, exceptional service; it's like having an exceptional server at a restaurant," adds LeBlanc. "They are willing to pay for it in more purchases and better purchases, and this kind of personal service elevates the whole store."