Giant Carlisle to Open Ecommerce Hub in Lancaster County, PA
Get great content like this right in your inbox.
Subscribe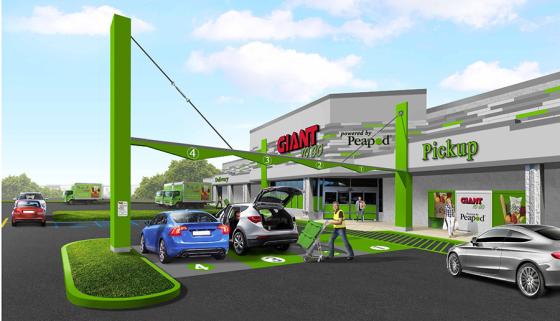 Giant Food Stores LLC has revealed a $22 million investment in Lancaster, Pa., which will include debuting an ecommerce hub at its former North Reservoir Street Location, remodeling four stores, slashing prices across its stores in the area, and opening a new fuel station in Lititz.
According to the Carlisle, Pa.-based Ahold Delhaize USA division, the ecommerce hub concept will spur development of the North Reservoir Street site and create about 150 new jobs in the community.
"We look at this ecommerce hub as an investment not just in property, but in the people of Lancaster, who have waited too long to hear news from us about our future plans,"  noted Giant Food Stores President Nicholas Bertram.  "We have been listening closely to the community, and we would like to sincerely thank Lancaster Mayor Danene Sorace for her counsel during the past several months as we developed these plans for more economic opportunity and growth within the city."

This is a huge step forward for the Northeast neighborhood and the city as a whole," added Sorace. "I'm excited about the investment Giant is making in Lancaster, and extremely happy that it will be bringing 150 jobs back to city residents.  Throughout this process, the new Giant team's sincerity and integrity has gone so far in rebuilding good will and trust."
Serving as a grocery delivery center, the hub will be feature a unique format offering curbside pickup orders delivered directly to customers' cars parked outside of the hub and a walkable pickup point to meet rising area demand for online grocery.  The hub will encompass 38,000 square feet, enabling Giant Food Stores and its e-grocer sister company Peapod to serve up to 40 percent more shoppers.
 "We're seeing double-digit growth in online ordering and grocery delivery," observed Bertram. "We are rededicating ourselves to the Lancaster market, and we want this cutting-edge facility to be unique -- something the Northeast neighborhood will be proud of while we meet this demand. We're excited because the ecommerce hub will allow us to increase capacity quickly."

He continued: "Grocery shopping is changing and the pace is accelerating; as a customer-centric company, innovation is the cornerstone of our go-to business strategy. Our ecommerce hub will drive growth while helping our customers to shop how they want, when they want, and most importantly, where they want."
The facility will be the fifth that Giant Food Stores has opened in partnership with Peapod in Pennsylvania.
 Other components of the retailer's investment in Lancaster County are:
Extensive remodels at the following three Lancaster locations and one Lititz store to be more shopper-friendly, with a focus on fresh, quality products sold at affordable prices and delivered with superior customer service. Enhancements included an expanded product selection, revamped health and beauty care departments, a larger deli department with more convenient grab-and-go offerings and pre-sliced meats and cheeses at two stores, and a cheese shop, a Chef Prepared case, an Asian hot bar and a produce juicing station at the Lititz location.
Lower prices, especially on Giant brand products across the store, with savings up to 35% on staple items such as Giant brand pasta, ground beef, shredded cheese, waffles, canned beans, cereals, aluminum foil, sandwich bags and organic yogurt, in addition to select national-brand products as well. Shoppers can also download the Giant app for additional personalized savings and coupons.
Construction of a new off-site fuel facility in Lititz, close to the store located there and slated to open in August.

 
The chain's latest investment in Lancaster comes on the heels of a $70 million investment revealed earlier this year to grow its store network across Pennsylvania by building six new stores, remodeling two locations and opening four new fuel stations over the next two years. As part of its expansion, the grocer plans to enter the East Stroudsburg and Walnutport communities for the first time.
Celebrating its 95th anniversary this year, Giant Food Stores operates more than 170 stores in Pennsylvania, Maryland, Virginia and West Virginia, employ nearly 30,000 associates. It currently operates eight stores in Lancaster County, with about 1,300 employees.