Food Hall Concept is a Winner for Bristol Farms
Get great content like this right in your inbox.
Subscribe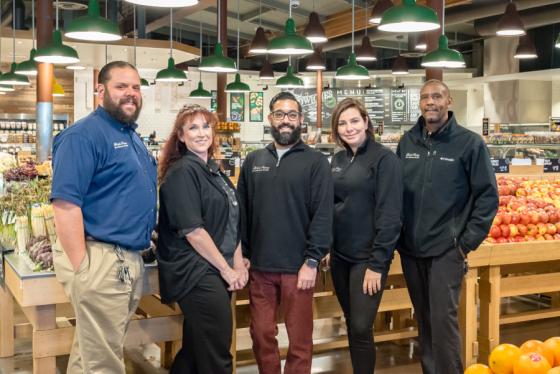 Delivering a "theater of food" experience is the goal of Southern California grocery chain Bristol Farms, and its new food hall concept, recently launched in suburban Los Angeles, takes that to a whole new level.
The Carson, Calif.-based retailer's 14th location, on Mulholland Drive in the Woodland Hills area, northwest of downtown L.A., features several epicurean market stations and innovative experiences that include fresh produce; a fully staffed natural vitamin, supplement and body care department; an artisan bakery; a premium wine and spirits cave; The Daily, an espresso and coffee concept; freshly made gelato; a smoothie and juice bar; a butcher shop; more than 300 cheeses; a new grab-and-go experience featuring various ready-to-eat Asian hot bowls; expanded sushi and poké offerings; an organic salad bar; and a cascading floral wall with exotic bouquets and greenery.
"Bristol Farms wanted to uphold the standard of one-stop shopping for the best-tasting, freshest foods, in a more accessible format which highlights our strengths as a retailer," says Adam Caldecott, Bristol Farms president. "Working with Kacie Davis, our designer [and daughter of Bristol Farms Chairman and CEO Kevin Davis], one of our goals was to open up the format to create a European-style farmers'-market experience that is reminiscent of some of Europe's great food halls.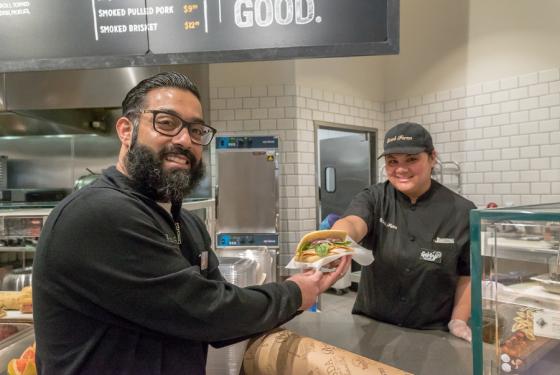 "The vision was to make our food the star of the market," Caldecott continues. "Our concept store focuses on creating a community for shoppers and vendors, a local home for families, foodies and everyday customers, where entering the store always feels familiar and welcoming."
In a space formerly owned by Haggen, Bristol Farms aims to offer an elevated shopping experience that's also accessible by families for their weekly shop, in an area that's culturally and economically diverse. 
"When shoppers enter the store, they can expect hundreds of local vendors, with many products sourced from people that live in the Woodland Hills community we serve. The addition of hyper-local, vocal vendors is a priority for our brand, and especially this store," Caldecott says. "Being a one-stop shop meant we needed to ensure that we have the day-to-day traditional grocery products and supplies to meet the needs of our shoppers as well." 
Bristol Farms continues to focus heavily on emerging natural and organic foods, carrying thousands of new and mainstay items in all categories.
"Our company is made up of real foodies, making it hard to not focus on European foods, many of which are air-freighted directly to our stores," Caldecott says.
What sets Bristol Farms apart from other grocers, he explains, is its connection to the community, and the human connection to good food.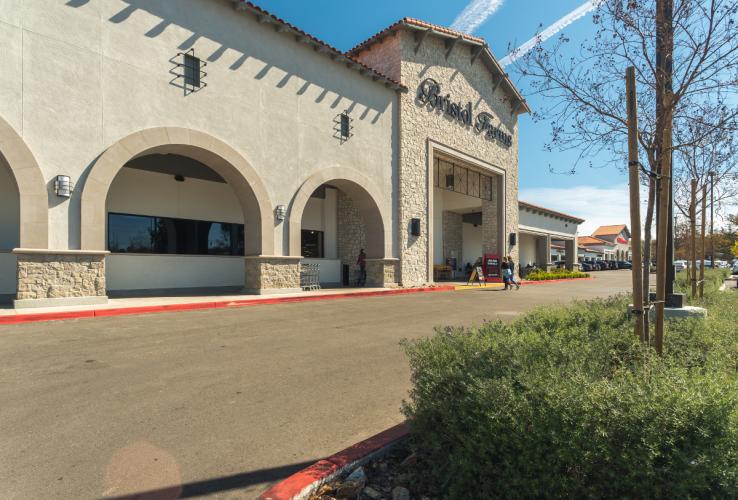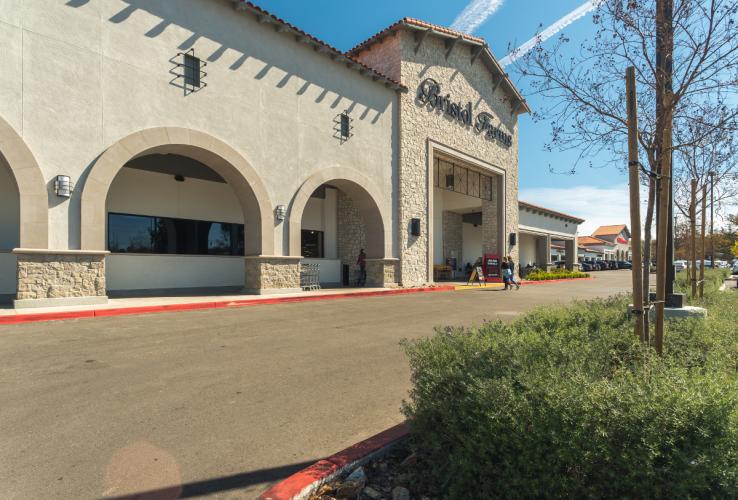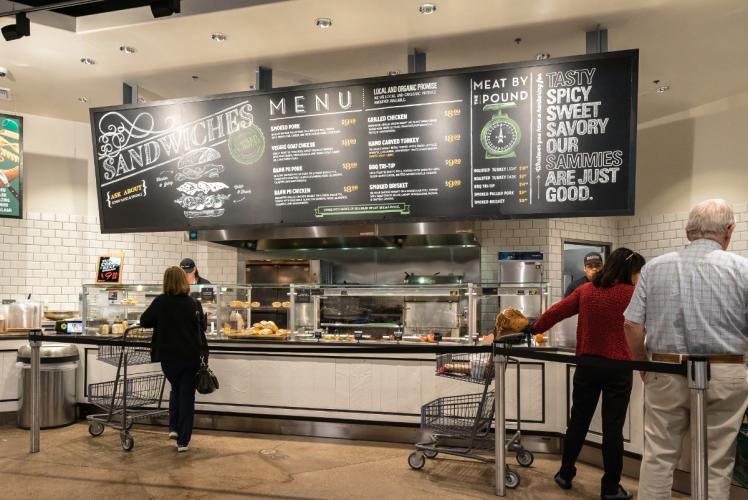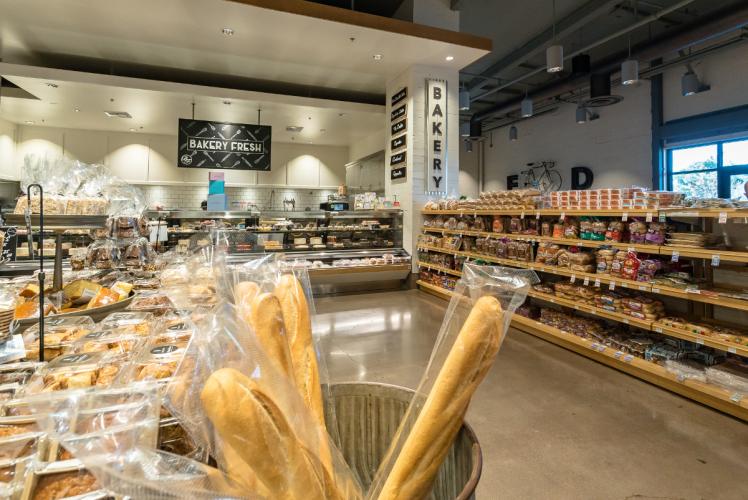 "We program monthly lifestyle activities for adults and kids, including food education classes, seasonal DIY programs and community involvement through charity programs, as well as live vendor demos and exclusive promotions and sales ranging from 20 to 50 percent off," Caldecott says. "Through the store's local involvement and interaction between customers and employees, the Mulholland location is a culinary destination for the community, and a place where shoppers genuinely feel at home to do their everyday shopping."
Or, as Carina McLaughlin, the store's marketing director, notes, "It's more than a grocery store — it's a place for people to come, hang out and have fun."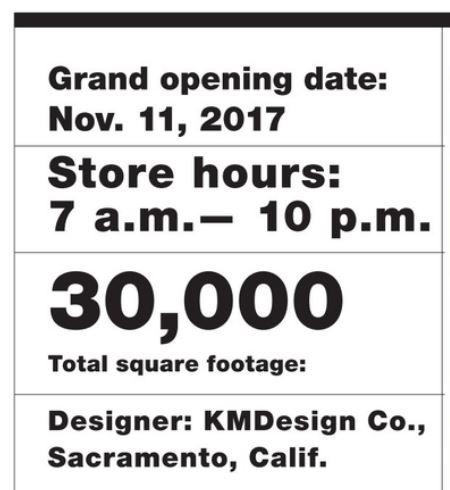 Hit of Freshness
"You walk in, and all you're hit with is fresh," says Store Director Ali Dungarwalla, leading Progressive Grocer's early-March visit to the Woodland Hills store.
As with many supermarkets, the entrance opens into the produce department, and Bristol Farms' rendition is particularly colorful, aromatic and creatively merchandised. But it's the food hall area just beyond that catches the eye and the olfactories.
Along the perimeter, a carving station prepares fresh entrées and sandwiches from various roasted and smoked meats, including the store's best seller, a tri-tip sandwich featuring that particular cut of beef popular for years in California and starting to gain attention in the rest of the country. There are Asian entrées made to order and a bakery counter replete with colorful cakes, pastries and "The Cookie," Bristol Farms' signature face-sized, nut-studded chocolate chip cookie, a vehicle for the retailer in community fundraising efforts.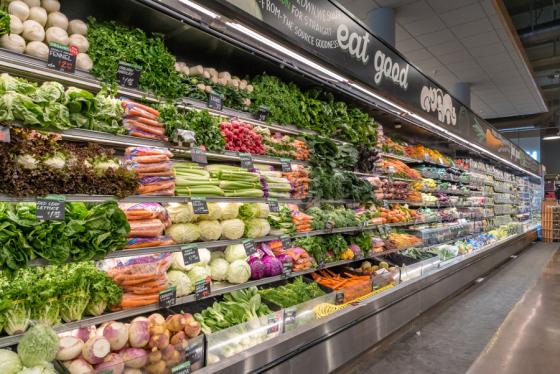 Facing the perimeter are hot and cold bars featuring traditional, Mexican and Asian entrées, as well as soups and salads, and a vegan food bar, "which has proven to be pretty popular," Dungarwalla says, noting that the store's prepared food offerings run about 60/40 protein to veggie.
But even with all of the unique and creative items available, he acknowledges, "Our biggest hot-bar seller is still orange chicken and fried rice." Most of the store's fresh offerings are fully prepared on-site, with some created by the Bristol Farms commissary, either in full or partially for finishing in-store, he explains.
"We have a pretty busy lunch crowd. When school is in session, we get a lot of high schoolers," Dungarwalla says, noting Calabasas High School is right up the street from the store.
The store features a café seating area with a dedicated checkstand. The café offers a cozy spot for in-store diners and hosts frequent events such as the wellness talk going on during PG's pre-visit market pop-in, as well as lifestyle programs, and cooking and food education classes.
"I try to bring in all the departments and highlight something different every month, always tied back to what you can find in our store and the expertise on our staff," McLaughlin says.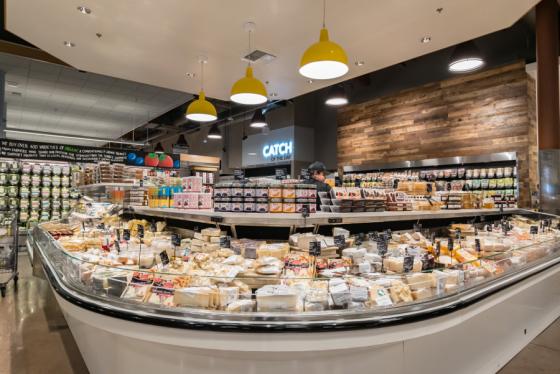 Better Variety, Better Quality
The "theater of food" concept extends into the produce department, dominated by local and organic selections, and merchandised to highlight color and freshness.
For example, the wet racks are vertical and produce is layered to display it to its best advantage. Broccoli and cauliflower are displayed on ace rather than in racks to augment the perception of freshness. Colorful, hand-chalked signs call out selections here and throughout the store; in fact, the store employs a full-time chalk artist just for this task, Dungarwalla says.
The store's selection includes items found in few other supermarkets, such as whole jicama and raw roots. "There are things you can't go to a regular market and get," Dungarwalla boasts.
The store also has a "chop shop" program, featuring a produce butcher cutting vegetables to size for various uses in recipes or snacking, enhancing convenience and reducing waste. This started as a way to sell blemished produce "and has become its own subdepartment," the store director notes.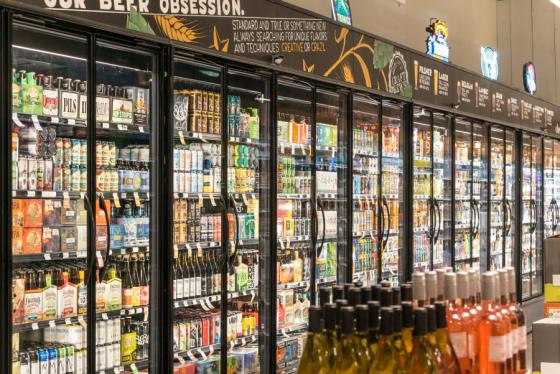 Nearby, a staffed U-shaped counter offers a bounty of cheese from around the world. "We carry many items other stores don't carry or cut because they won't invest in it," Dungarwalla says, pointing out house-made cheese spreads and popular pepperoni cheese balls for snacks and special-occasion eating. "A pack of this and some crackers, and you have a party platter."
A heat-and-eat case offers entrée, side and meal options to take home. "This is how we compete with fast-food restaurants: with better variety and better quality," Dungarwalla asserts.
The butcher shop features Prime and Choice USDA meats, and offers shoppers services like free seasoning and knife sharpening. The meat case features both kosher and halal selections, reflecting the store's diverse religious community. There's a full kosher set, with prominent callouts on certified-halal items.
Integrated into the meat case are plant-based burgers, sharing space with marinated ready-to-cook chicken breasts, bone broth and Wagyu corned beef.
The store's dairy department is a prototype set for Bristol Farms' other stores, Dungarwalla explains, with closed doors and an extensive offering of plant-based milk alternatives.
Meanwhile, cage-free eggs take center stage, and the store allows shoppers to build their own dozens and half-dozens from individual eggs, at 49 cents each or a dozen for $4.79.
"Some customers want to pick their own eggs," Dungarwalla says. "It's pretty like getting it right from the farm  — and customers will pay for it."
Woodland Hills is Bristol Farms' first store to have a 4-foot refrigerated vegan set that "has been received very well by the community," Dungarwalla notes.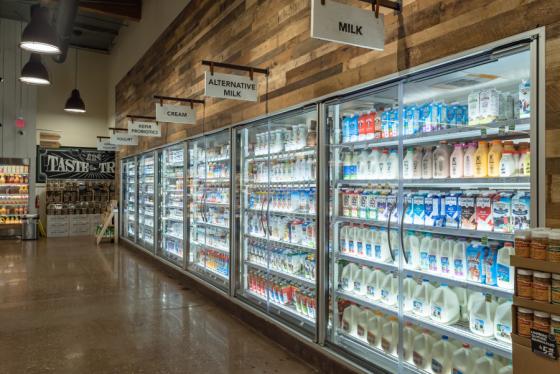 Taking it to the Next Level
This store offers one of the area's largest selections of local and craft beers, with three products made "from almost walking distance" among 12 local California brews accounting for some 50 SKUs, Dungarwalla says. Decorative over-case signage clearly explains the differences between the various beer varieties. "We've taken craft beer to the next level," he notes.
Another level is volume, and it's considerably lower in center store by design, to enhance the shopping experience, Dungarwalla explains. "You enter an aisle, the music drops, the sound muffles, it's just you and the aisle," he says, pointing out underlit shelves helping shoppers to read labels clearly and without distractions. "People have told me they appreciate the quiet and the ability to read the labels. It's a library effect."
Meanwhile, he adds, "We got rid of the side-stacks and any intrusions that would hinder the shopping experience."
Center store is also home to the Natural Living department, featuring vitamins, supplements, and beauty and wellness products, which McLaughlin calls the "heart of the store — a really fun couple of aisles."
At Woodland Hills, this department is staffed, setting it apart from other locations, McLaughlin notes: "Shoppers can get an education from our staff. That's not something you can find when you're shopping Amazon."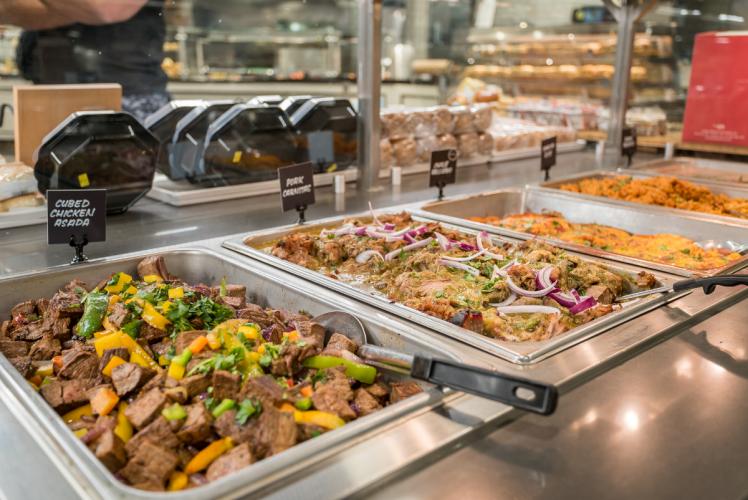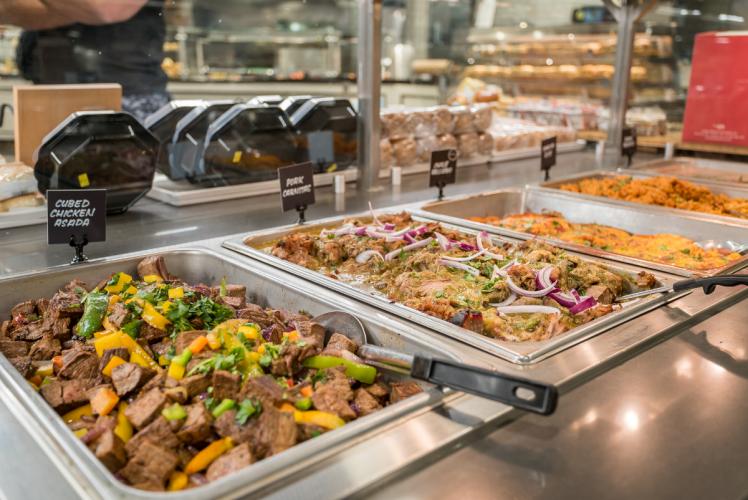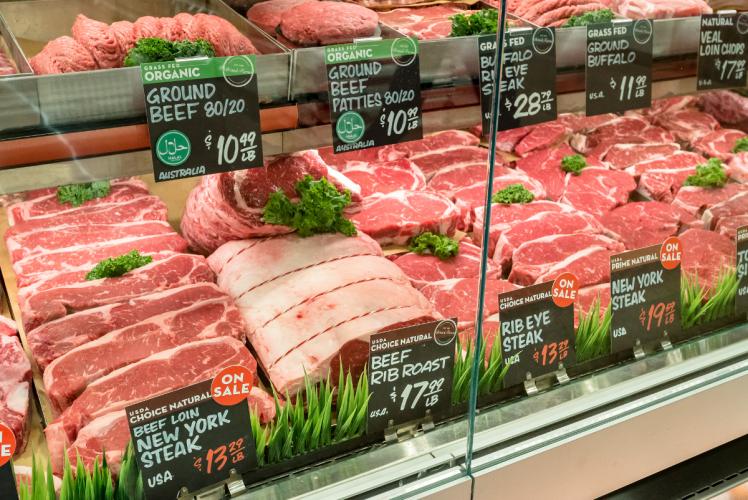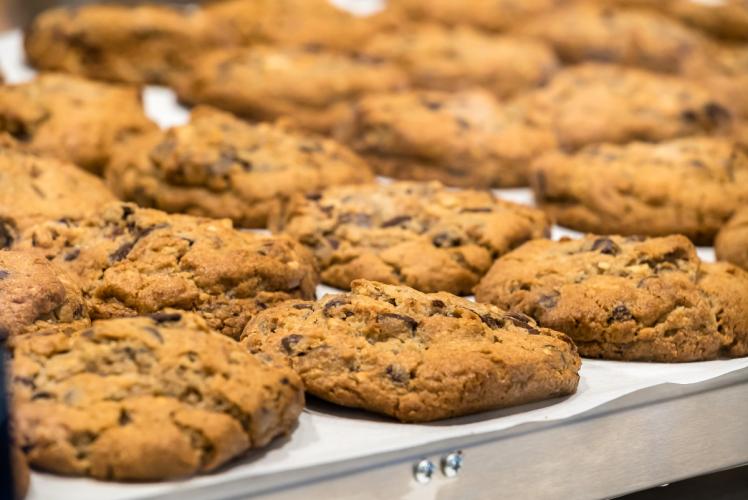 There are plenty of local products in center store as well. "We have about 10 seriously local companies here in our backyard. We're working on more — we're not afraid to have them in our stores," Dungarwalla says. Bristol Farms scopes out many of the local selections at area farmers' markets, he adds.
The community around the store is home to the well-heeled as well as many celebrities (there was a Kardashian sighting here the night before PG's visit), but in fact the neighborhood is "actually very diverse," Dungarwalla says. While towns like Calabasas and West Hills feature homes valued at $1 million and up, the store also serves Canoga Park, which he describes as a more traditional middle-class community.
"We don't want to be the store that you can't afford to shop at," Dungarwalla stresses. "We want people to be able to buy their regular groceries here."
To that end, Bristol Farms has an aggressive direct mail and e-coupon program with special deals tied to end cap displays, including BOGOs and "amazing deals with crazy redemption rates  — a great way to get people into the store," McLaughlin says. "Every week, it's a new item, and it's a great way to get new customers who wouldn't necessarily try us otherwise."
A point of pride is one particular end cap that sticks out amid the others offering local and specialty food items: It's stacked with Tide laundry detergent. "We're proud of the fact that we price Tide the same as Ralphs or Target," McLaughlin asserts. "At this location, it's priced really competitively."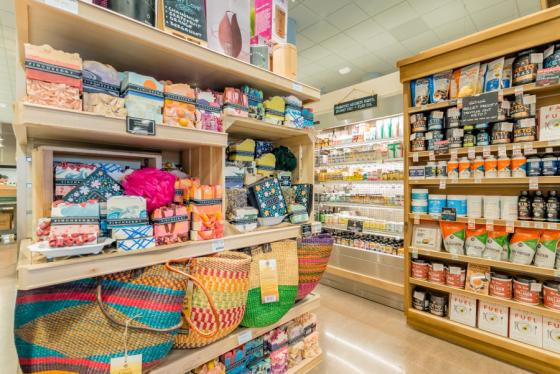 Premier Destination
All of Bristol Farms' offerings and programs are specially curated, with a particular focus on taste, Caldecott observes.
"Since 1982, Bristol Farms has combined the service and food quality of a corner grocer, butcher and baker, with the same sense of theater as famed Harrods food halls [in London] to create an unmatched grocer experience," he says. "With the new concept store at Mulholland, we are taking those same values and offerings to an elevated level. Our new format has shaped expectations for future store locations, continuing to position Bristol Farms as the premier 'theater in food' destination, offering the best-curated food selection at competitive pricing."
The most rewarding part of opening this store, according to Caldecott, has been the reception of customers and the community. "The concept has resonated with them, and its ease of shop has helped to make the store a part of their daily and weekly food shop," he says. "Another byproduct of the opening was new energy around emerging products and developing better processes to onboard new vendors more quickly."
The format focuses on food being the star, Caldecott stresses, "giving vendors a unique opportunity to have their products highlighted for a consumer that loves new and exciting products.  Our in-store marketing team is continuously creating new food events and looking for local products to sample to our customers."
About Bristol Farms
Bristol Farms opened its first store in 1982, in Rolling Hills, Calif., followed four years later by a larger store in South Pasadena. The Manhattan Beach Bristol Farms opened in 1991 with a catering facility and a cooking school. The retailer entered Orange County in 1998 with a store in Newport Beach, then, a year later, acquired Chalet Gourmet, a landmark store in Hollywood, followed by a store in Westwood.
In November 2000, Bristol Farms opened a store at the site of the former Chasen's restaurant, serving Beverly Hills and West Los Angeles, and incorporating many of the design elements of the historic celebrity destination. Westchester, La Jolla and Palm Desert stores opened in 2006, followed by Santa Monica in 2013.
In 2004, Albertsons acquired Bristol Farms, which, a year later, bought Santa Barbara, Calif.-based Lazy Acres, a natural/organic chain established in 1991 that has since grown to four stores.
Bristol Farms became part of Supervalu Inc. in 2006, when the Minneapolis-based wholesaler-retailer acquired Albertsons. Then, in 2010, Supervalu sold Bristol Farms to a partnership of private equity and the chain's management team.
Owned by Endeavour Capital, Bristol Farms currently operates 13 stores in Southern California and one in San Francisco, and has its headquarters in Carson, Calif.