Fancy Food Show: Retail Buyers Discuss Rewards, Challenges of Specialty Market
Get great content like this right in your inbox.
Subscribe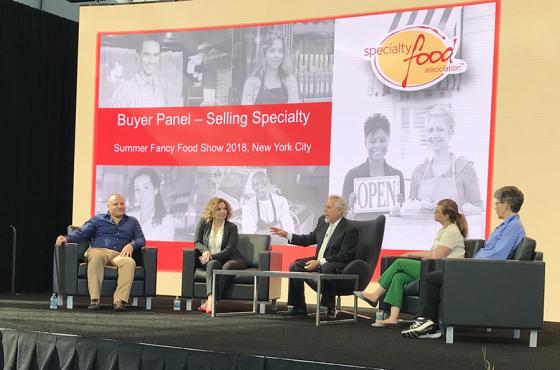 Attendees gathered bright and early at the Jacob K. Javits Center's River Pavilion for a buyer panel held July 1 in conjunction with the Summer Fancy Food Show in New York. Introduced by Specialty Food Association President Phil Kafarakis and moderated by "Supermarket Guru" Phil Lempert, the panel consisted of Emilio Mignucci, of Philadelphia-based specialty retailer Di Bruno Bros.; Layla Kasha, of Emeryville, Calif.-based extreme-value retailer Grocery Outlet; Maren Trocki, of The Fresh Market, a perimeter-focused banner based in Greensboro, N.C.; and Robin McNamara, of Wellesley, Mass.-based local-oriented grocery store chain Roche Bros. Supermarkets. This "diverse group of people" as Lempert described them, were on hand to hold "a very interesting conversation" on their concerns and aims regarding the specialty food market.
The Amazon Effect
Asked how Amazon's acquisition of Austin, Texas-based Whole Foods Market last year had changed the business, Mignucci admitted that it was hard to be competitive pricewise with the ecommerce behemoth, and to keep the cost of distribution down, noting, "People want stuff quick."
While Grocery Outlet isn't involved in ecommerce, Kasha pointed out that the online pricing model had gone from everyday low prices to "every-second low prices," and that her company obviously couldn't react as swiftly as Amazon, so had branched into the health-and-wellness space to differentiate itself; currently, according to Kasha, almost 20 percent of its whole spend is on natural/organic/specialty/health-focused items, which gives the grocer the ability to expose its customers to new products.
For her part, Trocki, a 2017 Top Woman in Grocery, said that the acquisition had forced The Fresh Market "to become more creative on the center store side," through the addition of on-brand items that helped it "to be the specialty grocer that our customers want it to be."
McNamara observed that Roche Bros.' focus was on specialty and local, while Whole Foods, whose sourcing has become more centralized since the acquisition, had grown less "nimble," enabling Roche Bros. to poach the rival chain's dissatisfied shoppers seeking local items.
Delivery Versus the In-Store Experience
To the question of whether grocers had gotten "too carried away with [grocery] delivery," McNamara replied that while there was "a core group of people who don't want to leave their house," for whom a delivery service is highly desirable, for younger shoppers, the in-store experience is a must, especially since they demand transparency.
"Can you get that online?" she mused. "Maybe, maybe not."
Kasha agreed that a hands-on shopping experience – what she called "the moment of discovery" – was essential to many consumers, requiring them to see – and taste – items for themselves.
Still, the tide has turned with regard to grocery ecommerce, and all grocers must accept it, Mignucci asserted.
"Technology isn't going away," he said. "We need to embrace it."
At the same time, however, brick-and-mortar stores are also here to stay, Mignucci noted: "If we deliver on that experience, [shoppers will] keep coming." For younger shoppers in particular, that experience needs to include transparency and sustainability, as that demographic "is doing the homework, and [knows] what [it] wants to buy."
Trocki offered the opinion that grocers need to evolve to incorporate grocery technology concepts that work for them, such as ecommerce and delivery.
Keep it Fresh – and Innovative
As to the kinds of products that attract shoppers to physical stores, fresh items are the overpowering draws. Citing Di Bruno Bros.' superior meat, fish and produce offering, Mignucci observed, "That's the only way that we can really entice people to keep coming," adding that shoppers were willing to pay more for a superior shopping experience and high-quality product.
McNamara asserted that consumers wanted "everything," noting, "They want good, fresh quality, and that's what we give them" through such means as fresh demos.
Kasha said that customer surveys had revealed that the No. 1 thing Grocery Outlet customers wanted was "the unexpected deal," otherwise known as "an epiphany moment," when a shopper discovers a new product. Considering itself a "partner in innovation," the company introduces its customers to brands they've never heard of before, publicizing them via social media and even offering a full refund on products they end up not liking and return to the store.
Since the chain's inventory changes often, shoppers are encouraged to stock up on items they like, ultimately "driving customers to other verticals like The Fresh Market" to find the product once it's no longer carried at Grocery Outlet. According to Kasha, they may pay more for that one item at a specialty retailer, but that higher cost is offset by the deep savings they experience at Grocery Outlet on everything else.
Trocki noted that along with a positive shopping experience, shoppers are searching for ideas, and expect The Fresh Market to be ahead of the trends.
Trend Watching
Speaking of trends, the panelists weighed in on some of the major ones they've been keeping an eye on, among them "really cool" snacks made from ancient grains, clean labels, hyper-local, small-batch production methods, curated items, functional benefits, and healthy products that also tasted good. Emerging trends included plant-based items, as noted by McNamara, but Kasha thought that insect protein still had too much of an "ick factor" to be popular yet.
To better understand their shoppers, the panelists employed such methods as focus groups, surveys and social media outreach, which, according to McNamara, enabled her company to deal with any issues right away.
Chief Concerns
The panelists also divulged what kept them up at night. For McNamara, it was attracting and retaining employees, since "a lot of people don't want to work in supermarkets." Trocki and Mignucci both worried about the supply chain, with Trocki singling out sourcing, sustainability, and the impact of the tariffs recently imposed by the Trump administration, while Mignucci brought up labor costs, product availability and Di Bruno Bros.' many small suppliers' ability to stay in business so that the retailer could maintain its "globally local" core items – its "hero categories" are cheese and charcuterie – and meet the expectations of its customers, who "want to be wowed."
For Kasha, who didn't envision grocerants as part of Grocery Outlet's extreme-value model, the key challenge is, "How do we keep people cooking at home [and] shopping our stores?" Ultimately, that's the question for all brick-and-mortar retailers struggling to maintain their relevance in an increasingly digital world, and specialty foods that enable them to differentiate their offering could help them find the answer.