Could an Emmy-Winning Comedy Help Blue Apron Get its Groove Back?
Get great content like this right in your inbox.
Subscribe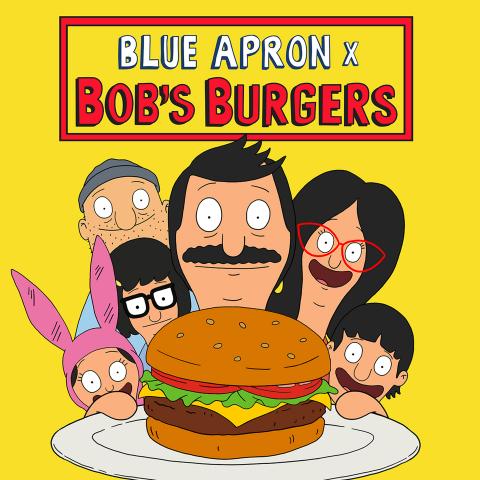 Blue Apron is attempting to stand out from the competition through a licensing agreement that will produce three unique meal kits inspired by the hit animated comedy series "Bob's Burgers."
Made possible through a deal with 20th Century Fox Consumer Products, the hamburger kits comein three varieties: The Quantum of Salsa Burger with Corn-Pepper Salsa & Onion Rings (week of July 23), The Gouda Wife Burger with Cucumber-Radish Salsa & Roasted Sweet Potatoes (week of Aug. 20), and The Absentee Shallot Burger with Caramelized Shallots & Fontina Cheese Fries (week of Sept. 17). All three kits are based on the show's "Burger of the Day," which changes each episode and whose name is always a play on some popular phrase or title. The first two featured in the most recent season of the FOX show, while the last one will appear in the premiere episode of season nine, scheduled for September.
The kits are "uniquely designed" by Chef Alvin Cailan of famed Los Angeles restaurant Eggslut. Cailan previously collaborated with "Bob's Burgers" in December 2016 and December 2017, creating specialty recipes inspired by the show to use in pop-up restaurants in Los Angeles and New York.
"Until now, my recipe creations were only accessible where my restaurants are located in Los Angeles or New York," he said. "I am thrilled to partner with Blue Apron and Bob's Burgers to bring three of my original burger recipes to homes across the country this summer."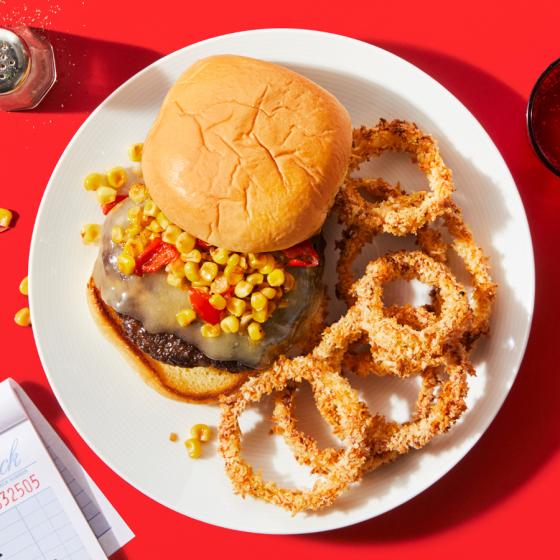 For a limited time, too, Blue Apron will sell an exclusive "Bob's Burgers" apron through its website, created in collaboration with Hedley & Bennet, the Los Angeles brand known for its handcrafted aprons and other kitchen wear. The item will sell exclusively through Blue Apron's website in August, and a portion of its proceeds will go to Feeding America as part of the "Bob's Burgers" National Cheeseburger celebration on Sept. 18.
"'Bob's Burgers' has built a highly engaged and loyal fan base over the past eight years," said Christine Fu, head of partnerships at New York-based Blue Apron. "In collaboration with the incredibly talented Chef Alvin Cailan, we look forward to bringing the creative and whimsical recipes that are featured on 'Bob's Burgers' to life through the Blue Apron meal experience."
Subscription-based, mail-order meal-kit services have been struggling lately amid a boom in brick-and-mortar kits, which give shoppers more choice in what, when and where they buy while also eliminating the rigid nature of a subscription. As a result, some services are partnering to develop kits specifically for physical stores, while others are being acquired outright. 
Already, Blue Apron has been working with grocers such as Costco to sell exclusive kits in physical stores, as well as introducing or reintroducing its brand to consumers through such experiences as pop-up shops and movie nights in major cities across the nation. By releasing these new "Bob's Burgers"-themed meal kits, Blue Apron has found a way to breathe some new life into a floundering business model. These new kits could not only make subscriptions a bit less undesirable, but also offer a unique, "must-have" product and experience that can appeal across several customer bases, including: 
Current meal-kit subscribers and users
Former meal-kit subscribers who became fatigued by the subscriptions (or meal kits altogether)
Consumers who've never tried meal kits and have been waiting for a reason to do so
While it's had its share of setbacks in the past year, Blue Apron appears finally to be finding its place: a company focused not on products so much as experiences – and ones that meet time-starved and hungry Americans where they are.