Coborn's Offers New Meal Kits for Delivery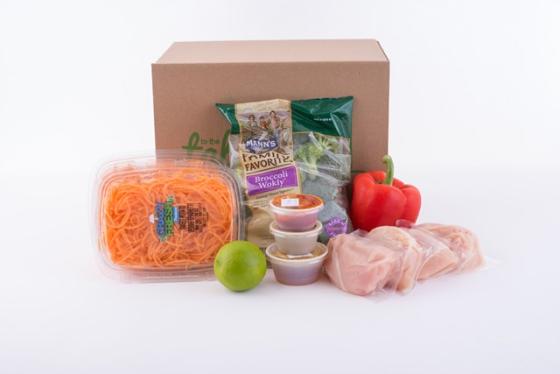 As popularity grows for easy-to-prepare meal kits, Midwest grocery operator Coborn's Inc.'s CobornsDelivers online shopping service is ready to unveil its fall meal kit menu, including a new offering for busy parents looking for a school lunch solution.
This month, CobornsDelivers will offer seven fresh family dinner meal kit offerings and nine choices for its new school lunch kits. Shoppers can add all their regular grocery staples onto their orders, getting household essentials delivered right along with their dietitian-designed, same-day-packed meal kit orders.
"In the meal kit space, where most companies require subscriptions, price their meals at $10 per person or more, and pack them days before they are eaten and delivered, we're proud to offer our customers something better," said Dave Hartmann, general manager of CobornsDelivers. "As a local outfit where meal kits are delivered the same day they are packed, we offer freshness and flexibility—we deliver any day of the week, we offer seven different options, and we're the only meal kit provider that will also deliver coffee, paper towels, and even wine. For busy families that have better places to be than the grocery store, we're always looking for new ways to help."
The popularity of meal kits is expected to rise as busy families with tight time budgets find a way to fit healthy, adventurous, homemade meals into busy days. CobornsDelivers is responding to customer demand with seven dinner menus designed by its staff dietitian, each feeding four at a price of between $4 and $7 per person.
Packed with full-color recipe cards, CobornsDelivers' To The Table meal kits are a simple solution to dinnertime, offering a wide variety of proteins and inclusion of meat-free and gluten-free options.
NEW SCHOOL LUNCH KITS
New for this fall, CobornsDelivers is releasing its first-ever School Lunch Kits. Packaged in sturdy brown bags, the dietician-designed lunches include whole grains, lean protein, dairy, and fruits and vegetables to give kids a midday energy boost.
The new lunch kits include Build Your Own Pizza; The Jammin' Sammy, in Sun Butter or Peanut Butter; The Italian; Mad Hatter Wrap; The Creamy Cucumber; The Veggie Roll Up; Chicken Bacon Ranch Wrap; and The Hawaiian.
This season's 'To the Table' Fresh Meal Kits include Tater Tot Hot Dish; Apple Cinnamon Pork Chops; Thai Chicken with Peanut Sauce over Sweet Potato Noodles; White Chicken Chili; Pesto Crusted Salmon; Fall Inspired Alfredo; and Maple Blueberry Burgers.
CobornsDelivers is an online grocery ordering and home-delivery service serving the Minneapolis/St. Paul metro area, operating out of a state‐of-the-art SuperStore in New Hope, Minn.
St. Cloud, Minn.-based Coborn's, Inc. is a 95-year-old employee-owned grocery retailer with approximately 8,000 employees and 55 stores across Minnesota, North Dakota, South Dakota, Iowa, Illinois and Wisconsin under the Coborn's, Cash Wise Foods, Marketplace Foods and Save-A-Lot banners.