Blue Apron Hires CPG Vet Alan Blake to Head Supply Chain
Get great content like this right in your inbox.
Subscribe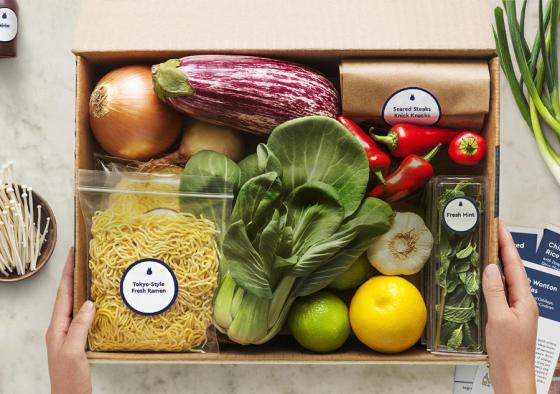 As it continues expanding into other channels, including brick-and-mortar grocery, meal-kit service Blue Apron has brought on consumer-packaged-goods veteran Alan Blake to be its chief supply chain officer, effective June 25.
With more than 30 years of experience at leading CPG, beverage and food companies, Blake will oversee such end-to-end processes across the supply chain as sourcing, procurement, planning, manufacturing, logistics and distribution as the New York-based company continues its multiproduct expansion across numerous channels. He will report directly to CEO Brad Dickerson and join the company's executive leadership team.
Blake comes to Blue Apron from Revlon, where he also held the role of chief supply chain officer, in this case over a global operation that spanned six internal manufacturing plants in addition to distribution centers and co-manufacturers. Prior to Revlon, he held a number of roles at various CPGs, including EVP of global operations at Ventura Foods, as well as VP of North American manufacturing at Campbell Soup Co., before progressing to VP of the company's North American supply chain and U.S. retail business team.
"We have made significant progress in increasing operational efficiencies throughout our fulfillment network, and operational optimization remains an ongoing strategic priority," said Dickerson. "Alan's leadership and experience will be a valuable asset to the company as we continue to advance our end-to-end processes so that we can fully leverage what we expect to be significant and differentiating operational capabilities in order to capitalize on our future growth opportunities."
Blake's appointment follows Dickerson's announcement in early May of Blue Apron's plan to "further broaden" its geographic reach.
"We will continue to … introduce the Blue Apron brand to new consumer segments and expand our total addressable market," the CEO told attendees on a May 3 conference call. "In our view, we have only scratched the surface of how the Blue Apron meal experience can engage with consumers."
The plan involves a number of initiatives that the company is executing, including selling exclusive kits at Costco stores in the Pacific Northwest, as well as a series of experiential pop-up events nationwide in such cities as New York, Los Angeles, San Francisco and Seattle, coupled with movie nights in Minneapolis, Dallas, and Austin, Texas.