01/24/2019
Amazon Pilots Autonomous Delivery Vehicles in Seattle Area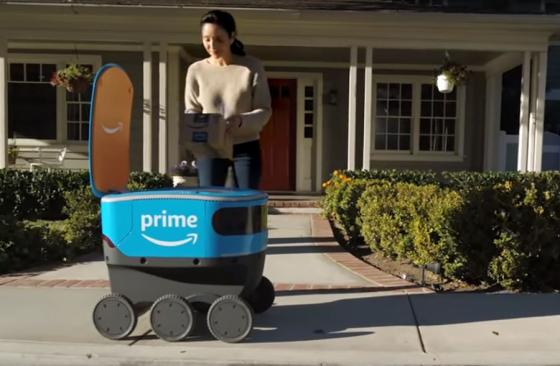 Amazon is piloting delivery in the Seattle metropolitan area via fully electric vehicles, each the size of a small cooler.
Amazon Scout vehicles are now delivering packages at a walking pace to customers in a neighborhood of Snohomish County, Wash. The neighborhood has kicked off the pilot with six vehicles, which can make deliveries Monday through Friday during daytime.
In the neighborhood, deliveries will be fulfilled by either a robot or a human worker. While Scout was developed by Seattle-based Amazon to ensure that it can safely and efficiently navigate around pets, pedestrians and anything else in its path, it will initially be followed by human workers to ensure that the vehicles can truly perform their tasks unassisted.
To receive delivery via Amazon Scout, customers place their orders as they normally would, on the Amazon mobile app or through Amazon.com, and choose the same delivery options they would usually select.
"We are happy to welcome Amazon Scout to our growing suite of innovative delivery solutions for customers and look forward to taking the learnings from this first neighborhood so Amazon Scout can, over time, provide even more sustainability and convenience to customer deliveries," wrote Sean Scott, VP of Amazon Scout.
The vehicles look similar to another autonomous delivery vehicle introduced this week and being tested on the opposite end of the country. Gaithersburg, Md.-based foodservice company Sodexo Inc. and San Francisco-based autonomous-vehicle developer Starship Technologies have partnered to provide George Mason University with 25-plus small vehicles to deliver orders from the campus grocery store and several foodservice outlets to the 40,000 students, staffers and faculty members at its Fairfax, Va., campus.
Since the year began, two other top grocers have also revealed pilots via autonomous vehicles:
Through its Austin, Texas-based Whole Foods Market division, Amazon is No. 8 on Progressive Grocer's 2018 Super 50 list of the top grocers in the United States.