2019 Retail Bakery Review: In-Store Bakeries Still Play Vital Role in Grocers' Freshness Image
Get great content like this right in your inbox.
Subscribe
In an era of keto, Paleo and Zone diets, indulgences found in the in-store bakery department are often eschewed, but that doesn't mean that no one's indulging.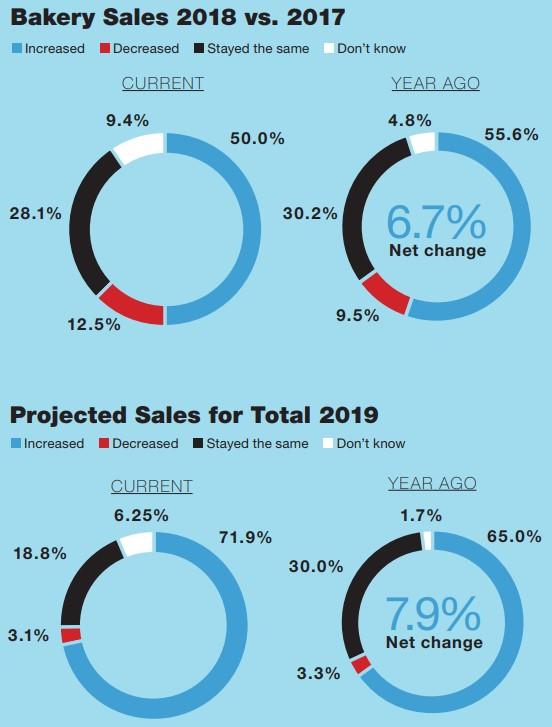 "It seems as much as everybody talks about healthier, when it comes to bakery, it's about treating themselves," asserts Karri Zwirlein, director of bakery, deli and prepared foods for Williamsville, N.Y.-based Tops Markets LLC. "And when they do treat themselves, they want it to be worth it — is it worth the calories? It's about treating yourself and making sure it's over-the-top really good. It's not just OK. People do restrict themselves in a lot of other areas, but when they go for a treat, it's got to be great."
Indulgent items like cookies, cakes/tortes and doughnuts, along with breads, remain the top sellers in the in-store bakery, according to Progressive Grocer's 2019 Retail Bakery Review. Cookies remain in the top spot, with more than half (53 percent) of survey respondents reporting them as the top-selling products, climbing from the third spot in 2017.
This is good news for stores, as cookies were also reported to be the second most profitable item in the in-store bakery. Much like cupcakes in the past decade, cookies (and doughnuts) have benefited from the gourmetization of the product. For instance, the cookie category has gone from simple chocolate chip cookies — although those are still popular — to elaborately decorated items that command a premium price.
"Before, people would come to us and get a tray of cookies for graduation. Now, they want a tray of Bulldog cookies or a tray of star cookies. All of a sudden, those cookies are two bucks apiece rather than $3.99 for a dozen," notes Brooks Marsh, owner of Mahomet IGA, in Mahomet, Ill.
Marsh acknowledges that the highly decorated cookies require more time and labor, but a higher price point can more than make up for that.
Popular Product Categories
Bread claims the second top-selling spot, but is the most profitable product category, while cakes/tortes and doughnuts share the third spot, with cakes coming in as third most profitable and doughnuts tied with cookies for the second spot.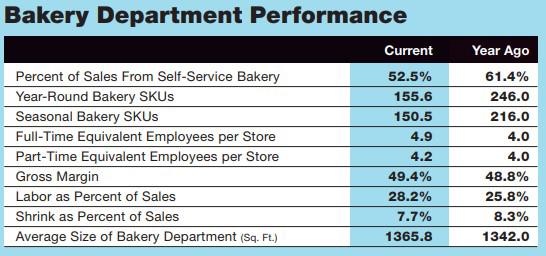 As for product categories that are growing, Zwirlein notes that Tops' "muffin category has exploded over the last five years and continues to grow." According to PG data, muffins saw a slight decline in popularity, from 18.2 percent last year to 15.6 percent this year. 
Zwirlein goes on to observe that sweet goods, especially cinnamon rolls, are also strong sellers. "We do a phenomenal job with cinnamon rolls, turnovers, a lot of the puff pastry items, strudel, strudel bites," she says. "That's a good category, very strong for us."
At Dorothy Lane Markets (DLM), in Dayton, Ohio, VP of Bakery Scott Fox is seeing success in some of the classic products. For example, the stores recently introduced Bakewell tarts, a traditional English square tart with a simple 1-2-3 dough that is baked in a 2½-inch-deep tart pan, the bottom of which is coated with raspberry marmalade, then filled with almond cream, with almonds sprinkled on top.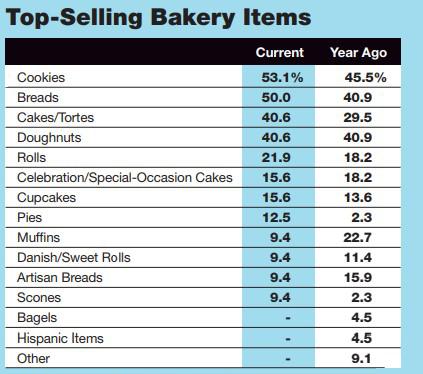 "It's one of those type of pastries that is good for breakfast, it's good for an afternoon snack, and it's great for an evening dessert," Fox notes.
Other classic products that are gaining traction include kouign amann, a variety of the French croissant, and Paris-Brest, a French choux pastry filled with praline cream. 
Dietary Claims
Certain dietary claims are also starting to gain in popularity, with 81 percent of survey respondents selling gluten-free products, up from 68 percent last year. Nut-free and egg-free products also saw significant increases in those offering them. Overall, the number of stores not offering any free-from products in the in-store bakery declined from nearly a quarter last year to only 9 percent this year.
"Requests for gluten-free items are increasing," Zwirlein affirms. "Cleaner label is more mainstream than it used to be."
Tops stores recently changed the bagels offered in the in-store bakery to a non-GMO variety, with that attribute called out right on the bulk bagel display bin.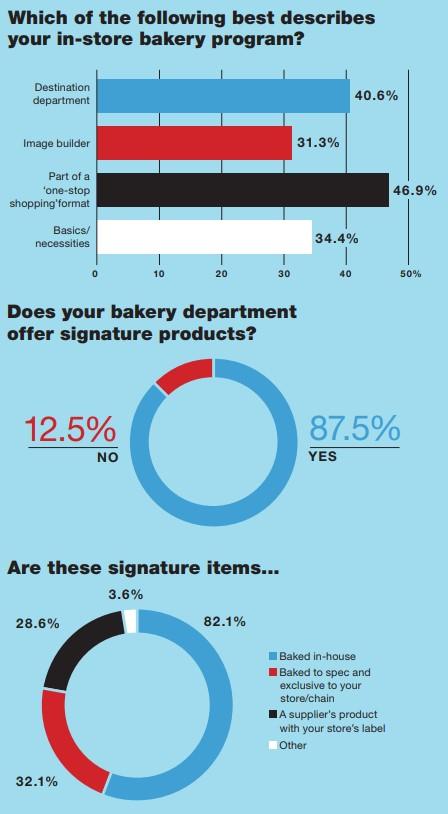 At DLM, the products sport clean labels with simple ingredient lists, driven in part by the fact that DLM has partnered with a local farmer to grow its own Dorothy Lane Heritage Turkey Red wheat that's also milled at the farm. The flour is used only in sourdough right now — it previously had also been used in a yeast-raised French boule — but "people really like the fact that the bread that they're eating, that we're making at the store, is made by hand and the wheat was grown about 18 miles from the store," Fox says. "It's about as local as you can get."
Requests for vegan bakery products have been on the rise, Fox observes. "We've not really done anything to address it yet, but we're talking about coming up with a few products, just to get started," he says. "We're not going to become a vegan bakery ever, but we could do a little better job and at least have some offerings for folks."
While more retailers indicated that they were offering free-from products, only 11 percent of sales came from those products, down from 16 percent last year. This division is further emphasized when looking at sugar-free bakery items: More retailers (28 percent) think that offering sugar-free is important than they did last year (13.5 percent); however, more retailers (44 percent) think that offering sugar-free is the least important.
Going Plastic-Free
It's not just product trends that are impacting in-store bakeries. Retailers are also seeing consumers demand more environmentally friendly packaging (16 percent). DLM's Fox has noticed more customers asking about the plastic packaging in the department, and the stores switched from a plastic pie container to a cardboard pie box that's white with black printing, for the grocer's Grandma Tobias Pies.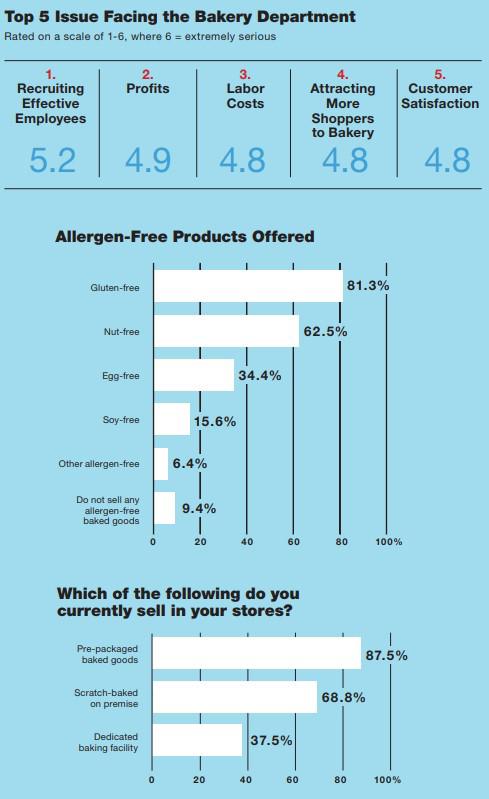 "It's very eye-catching, very attractive," he says. In the fourth quarter of 2018, the stores sold more than 1,200 more pies than the previous year. "The only thing that changed was the box," Fox adds. "Same variety of pies, same recipe for the pies. We just changed the box." 
DLM has now added a window box with the same design for other bakery items, including the 12-count cookies and 4-count muffins. "They do pop off the shelf, and we have gotten rid of that plastic," he notes. "It's going to be a long time before all the plastic goes away, but we are hearing from our customers that they don't like it."
Department Headaches
When it comes to the issues retailers face in the in-store bakery, the No. 1 headache is recruiting effective employees, up from the No. 2 slot last year. Profits and customer satisfaction round out the top three, followed by other supermarket competition. Attracting more shoppers to the department and labor costs are tied for the fifth spot.
Finding the right employees certainly weighs most on Tops' Zwirlein's mind. Her challenges: "Labor and recruiting staff would be the two biggest. Bakery used to be the hardest department to staff, but it's not the hardest anymore, although cake decorating is probably the hardest. A skilled trade — that is a difficult labor pool to find."
"Labor is probably the No. 1 issue that all of us are having," Fox agrees. "Trying to attract and get and keep talented help in this day and age — it's never been this difficult, ever."
Sunny Outlook
While the labor-intensive bakery department faces many challenges, the overall outlook remains strong. Half of retailers reported that 2018 in-store bakery sales increased over 2017 sales, with an average rise of 6.4 percent. Nearly 72 percent expect sales to increase in 2019, up from the 65 percent who projected an increase last year. However, the projected increase is 3.5 percent, down from a projected increase of nearly 8 percent last year.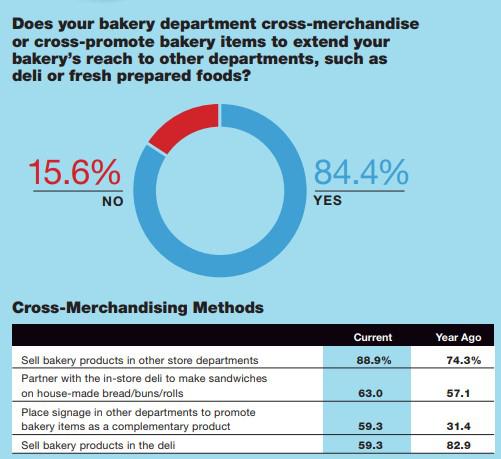 When it comes to profit, the outlook is even better. Half of retailers reported that profits in the department were up from the previous year, while only 16 percent reported a decrease. This is up from the 45 percent who reported better profits last year and the 21 percent who noted that profits were down. Some of this may have to do with fewer SKUs — a more streamlined product selection often means lower shrink, which is borne out in the survey results and helps the bottom line. Gross margin remained relatively unchanged, while labor costs crept up.
"I think our bakery is one of the biggest draws for Dorothy Lane Market because of the unique products we have," Fox says "Our bakeries right now are approaching doing 12 percent of the overall company business."
For comparison, the PG survey data indicates that average in-store bakery sales are just shy of 7 percent of company sales. 
At Tops, the in-store bakery is a point of differentiation for the chain's stores. "We are screaming the freshness message the loudest in our stores," Zwirlein says. "That's our job: to be special and be the freshest bakery out there." 
"It seems as much as everybody talks about healthier, when it comes to bakery, it's about treating themselves." —Karri Zwirlein, Tops Markets
Methodology
Progressive Grocer's Retail Bakery Review is based on an online survey of retail grocery leaders in April and May 2019. The respondents encompassed store owners, CEOs, presidents, bakery executives and other supermarket bakery department decision-makers. Of the respondents, about 59 percent were from grocery operations with four or fewer stores, with about 41 percent from chains of greater than four stores.