10/16/2018
Walmart Stresses Strengths at Investment Community Meeting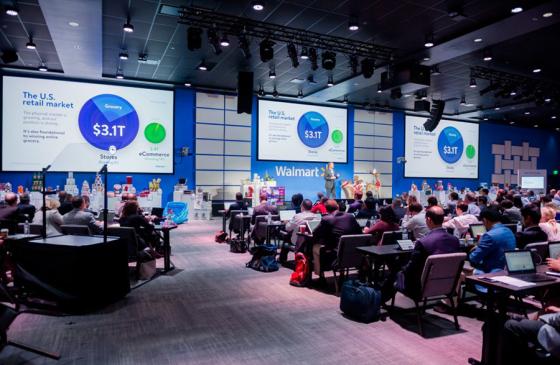 At its Oct. 16 annual meeting for the investment community, Walmart Inc.'s leadership team is discussing how the company is preparing for the future. The mega-retailer is also revealing select guidance metrics for the next fiscal year.
"We're adapting and transforming with speed to better serve our existing customers and reach new ones," said Doug McMillon, president and CEO of Bentonville, Ark.-based Walmart. "We're operating with discipline, balancing our short and long-term opportunities. While we're excited about what we've done so far, we aren't satisfied. As we execute today and build for tomorrow, our associates and unique omnichannel assets position us for success."
McMillon's topics of discussion at the shareholders' meeting include progress over the past year at Walmart U.S., including strong traffic and comps, online grocery pickup and delivery, and associate empowerment and training; the company's focus on price leadership, broad assortment and improving the shopping experience; momentum in areas such as ecommerce, logistics and partnerships; key acquisitions, among them Indian ecommerce site Flipkart; and innovations such as last-mile delivery, lowering supplier emissions, adopting blockchain for food safety at scale, and leveraging machine learning across the enterprise.
"I feel great about Walmart's position in this rapidly changing retail landscape," noted Walmart CFO Brett Biggs, who is outlining the company's financial framework at the meeting. "We are leveraging our scale, assets and financial strength in ways unique to Walmart to enhance and build competitive advantages. We continue to operate with discipline, we're strengthening our cost culture and we're leveraging technology, data and analytics in new ways to be more productive. Our financial strength gives us the flexibility to deliver near-term results while making strategic decisions for the longer term."
Select FY 2020 Guidance
Walmart expects its total fiscal 2020 sales growth to be 3 percent or higher, adversely affected by about 100 basis points because of the deconsolidation of the Brazil operations and planned reduction in tobacco sales at Sam's Club. Walmart U.S. comps are expected to be in a range of 2.5 percent to 3 percent (excluding fuel), and Sam's Club's comps are expected to be around 1 percent (excluding fuel), or about 3 percent (excluding fuel and tobacco), while ecommerce net sales growth is expected to be around 35 percent.
The company anticipates spending about $11 billion in capital expenditures, with a strong focus on store remodels, customer initiatives, ecommerce, technology and the supply chain. As for new units, Walmart U.S. expects to open fewer than 10 stores in fiscal 2020, while Walmart International plans to open a little more than 300, mainly in Mexico and China.
Walmart operates more than 11,200 stores under 55 banners in 27 countries and ecommerce websites, employing more than 2.2 million associates worldwide. The company is No. 1 on Progressive Grocer's 2018 Super 50 list of top grocers in the United States.