09/24/2018
Walmart, Sam's Club Requiring All Leafy Greens Suppliers to Embrace Blockchain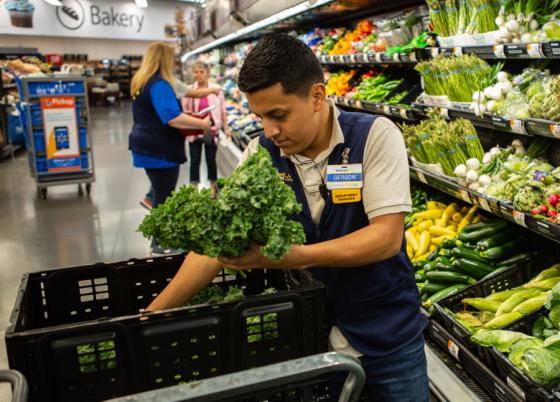 Mega-retailer Walmart and its Sam's Club division are requiring suppliers of fresh, leafy greens to adopt blockchain technology by this time next year to better trace products back to the farm.
The new, blockchain-enabled Walmart Food Traceability Initiative is intended to increase transparency in the food system while creating shared value for the entire farm-to-table continuum with leafy greens, Walmart said in a letter to suppliers. This change means that the information gathered by these suppliers will be open and accessible through technology that offers real-time, end-to-end traceability from farm to table. Blockchain allows for digitized sharing of data in a secure and trusted way.
To describe the grocery technology and its process, Walmart noted that:
Blockchain is a system of recordkeeping open to users
When a piece of permissioned information – or a "block" – gets entered into the chain, other computers in the network are notified, making falsification of information difficult
The block are like railroad ties and the rail is the chain – once ties are in place, the rail the train travels on is placed on top
Altering any blocks after everything is placed is as difficult as altering ties: With a railroad, ties cannot be altered without stopping trains, removing rails, getting agreement from the civil engineer, and everyone noticing what's going on
"As you know, while fresh leafy greens are overwhelmingly safe when you consider per capita consumption rates, and they are an important and healthy part of a person's diet," the letter reads. "Unfortunately, over the past decade, there have been multiple high profile recalls and outbreaks associated with these types of products. In fact, this year, the United States experienced a large, multistate outbreak of E coli O157:H7 linked to romaine lettuce. All in all, the outbreak resulted in 210 confirmed cases, caused 96 hospitalizations, and tragically five deaths." 

The letter continues: "Although the FDA and CDC were able to inform consumers, producers, and retailers that the romaine lettuce associated with illnesses came from the Yuma growing region, in general, health officials and industry professionals were unable to quickly determine which lots were affected and which were not. This resulted in millions of bags and heads of romaine lettuce having to be removed from the marketplace and a loss of consumer confidence in romaine lettuce, regardless of growing region, as well as negatively affecting the economic livelihood of many, including farmers."
As part of the new initiative, all fresh leafy greens suppliers will be expected to have the capability of tracing every product back to its farm, by production lot, within seconds, not days. This will require the ability to capture digital, end-to-end traceability event information using the IBM Food Trust network.
Understanding that suppliers, in turn, may have to work with their own suppliers to fulfill Walmart's requirement, the Bentonville, Ark.-based retailer is allowing for a two-phase process:
Direct suppliers are required to conform to one-step back traceability on the blockchain network by Jan. 31, 2019
Suppliers are expected to work within their vertical systems or with their own suppliers to enable end-to-end traceability back to the farm by Sept. 30, 2019
To assist suppliers trying to meet the new business requirement, Walmart has worked with IBM and other food companies to create a user-friendly, low-cost, blockchain-enabled traceability solution to meet requirements and create shared value. The two companies also are posting a series of webinars and list of frequently asked questions that could be useful.
Walmart and the Cincinnati-based Kroger Co. announced last August that they, along with a number of CPGs, were partnering with Armonk, N.Y.-based IBM in a major blockchain collaboration to further strengthen consumer confidence in the global food system. Together, the companies identified new areas where the global supply chain could benefit from the technology.
"If we're linking that data with other data points, the Internet of Things, all that information will yield to insights that will allow us to have a safer, more affordable and sustainable food system," said Frank Yiannas, VP, food safety at Walmart, at the time. "But we don't believe traceability is the goal – we believe that transparency is the ultimate goal."
Walmart operates more than 11,200 stores under 55 banners in 27 countries. The Bentonville, Ark.-based company is No. 1 on Progressive Grocer's list of the top grocers in the United States.