11/15/2018
Walmart Logs Higher Q3 Ecommerce, Comp Sales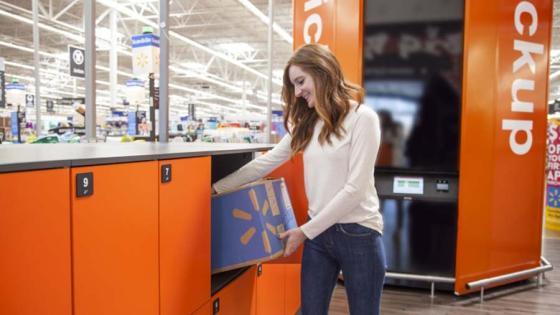 For its third quarter of fiscal 2019, Walmart Inc. has reported impressive U.S. ecommerce sales growth of 43 percent. In fact, the mega-retailer's U.S. omnichannel progress has continued apace, with grocery pickup now available at nearly 2,100 locations and grocery delivery offered at almost 600 stores. The continuing sales growth confirms Walmart's rebound from slower online sales logged in the last fiscal year.
Additionally, the company saw a comparable-store sales rise of 3.4 percent, with comps increasing 6.1 percent on a two-year stack, alongside broad-based strength and market share gains in the key categories of grocery, health and wellness, and general merchandise, which all experienced low- to mid-single-digit growth. Fresh food proved to be a particularly strong performer.
Noting what it called its best grocery comps in almost nine years, the company observed, "Overall, our pricing strategy, omni offer and improved private brands are resonating with customers."
Walmart's total revenue for the quarter came to $124.9 billion, an increase of $1.7 billion, or 1.4 percent. Excluding currency, total revenue was $126.1 billion, a rise of $2.9 billion, or 2.4 percent.
"We have momentum in the business as we execute our plan and benefit from a favorable economic environment in the U.S.," said Walmart President and CEO Doug McMillon. "We're accelerating innovation and utilizing technology to shape the future of retail. We're making shopping at Walmart faster and easier. Our associates are equipped with the tools to serve customers better than ever before, and they're doing a great job. With the holidays approaching, customers can count on Walmart to save them money, and we'll also provide busy families with another important gift – time back in their day."
At Walmart's other divisions, Sam's Club Q3 comps increased 3.2 percent and ecommerce sales rose 32 percent as membership trends continued to improve, but net sales at Walmart International for the quarter were $28.8 billion, a 2.6 percent decline. Excluding currency, however, the division's net sales were $30 billion, a 1.6 percent bump. Additionally, Walmart International comps were positive in nine out of 10 markets.
In its guidance, Walmart raised its expectations for Walmart U.S. comps, excluding fuel, for the 52-week period ending Jan. 25, 2019, to "at least 3 percent," from previous guidance of "about 3 percent." The company also raised its fiscal year 2019 adjusted earnings per share guidance to $4.75 to $4.85, versus previous guidance of $4.65 to $4.80.
Bentonville, Ark.-based Walmart operates more than 11,200 stores under 55 banners in 27 countries, and ecommerce websites, employing 2.2 million-plus associates worldwide. The company is No. 1 on Progressive Grocer's 2018 Super 50 list of the top grocers in the United States.