08/16/2018
Q2 Grocery Sales Drive Walmart's Best Comp Growth in Years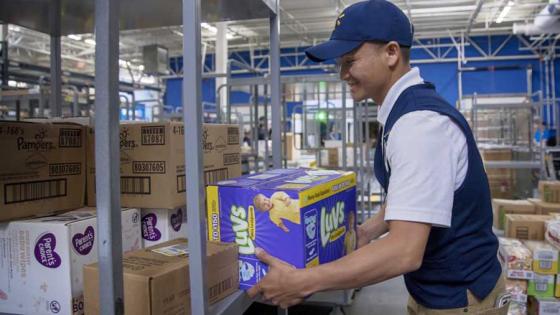 For its second quarter of fiscal 2019, Walmart Inc. reported a U.S. comparative-store sales increase of 4.5 percent, what the company called "the strongest growth in more than 10 years, led by the performance of grocery, apparel and seasonal." The mega-retailer's solid comps were supported by traffic and ticket growth, each surpassing 2 percent.
"Fresh food category sales were strong and led to the best grocery comp in nine years," said Doug McMillon, president and CEO of Bentonville, Ark.-based Walmart, during comments on the company's Q2 earnings. "Customers continue to gravitate toward our selection of fresh produce, meat and bakery items that offer great quality at low prices." McMillon characterized the quarter as delivering "strong results and momentum across the business."
What's more, Walmart U.S. omnichannel sales made considerable progress in the quarter, continuing the rebound from the previous quarter after somewhat sluggish growth in Q4 of fiscal 2018.
"We're leaning into automated pickup towers for general merchandise," noted McMillon. "Two years ago, we had no pickup towers, and by the end of this year, we'll have more than 700. We're serving more grocery pickup and delivery customers, and now have more than 1,800 locations with grocery pickup. We're also making good progress on activating grocery delivery to cover 40 percent of the U.S. population by year-end. Grocery pickup wait times continue to come down, and our grocery delivery times are improving. We're continuing to innovate with trials of self-driving cars in Arizona for our grocery pickup customers, and automated picking capabilities for grocery pickup in our store in Salem, N.H. Overall, our omnichannel initiatives are contributing to comp sales growth and providing customers with new levels of shopping convenience."
Beyond the United States, he mentioned that the company had "recently announced expanded omnichannel initiatives in China and Mexico."
Walmart's total revenue came to $128 billion, an increase of $4.7 billion, or 3.8 percent. Excluding currency, total revenue totaled $127.8 billion, an increase of $4.4 billion, or 3.6 percent.
Speaking of strong comps, Walmart's Sam's Club division's comp sales rose 5.0 percent, the biggest growth in six years, while Walmart International saw positive comps in its four largest markets. The latter division's net sales for the quarter were $29.5 billion, a 4 percent increase. Excluding currency, net sales were $29.2 billion, a 3.1 percent increase.
Based on its Q2 performance, the company raised its fiscal 2019 guidance regarding adjusted earnings per share (EPS) to $4.90 to $5.05, excluding the sale of a majority stake in Walmart Brazil, unrealized losses on its JD.com investment, and tax reform adjustments. The guidance also doesn't include the expected impact of Walmart's investment in Indian ecommerce company Flipkart, including interest related to the purchase, as the transaction hasn't closed yet. The original adjusted-EPS guidance was $4.75 to $5.
Walmart operates more than 11,200 stores under 55 banners in 27 countries and ecommerce websites, employing 2.2 million-plus associates worldwide. The company ranks first in Progressive Grocer's 2018 Super 50 list of the top grocers in the United States.