Walmart-Google Partnership: 3 Changes to Come
Over the past year, the industry has seen Walmart's name appearing alongside various innovators in the tech arena – from ecommerce companies such as Jet.com and Bonobos, which it acquired, to rideshare provider Uber, which is helping to support the last mile of delivery. But none have been as big as Google, which, as the companies announced yesterday, is providing the Bentonville, Ark.-based mega-retailer with the capability for its customers to order products by simply talking.
If you had asked before that time period whether a Walmart-Google relationship is a natural fit, the answer would have been an emphatic "no." But today, the response would be opposite, says Kurt Jetta, Ph.D., founder and CEO of TABS Analytics, a Shelton, Conn.-based consumer analytics company.
"Walmart has established themselves as a credible and savvy ecommerce retailer," he says. "The relationship makes a lot of sense."
The move represents the next step from a retailer carving out a "distinct space" in ecommerce, Jetta emphasizes: the chain that brings online shopping to the masses. Walmart is winning not by trying to be more "tech-y" than Amazon, but by continuing to do what it's doing and finding a way to make money in the process.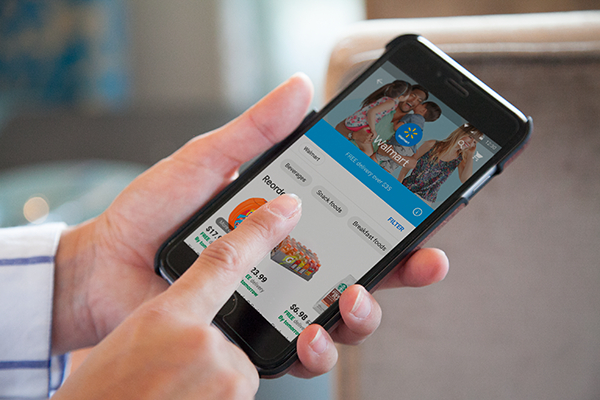 Changes Gonna Come
But even as it continues to "do what it's doing," the retailer's huge move with Google and its voice-assistant technology – initially focused on just information sharing – signals several big changes that will help position Walmart more firmly in the ecommerce game. Igor Gorin, CEO of San Bruno, Calif.-based ecommerce technology provider Astound Commerce, points to three particular developments the industry can expect to see in the coming months as this partnership evolves.
A change in strategy for Google: The key difference between Google and Amazon.com is that Google is not an ecommerce retailer, and it has had to form partnerships with a broad range of retailers and brands, while Amazon is a mega-retailer, and its own voice-assistant technology, Alexa, is mostly a distribution channel.
"Yes, other merchants and brands can sell their products on Alexa, but when it comes to ecommerce, the focus has been on Amazon's own marketplace and transaction engine," Gorin says. "Because Google focuses on information aggregation, their monetization hinges on facilitating a link using their virtual expertise."
The new partnership gives the Mountain View, Calif.-based tech company the ability to analyze and learn from Walmart's enormous customer base once they begin to order via the new channel, which could get them up to speed rapidly.
A change in merchandising for Walmart: The mega-retailer, like any brick-and-mortar operator, has been able to rely on visual appeal to merchandise its products, especially in groceries, where sexiness is key to selling products such as fresh goods – which consumers hold to a higher standard. Because consumers aren't able to see visual details when shopping via voice, the way product attribution is set up and communicated will be a whole new challenges. One advantage Walmart has in this space, though, is its dominance in fresh ordering: Recent research from Fayetteville, Ark.-based Field Agent revealed that more Walmart.com shoppers purchase their fresh food on the site than those who shop Jet.com and rivals Amazon.com and Target.com.
A change in marketing e-grocery for Walmart: Walmart hasn't been known traditionally as a "powerhouse of innovative technology," and this new partnership will require the retailer to find a new way to push its e-grocery offerings. Investing in voice ordering illustrates the retailer's trajectory to rapid ecommerce improvement and positions it to potentially lead the e-grocery market. While the market is still in its infancy, now is the time to invest and experiment while the margin for error is still high.
The Importance of Authenticity
Whatever changes come, however, they can't have Walmart deviate from delivering an "authentic Walmart experience," warns Brennan Wilkie, SVP of customer experience strategy with Salt Lake City-based customer experience management firm InMoment.
"While the Google Home partnership brings a rash of benefits, customers who use the new voice technology will be doing so within a Google environment, and updates to the experience will be on Google's timetable," Wilkie explains. "A key in navigating this very exciting opportunity successfully will be listening to customers, wherever and whenever they choose to talk about their experiences with the new technology."
A real-time understanding of what's working and what needs improving will be essential in making what are expected to be a series of adjustments. As a "somewhat unexpected" technology pioneer in voice commerce, Walmart has an opportunity to position itself far beyond simply a value brand.
Adds Wilkie: "For the sake of this new medium – and their own reputation – Walmart would do well to listen closely to customers, share what they hear with Google, and work together to evolve this powerful new offering."