10/11/2018
Uber May Re-Enter Grocery Delivery Following Failed Walmart Pilot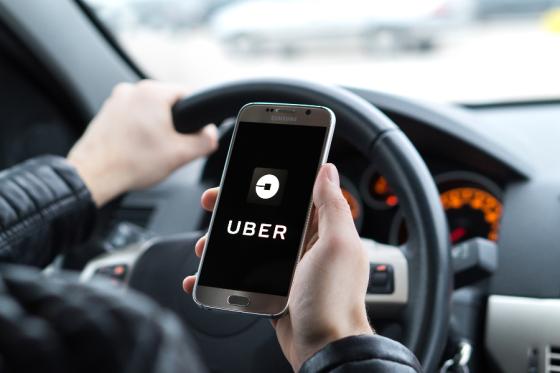 Rideshare service Uber is looking to enter the grocery delivery game, even following a failed test with Bentonville, Ark.-based mega-retailer Walmart earlier this year, Yahoo Finance has reported.
Dara Khosrowshahi, CEO of the technology company, said during a presentation earlier this week that given its success with the Uber Eats service – which delivers food from local restaurants – the "next logical step" in its food delivery business is to move into grocery, the news outlet noted. Technology news website Recode reported in May that Uber Eats reached $6 billion in bookings earlier this year, "growing over 200 percent," citing a presentation from Khosrowshahi that month.
Referring to Uber Eats during a presentation at Vanity Fair's New Establishment Summit 2018, Khosrowshahi said he thinks "this product of delivering great-quality food to you at home in 30 minutes or less is magical and is going to move into grocery in a way that's fundamental – and a lot more people are going to be eating at home," adding that "you can absolutely see grocery as being an adjacency," Yahoo Finance reported.
While groceries appear to be a natural fit for the rideshare service, its CEO believes, the challenge is to determine where to focus and what companies would make great partners.
In May, Walmart severed partnerships with Uber and competing rideshare service Lyft for its grocery delivery test, Reuters reported at the time. The problem was that delivering "people and packages together" requires two separate business models. Walmart began partnerships with the two rideshare services the previous summer, with pilots taking place in Denver and Phoenix.
Some industry experts remain skeptical of Uber's ability to find success in grocery delivery. David Bishop, partner with Barrington, Ill.-based retail consultancy Brick Meets Click, noted that although Uber is a delivery provider of people and products from restaurants, "grocery presents different challenges, as the Walmart pilot proved."
"Uber may be able to fill in pockets of the market related mainly to grocers who have an established ecommerce platform for pickup that are interested in expanding into home delivery," Bishop told Progressive Grocer. "However, these opportunities may exist in less-dense markets, along with lower consumer demand for the service, making the logistics more challenging and the profit pool less attractive."
Bishop added that urban markets will be "much more challenging and expensive" for the rideshare service to penetrate, as grocers tend not to partner with multiple providers in the same market. This causes problems in places where much more capable and experienced providers – such as Instacart and Shipt – might already offer their services.
"Unlike grocery third-party providers – like Instacart and Shipt – that provide the platform, personal shoppers and delivery service, Uber is positioned, in grocery at least, as simply a delivery service," he noted.
However, Sylvain Perrier, president and CEO of Toronto-based digital solutions provider Mercatus, believes that Uber still has an opportunity this time to make things work.
"Having missed the boat the first time around with Walmart, it looks like Uber has learned its lesson that grocery delivery is not easy," he observed. "For delivery, online shoppers are trending towards large center-aisle bulk items like pet food and litter. They tend to prefer to pick up perishables in-store where they know the meats and vegetables will be refrigerated."
If Uber can equip its installed base of drivers to cater to the varied basket preferences of online grocery shoppers, the company could have a competitive leg up on services like Instacart, Perrier noted.
"The biggest challenge last-mile delivery services have is in the large overhead that comes with a single-use labor force – drivers dedicated to delivery only," he said. "Uber, on the other hand, has the advantage that a mixed-revenue driver base affords. It also has the upper hand in owning Jump and its electric bike-sharing business, which not only has some small temperature-controlled delivery trailers to hold groceries, but can also maneuver highly populated areas more easily than cars or vans."