Sweets and Savories for All Tastes at IDDBA Show
It's impossible to go hungry at a Dairy-Deli-Bake, at this year's show in New Orleans was no exception.
From fancy cakes to healthy snacks, the range of new products available to supermarket deli managers offered a little something for everyone. Here's what caught my eye as I roamed the show floor:
Sweet …
General Mills displayed its Brownie and Blondie Bits, along with new double-branded Yoplait/Nature Valley parfaits for the grab-and-go case in grocers' deli and prepared foods departments.
Cathy Meyer explains how Yoplait's new parfaits include a specially formulated granola from Nature Valley.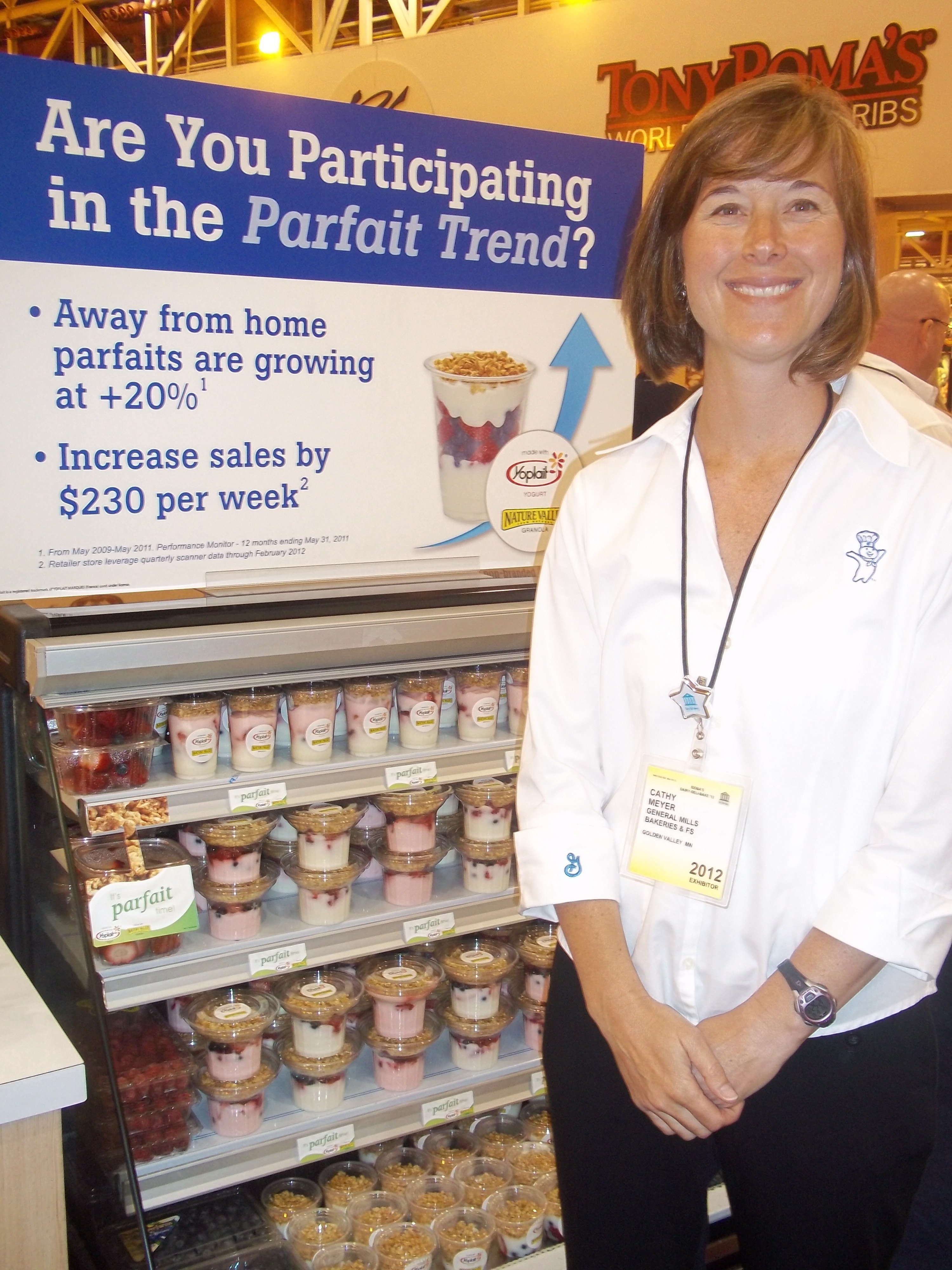 While also showing off its pizza kits and garlicky breadsticks, Champion Foods' latest products were its new scones and cookies, as displayed by Sean Rinke, Jon Newsom, Peter Smith and Julie Selking.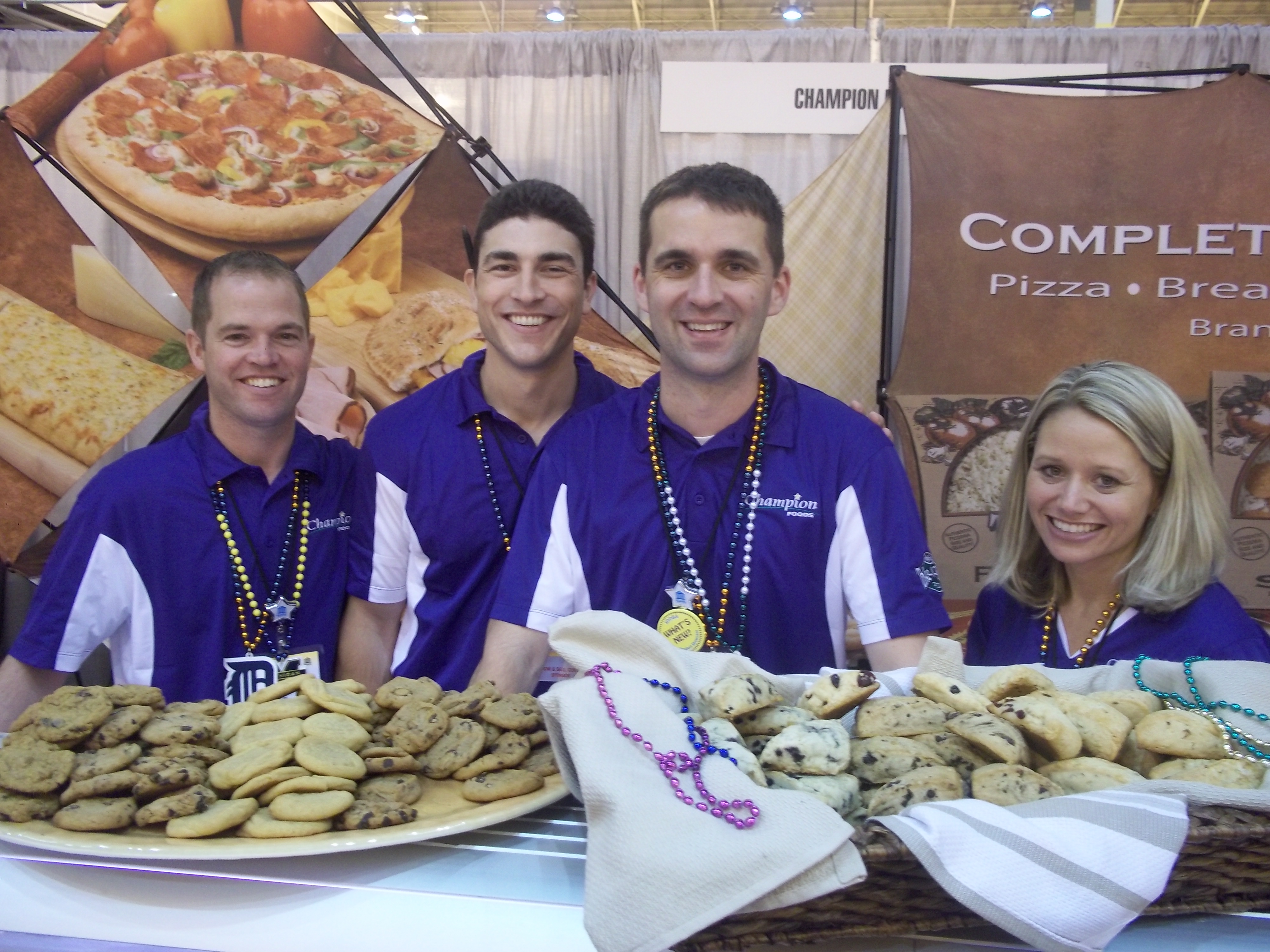 Rich, dessert-style cookies are offered by Lynn Snyder and Jay McKnight at the Christie Cookie's booth.
David Skinner runs down the latest baked goods from J. Skinner.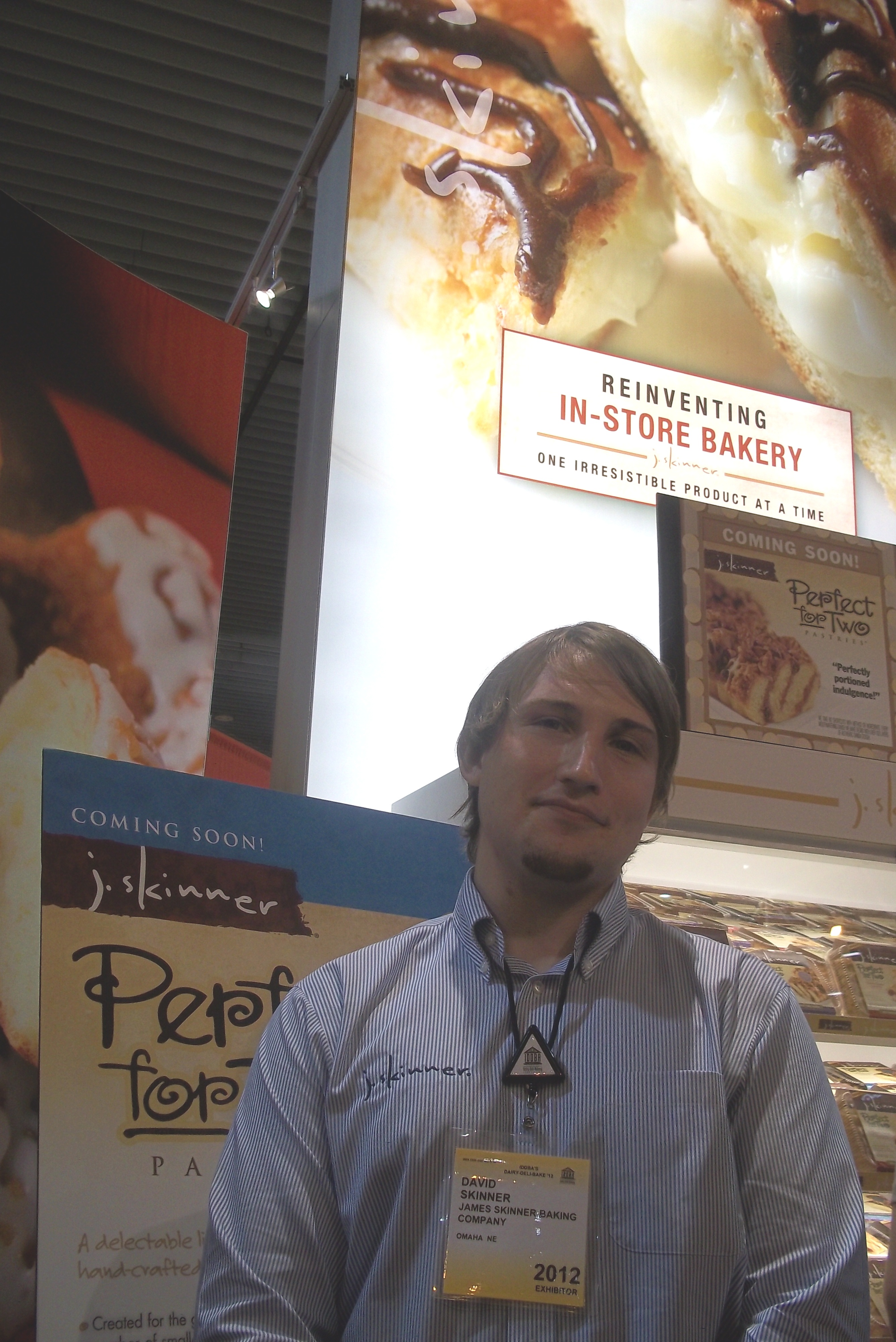 The folks at the Snack Factory sampled their new Dark Chocolate & Peppermint Pretzel Crisps, which they say was the No. 1 chocolate-covered salty snack over the last holiday season. Perry Abbenante gives booth visitors the scoop on the sweet snacks as well as the new savory varieties from the brand.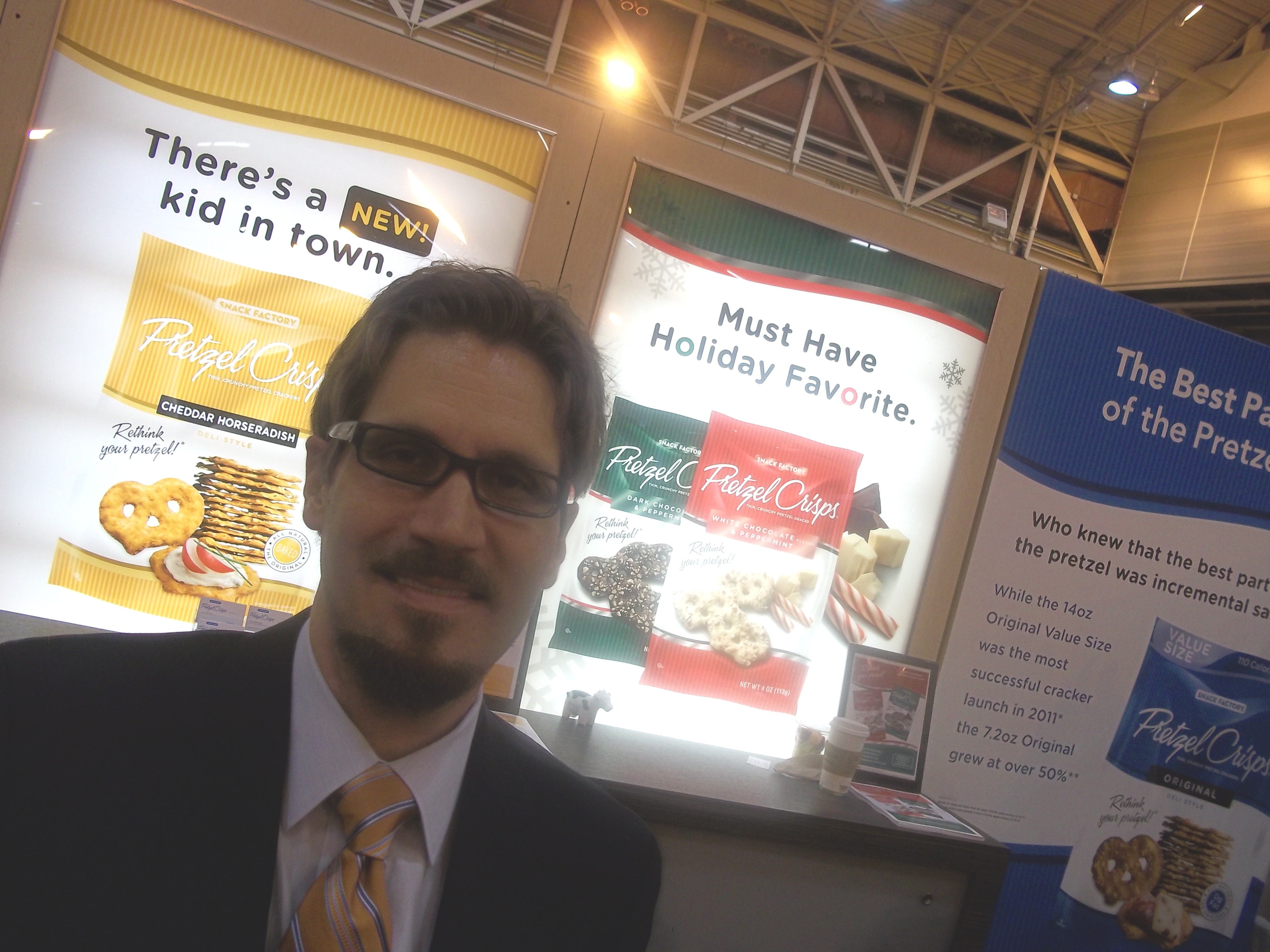 … and Savory
Among the latest releases from Dietz & Watson is its new Chicken Parmigiana. Purported to be the first deli item of its kind, the marinated, breaded chicken can be served hot or cold and is sliced to order in-store. Ray Morrow runs down the latest products from D&W, including Porchetta seasoned Italian pork loin, Picante Provolone and All-natural Monterey Jack with Jalapeno.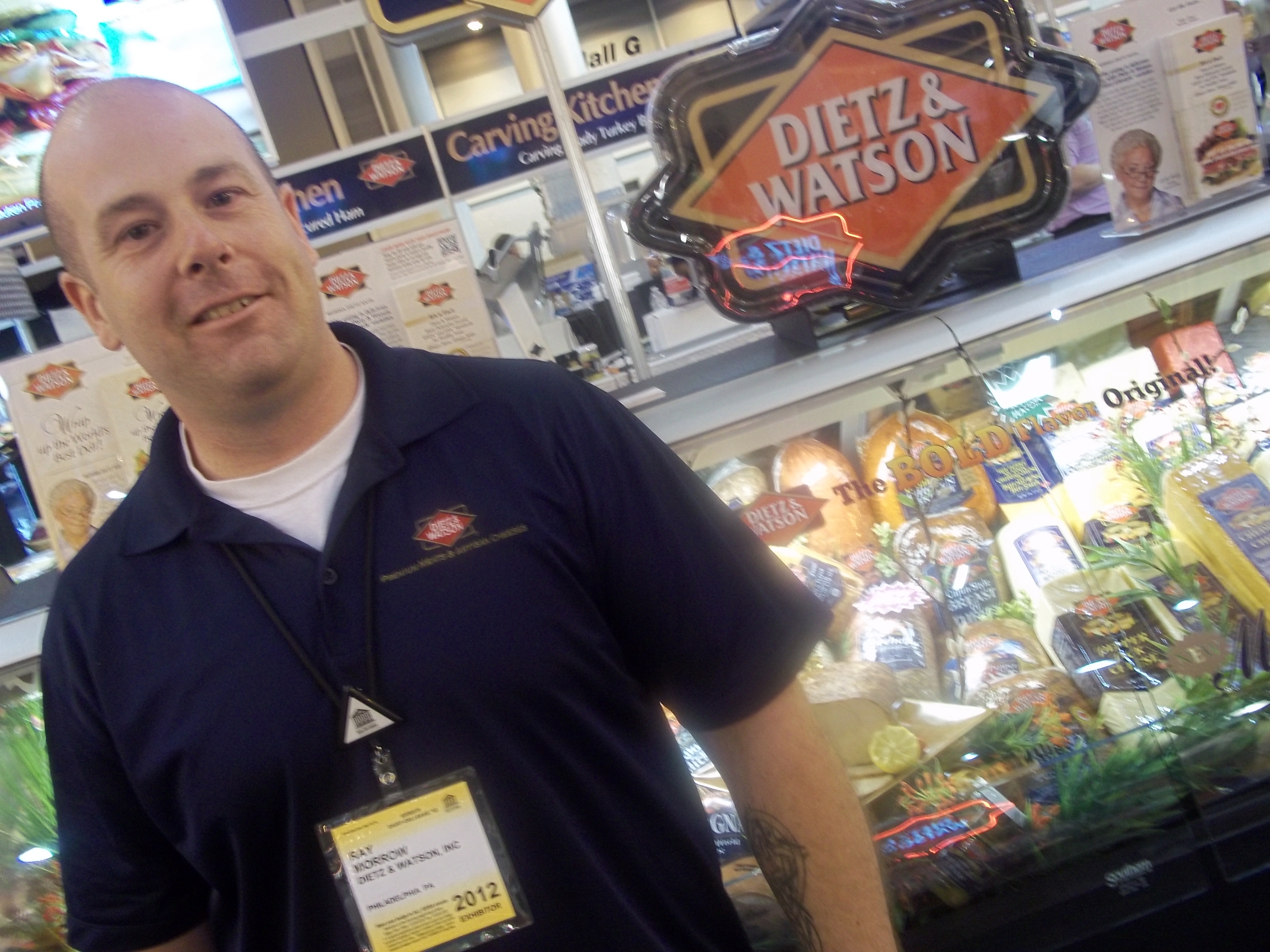 Arla displayed its Castello aged havarti, made in Denmark. Aged at least nine months, it's made with a special culture that yields slight crystallizing like a parmesan. Arla's first aged cheese, its future releases will be aged 10 to 11 months. In stores this fall, the havarti comes in 3.5-pound loaves that are cut and wrapped in-store as chunks of 6 to 10 ounces.
The Castello Alps Selection line, from the Algan region of Germany, includes "mountain cheeses," made with milk from cows that graze at specific altitudes, on small farms of 15 to 20 cows. Aged for varying durations, varieties include Weissbier (rubbed with local wheat beer), the raw milk Classic/Berkase (herb-rubbed) and Hirten (9 months aged, parm-like, dry and crumbly).
Arla's Adam Criscione discusses the details about the company's new cheeses.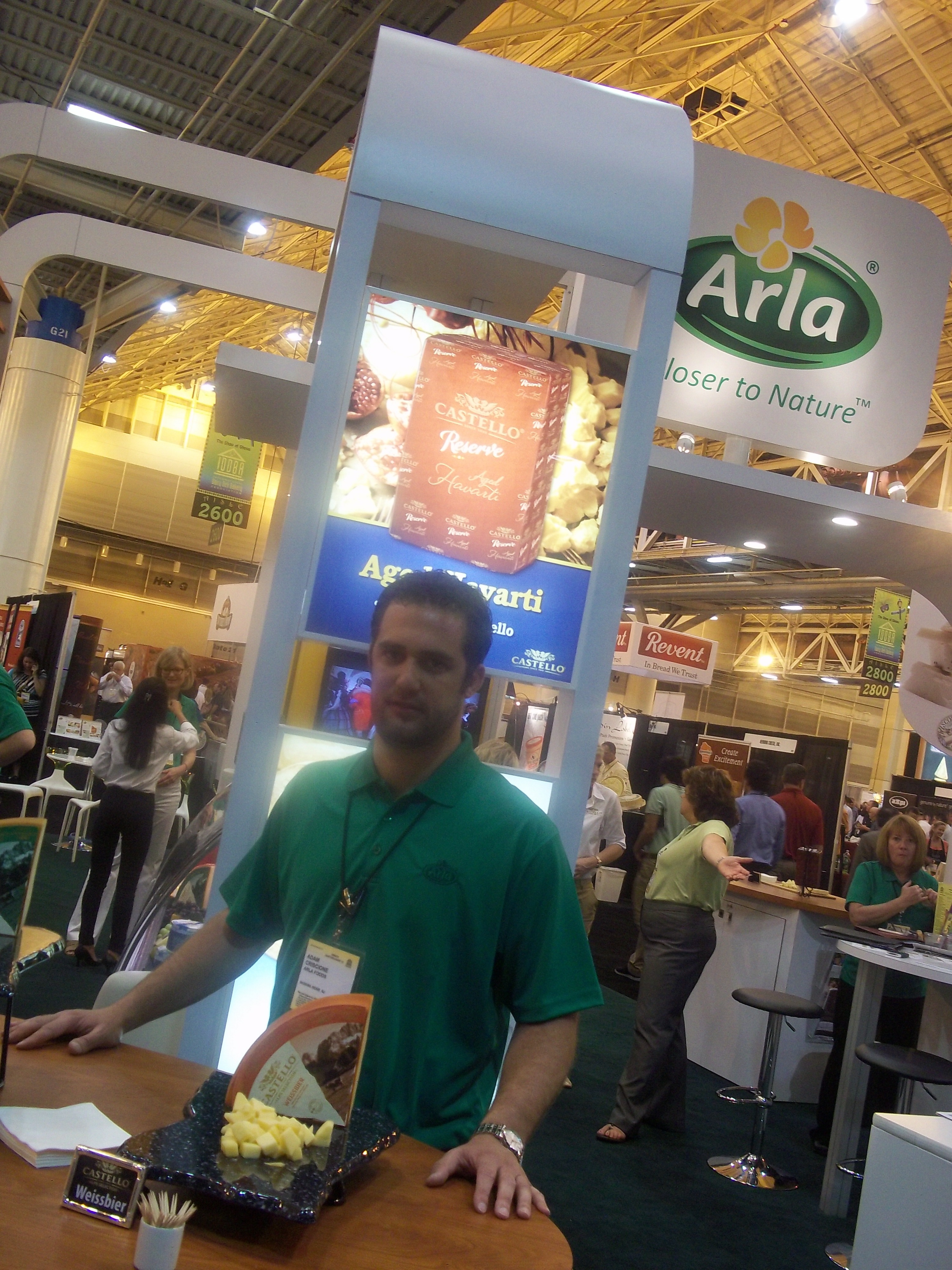 Stefano Foods displayed its new Right Stuff pepperoni rolls, make with the company's own dough and Armour pepperoni. Adam Spitzer and Alan Hamer explain the rolls are ready to bake and serve at in-store delis.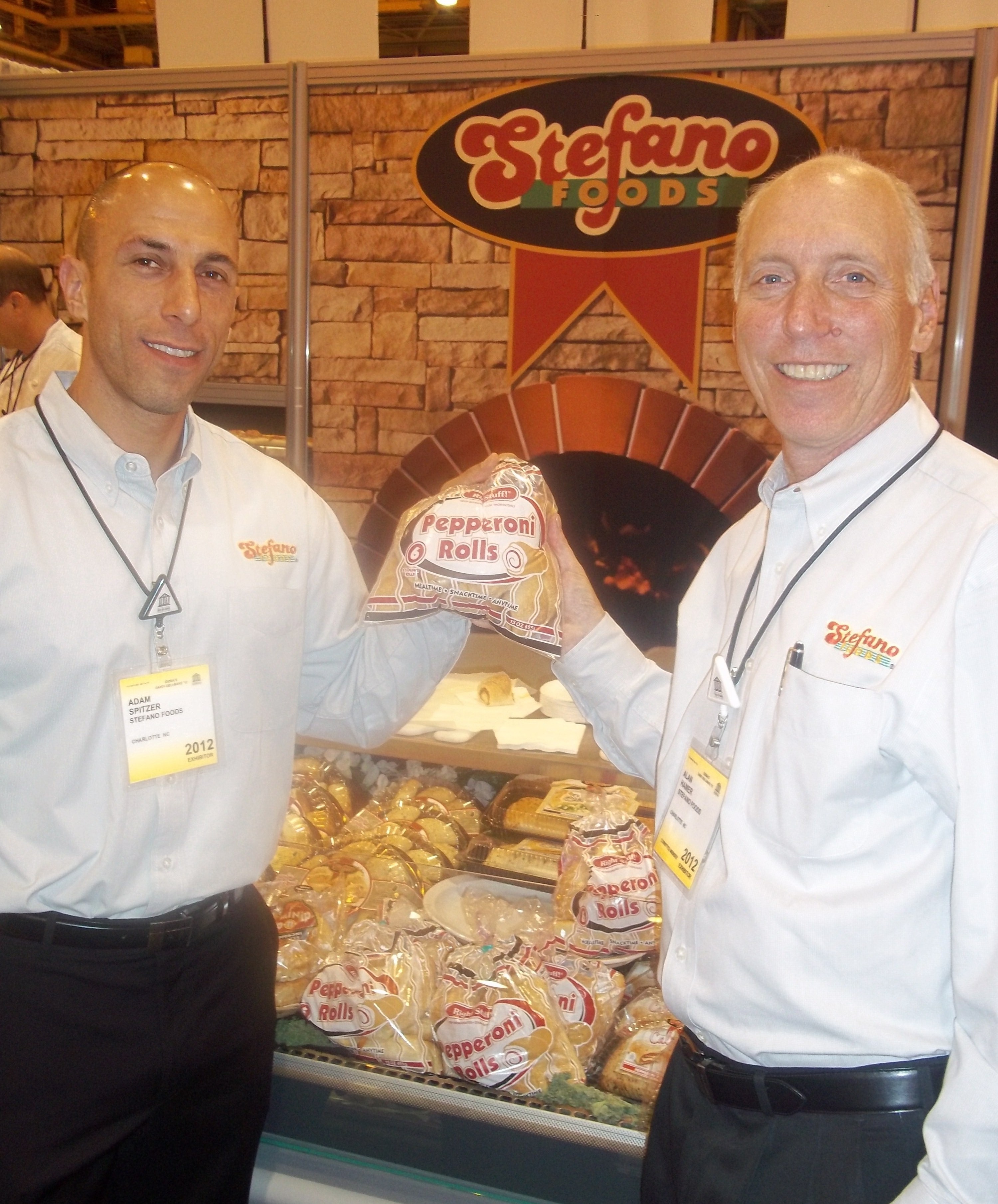 Pilgrim's continues to leverage its Captain Morgan-brand rum-glazed chicken in what the company's John Moore called its efforts to bring "restaurant-style execution to the deli," which also include its new Sweet & Spicy line.
"We want to go beyond just giving product to the customer – we want to help get it to the consumer," Moore said. To that end, Pilgrim's is offering coupons with recipes, and its rotisserie chickens come with recipe cards featuring QR codes that allow smartphone users to watch a preparation demonstration video. "We take the stress out of what to do with the product," Moore said.
The biggest sellers in the Pilgrim's grab-and-go deli line are fully-cooked wings, boneless wings and chunks, which boast a 7-day shelf life.
Tim Strahan and John Moore outline the Captain Morgan and Sweet & Spicy chicken lines from Pilgrim's.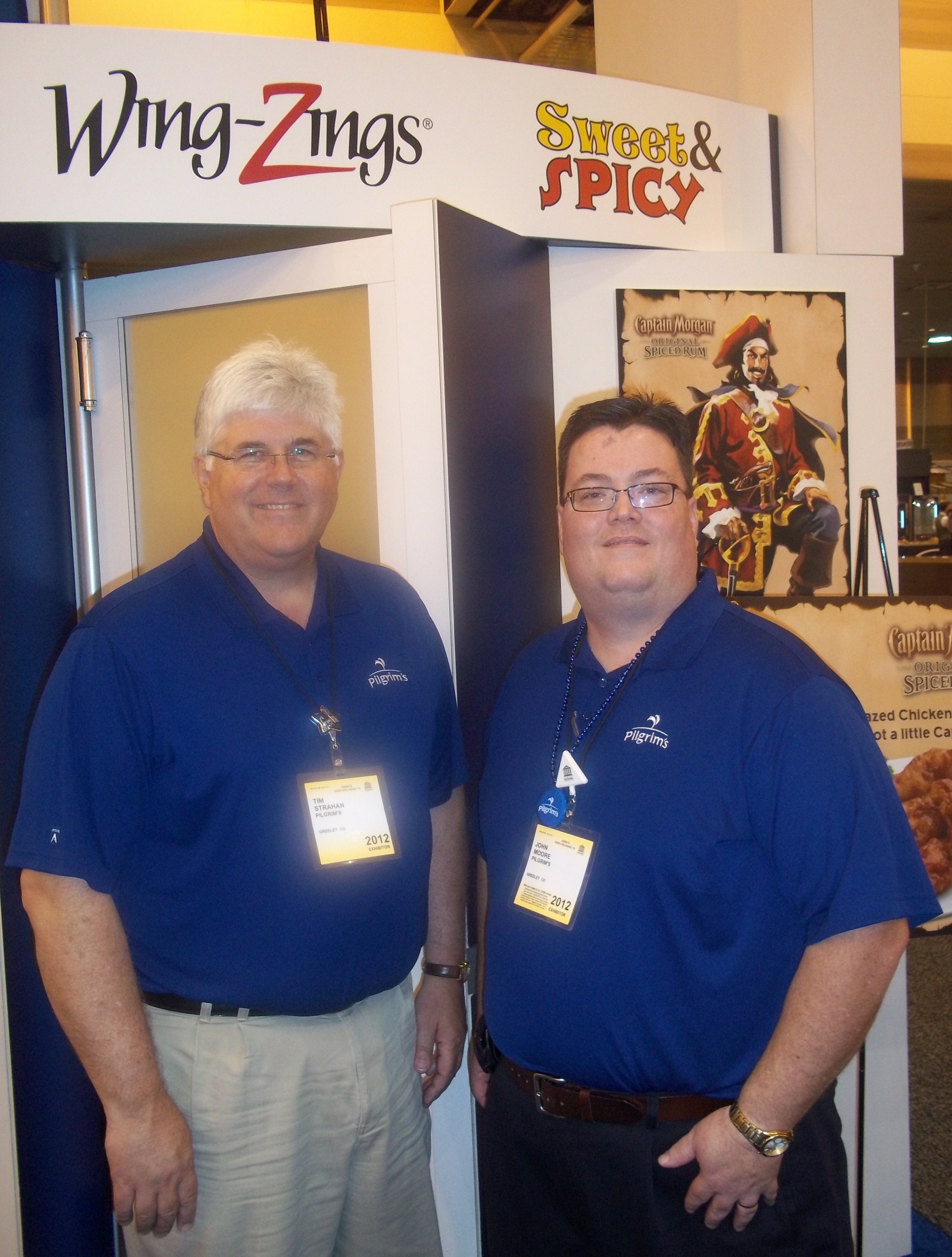 Auricchio was trying to attract the attention of U.S. retailers with its Grok crunchy baked cheese snack, which reportedly is very popular in Italy. The shelf-stable, gluten-free wafers are 100 percent cheese and can be eaten as a snack or used as a garnish like croutons for salads and soups.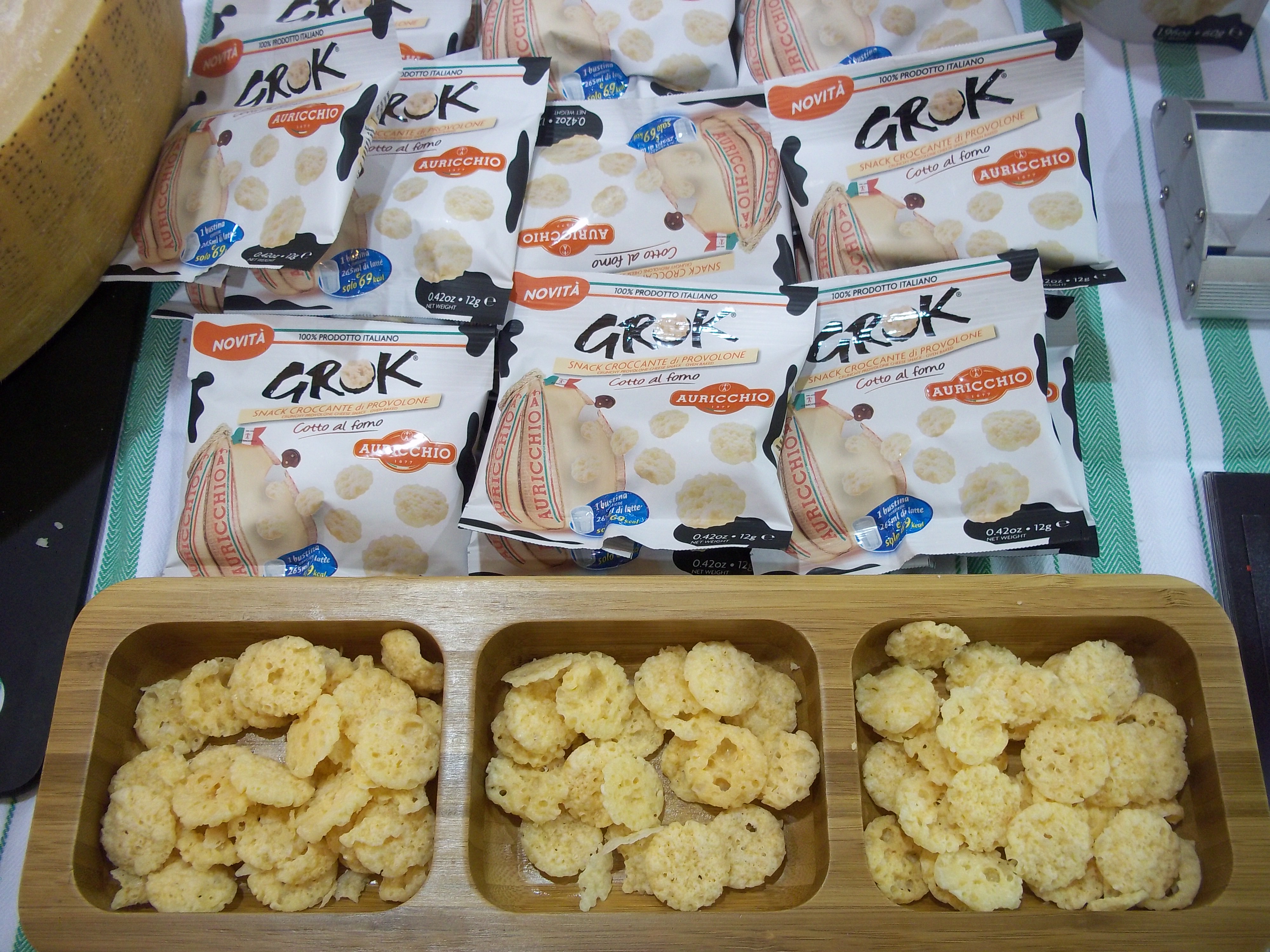 Lisa Bartikofsky offers samples of DeliCatezze pizza for in-store delis from Alive & Kickin' Pizza Crust.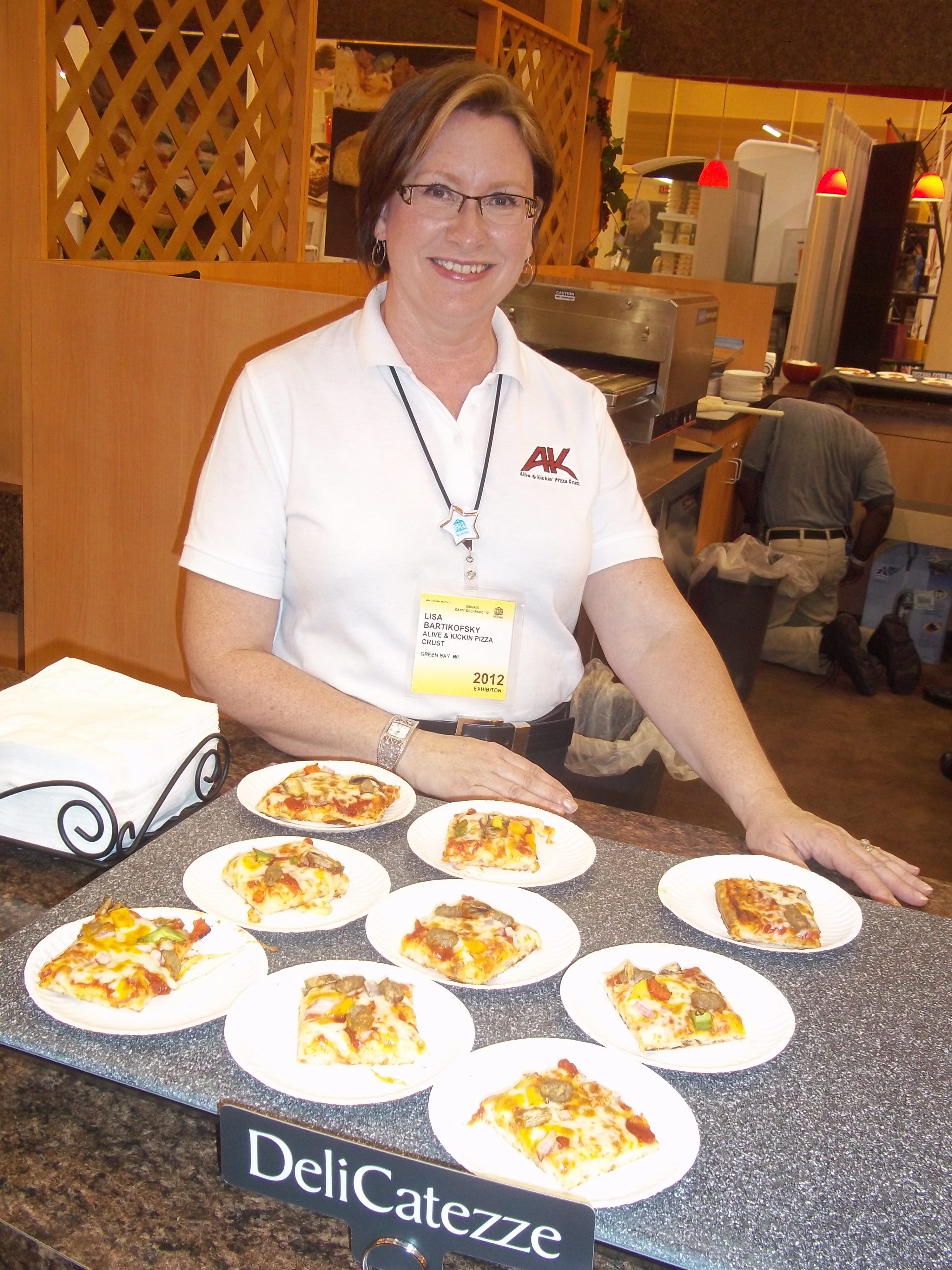 Brad Moore and Jeff Paschall offer samples of Paula Deen-endorsed chicken from Springer Mountain Farms.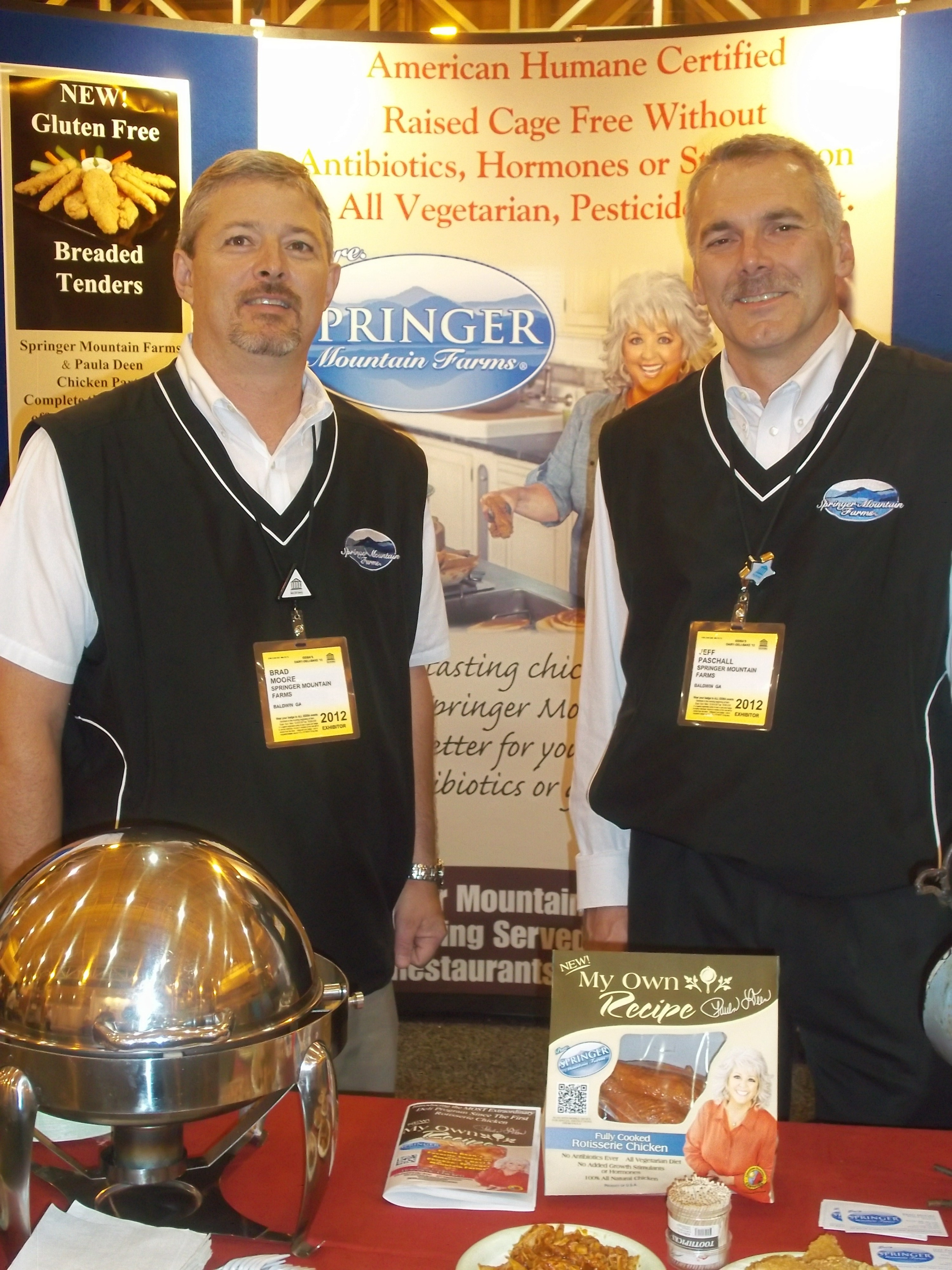 Rich flavored butters are the forte of Epicurean Butter from Janey Hubschman and Anna McCoy.
After a recent mention by TV's Dr. Oz, the all-cheese crisps from Kitchen Table Bakers have been selling briskly. Barry Novick, who launched Kitchen Table Snacks out of his home, has since earned acclaim as a NASFT multiple award winner and attention from celebrities like Oprah Winfrey.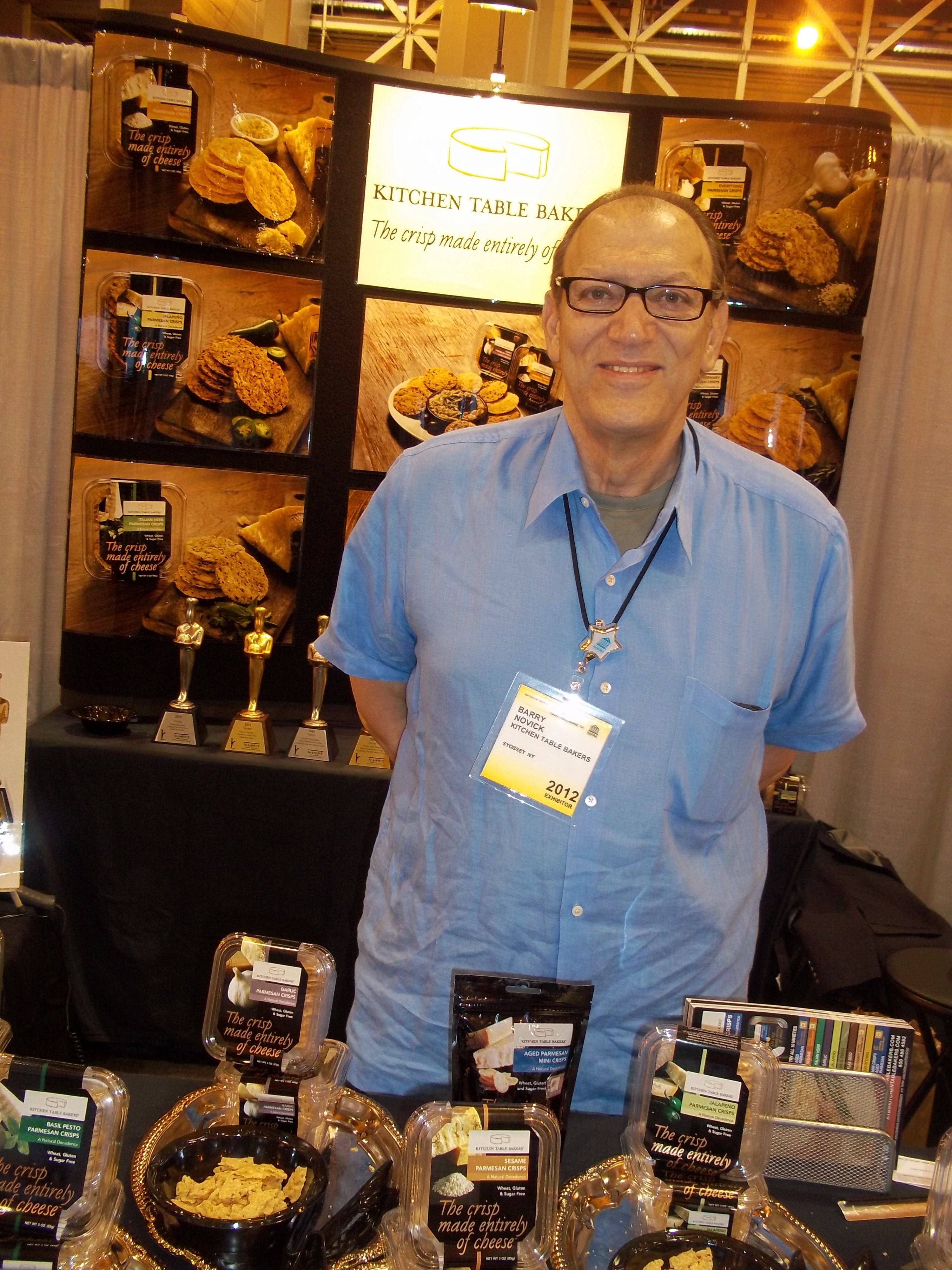 A Few More Cakes
While fancy cakes seemed to rule the roost among bakery exhibits at this year's show, there were a few other interesting variations as well.
Café Valley Bakery displayed its 7-Up and A&W root beer bundt cakes, with co-branding licensed from the beverage makers, bringing this longtime Midwest home recipe to grocery stores. Café Valley also sampled its Greek yogurt cakes – in orange cranberry & apple crunch and lemon blueberry – that were among a few baked goods at the show touting the popular Greek yogurt as an ingredient.
And while tropical heat and humidity blazed outside the convention center in New Orleans, attendees enjoyed a psychological cool-down at this display by Create a Treat, which showed off its line of gingerbread house kits that includes an entire village as well as a train.
Photos by Jim Dudlicek